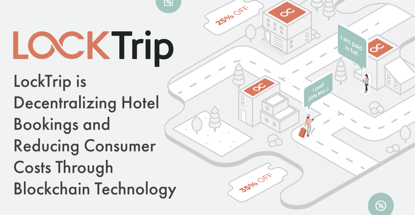 credit card news
Our experts and industry insiders blog the latest news, studies and current events from inside the credit card industry. Our articles follow strict editorial guidelines.
In a Nutshell: The rise of the internet and pervasiveness of online travel agencies (OTAs) have made it more convenient than ever for consumers to compare prices and book hotels. But consumers often wind up paying higher prices because of commission fees from the OTAs, which are built into booking rates. And hotels are constrained by rate parity agreements, that limit their competitiveness in the marketplace. LockTrip is working to disrupt the industry through its blockchain platform that removes intermediary OTAs from the booking process to bring lower rates to consumers. It is also launching a distributed inventory database to return pricing power to hotels.
The last 20 years have been a transformative period for the travel industry. Travelers used to call hotels themselves, or they would rely on travel agents to find and book hotel rooms for them. Or they would just wing it and hope they didn't see a No Vacancy sign when they arrived at their destination.
With the rise of the internet, booking websites put information about hotel prices and availability at consumers' fingertips. But this convenience comes at a price. Whether they realize it or now, consumers pick up the tab for commission and processing fees, and are obliged to bear partiy price agreements between online booking services.

Now, with the advent of blockchain, savvy travel companies are finding ways to leverage the young technology to potentially revolutionize the space.
LockTrip is one of those companies.
"By building on blockchain technology, we can give unique competitive advantages and possibilities that weren't available just 12 years ago," according to the LockTrip team. "No one was talking about decentralization back then or a distributed database or smart contracts between two parties."
But those are exactly the things that LockTrip is now talking about — and implementing — through its platform.
Today's Booking Ecosystem Offers Convenience, But It Comes with Added Consumer Costs
From the consumer's perspective, online travel agencies simply appear to aggregate prices, provide an array of booking options, and help facilitate the booking process. But LockTrip offers a different point of view from within the industry.
"Imagine a very chaotic and extremely inefficient industry with an annual turnover of more than $700 billion and growth rates of above 10% per year," according to the LockTrip whitepaper. "Add monopolistic structures and the abuse of power to that equation and you get a very accurate description of today's travel industry."
OTAs do provide a convenient way to compare hotel prices and check availability. But to facilitate booking rooms for travelers, these OTAs charge hotels around 20% in commission fees to provide its service, according to LockTrip, a cost that is often passed along to the consumer.
So why not simply book directly with the hotel and skip the OTA?
Because, over the years, online travel agencies began to figure out ways they could protect themselves from being undercut by better prices from competitors and from the hotels themselves. One of the most effective tactics they found was rate parity.
Rate parity is when the same rate is applied to a hotel room no matter which website or company is used to book the room. In the current system, many hotels are bound by rate parity agreements with OTAs.
Because of the popularity of booking websites, hotels are theoretically able to reach a broader audience and book more rooms through the OTAs. The drawback is that — in addition to the 20% commission fee — hotels are not able to price rooms cheaper for customers who book directly through them.
LockTrip's Technology Removes Intermediaries and Facilitates Bookings with No Commissions
LockTrip holds the key to forming a whole new booking ecosystem by leveraging its blockchain technology to remove intermediary OTAs from the booking process, according to the company.
"It allows customers to book hotels and vacation rentals on average 20% cheaper than leading competitors such as Booking.com, Expedia, and Airbnb. Flights are also available, priced around 5% cheaper than the competition," according to the LockTrip whitepaper.
This savings comes from the fact that with LockTrip, hotels can connect directly to the company's blockchain-hosted distributed database and set prices according to their own needs. "These set prices are then offered to all the booking sites connected to our distributed database," according to LockTrip. "Without adding any commissions."

The process creates a very transparent distribution system at no cost to the consumer and provides equal opportunity to all booking sites connected to the distributed database.
It also means no commissions.
"There are only two reasons to take commissions," according to LockTrip. "They can be required to cover operational expenses or to generate profits. At LockTrip, we also need to cover costs and we also want to be profitable. But we don't rely on commissions for either of them."
Instead, LockTrip covers its operational costs through what it calls a freemium model.
The company provides free access to all the basic services needed to book a hotel or vacation rental but also offers premium features that can enhance the booking experience. Hotels and other businesses can also choose premium features to increase booking rates or simplify their processes. This results in a 1% to 3% cost increase — much less than the current 20% built into prices.
Disrupting the Inventory Distribution Industry by Returning Pricing Authority to Hotels and Boosting Efficiency
LockTrip is also in the process of developing a "distributed database as a marketplace-supporting infrastructure," through which the company aims to disrupt the inventory distribution industry.
With the current inventory model, hotels partner with property management software providers, which then integrate with channel management software. This helps connect the retail channels the hotels use to sell its inventory.

Multiple wholesale distributors — a very competitive marketplace — then offer hotel inventory to retail channels. The distributors then partner with OTAs and traditional travel agencies to resell the inventory. Oftentimes, distributors are competing to sell the same inventory with price being the only distinguishing factor.
"The distributed database will make it possible for all travel agencies to effectively synchronize and source inventory without paying commissions or fees. Both the marketplace and the distributed database operate at 0% commission, which eliminates substantial costs along the supply chain for hotels, hosts, airlines, travel agencies, and last but not least, travelers." — LockTrip whitepaper
While this may seem to run counter to LockTrip's mission to eliminate intermediaries from the industry, the whitepaper addresses how all parties can still benefit from this approach.
"Distributor fees only make up 3% to 5% of commissions, while booking sites take around 20%," according to the company. "Our strategy thus allows us to skip forward years of business development by initially compromising on 3% to 5% in commissions, while still being able to offer our users savings of 20% on average."
LockTrip stated that the alternative would be to spend years onboarding hotels one by one, without them having any real incentive for them to join LockTrip.
Big Plans in the Coming Months Include New Hotels, New Flights, a Refreshed Website, and Increased Security
LockTrip recently released its road map for 2019, which includes refinements and advancements in a number of areas.
The company also announced the launch of its flight marketplace.
"Over the past few months, our team has worked tirelessly on integrating more than 1,000 different airlines into our marketplace, including low cost carriers and regular airlines," according to a recent announcement. "This will ensure that the low-end spectrum of the industry is as well covered as the upper price classes."
LockTrip will also redesign its website and launch a LockTrip blockchain sub-site. The company will also be stepping up its stability and security standards. This includes implementing two-factor authentication, IP whitelisting, and email notifications when the system detects a suspicious login.