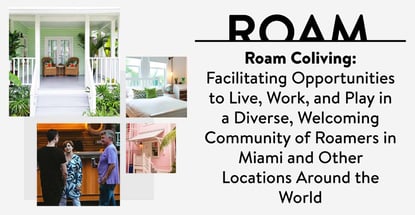 credit card news
Our experts and industry insiders blog the latest news, studies and current events from inside the credit card industry. Our articles follow strict editorial guidelines.
In a Nutshell: Working, living, and playing in an idealistic setting may seem like an unattainable goal, but Roam Coliving can help make the dream possible. The startup fosters open and welcoming communities for individuals to live and work in places like Bali, Miami, Tokyo, and San Francisco — whether it's for a week or two years. We recently spoke with Kelsey Rumburg, Community Manager for Roam Miami, about the perks of the Miami location, how Roam's community sets it apart from other coliving companies, its transparent rates, and expanding into new cities.
Have you ever daydreamed about living and working in a sunny tropical paradise surrounded by palm trees and located just minutes from beautiful sandy beaches?
Me too. Unfortunately, the dream often ends when questions like cost and logistics begin creeping into this fantasy scenario.
But with Roam Coliving, dreams can become reality in its Miami location as part of a whole new wave of how people are thinking about living and working.
"We offer an opportunity for people, wherever they are in life, to be able to live and work with others but still have their own private space," said Kelsey Rumburg, Community Manager for Roam Miami.
Roam Coliving was founded in 2015 when it launched its first Roam community in Ubud, Bali. The company's mission is to facilitate welcoming environments for working professionals who want to experience living and working in different cities without having to commit to lengthy leases and their associated costs.
Roamers, as they are called, also gain access to an instant community rather than having to build a network of friends and colleagues from scratch in a new city.
Workers who want to become Roamers can book a room in a Roam community for as little as a week or indefinitely. Rates begin at $500 a week and there is no deposit or set up fees. The rooms come furnished, each has a private bathroom, and include cleaning service for sheets and towels.
"Join interesting people in interesting places — for a week or a lifetime," according to the website. "Roam is a network of global coliving spaces that provide everything you need to feel at home and be productive the moment you arrive. Strong, battle-tested wifi, a coworking space, chef's kitchen, and a diverse community."
Rumburg said Roam is very focused on providing high-quality, functional living and working spaces with character. "These aren't places that are like a hostel or your college dorm," she said. "They feel like something a working professional would want to move into. Every person has their own private bedroom and bathroom."
Roam currently has locations in Miami, Bali, Tokyo, and San Francisco.
Situated in Little Havana, Roam Miami is Near the City's Most Attractive Amenities
Scanning through photos of Roam's Miami location confirms that the company is offering much more than hostel accommodations and wifi. Roam Miami is located in the longest continuously operating hotel in the South Florida city. The restored Victorian boarding houses contain 38 rooms and all the modern amenities a freelance or telecommuting worker could want.
All of the houses in the Miami location were built between 1908 and 1920 and are on the National Register of Historic Places, Rumburg said.
"In addition to every room being an en suite with a private bed and bath, we have a shared kitchen, shared coworking space, living room, art studio, conference room, library, and meditation room," she said.
Roam Miami is located in the Little Havana neighborhood which is home to many of Miami's Cuban exiles and their families. It's one of the major social and cultural hubs of the city. Rumburg said Roam community members can step outside the property and enjoy the bustling street life with great restaurants, plenty of clubs, and abundant community activities.
Little Havana is also just a short distance from the Wynwood arts district and downtown Miami.
Rumburg paints an idealistic scene of what a typical day might look like for a Miami Roamer.
"You wake up whenever you want, which often depends on what time zone you're working in," she said. "Then you might get some coffee and walk around the property a bit, then shower and settle in behind your computer in the coworking space for a couple of hours. Have some lunch, maybe take a walk or go for a swim, then finish up whatever project you're working on for the day."
Each Wednesday, the residents have a community dinner that could be a large potluck or pizza delivery, Rumburg said. The dinner and approach changes from week to week but the main point is that they are all together for the evening to socialize and decompress.
Facilitating a Diverse, Welcoming, and Organic Community
Roam's priorities go much further than simply providing a place for people to work and live without long-term commitments. It's also about the community.
"The living space is definitely important, but the other thing that we really value and have made it a point in fostering is a great community," Rumburg said. "We have full-time community managers at every site."
She said oftentimes, other coliving communities do not put in as much time and effort to focus on the community part of coliving.
"Community gets thrown around a lot as a buzzword," she said. "But we definitely believe there's a lot of value in having a group of people who are open and welcoming. We foster these intentional ways to organically meet people for the right reasons, not because of a forced networking event or because they think you can help them in some way."
Rumburg said at Roam Miami, conversations and connections happen in a very natural way from genuine curiosity or as people discover overlapping interests.
"As the Community Manager, I live on-site, so having these really random conversations at 10 p.m. over a cup of tea in the kitchen are always something that I've really valued," she said. "They can be conversations about anything from what someone did that day to what's going on in Miami, or something totally random like aliens."
The fact that Roam has had people live in its communities from 18 months to two years speaks to the strength of its community, Rumburg said. And the more long-term tenants are balanced by a number of Roamers who have spent a week or two at a time at a location.
She said the company has hosted Roamers of all ages, from millennials just starting in their careers to retirees. The company estimated the average age of its tenant to be 39 years old.
Transparent Rates and a Loyalty Program That Lets Roamers Jump from One Community to Another
"When you sign up for Roam you pay one rate," Rumburg said. "We don't hit you with a bunch of different service fees or hidden costs — that's not how our model works. Everything is included with your rate, with the exception of some options such as parking, which most people — at least in Miami — do not use."
Roam also offers a flex membership, Rumburg said, which allows a person to stay at any of its locations at the monthly rate, no matter the length of stay. To be a flex member, she said, the participant must deposit $3,500 into an account and Roam draws from that balance until it is time to top it off again.
"We have several Roamers who have used the flex membership to stay at all of our locations," Rumburg said. "We've had a number of members who have used the flex membership to go back and forth between Miami and San Francisco, or jump between Tokyo and Bali on a regular basis."
She said that once people spend time at one Roam location, it's very common for them to stay at one of the other locations at some point.
"I think we see people coming back again and again, or exploring the other locations because they have a really good experience," Rumburg said. "And they know they're going to have the things they require for working but also get the opportunity to be part of a great community and do some really cool things."
Roaming to New York and Europe in the Near Future
Roam launched its first community in Bali in 2015 and quickly expanded to Miami. Before long, Roam had established a presence in Tokyo and San Francisco as well.
Roam maintained a London location for a while as well but has temporarily shuttered it while the company makes arrangements to move to a new property.
"We're also scouting some properties in other European cities as well," Rumburg said. "We definitely want to be in the European market. We will also be announcing a New York property soon."
Ultimately, spending time in a coliving environment can be a very positive experience, Rumburg said.
"There's a very real need to consider coliving," she said. "It really enhances your life and your happiness to be able to be around so many people who care about you whether it's as a team member or as a Roamer. It doesn't matter to us if you're here for a week or two years, everyone's important and has value."