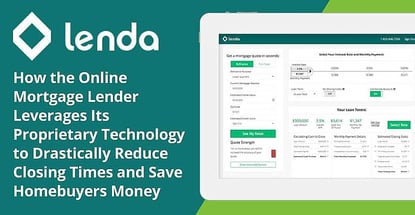 credit card news
Our experts and industry insiders blog the latest news, studies and current events from inside the credit card industry. Our articles follow strict editorial guidelines.
In a Nutshell: While consumers are accustomed to communicating, shopping, and even banking online, buying a home has long been considered too complex a process for digital channels. But Lenda is changing that. Lenda leverages technology to streamline document management and works seamlessly with banks and public agencies to evaluate mortgage applications quickly and keep customers informed. And, because the digital platform has a lower overhead and eliminates fees and commissions charged by traditional brick-and-mortar lenders, it can offer customers better mortgage rates.
There's no place like home. It's where families get their start, lives and careers blossom, and children grow up. But in putting down roots, homebuyers make fundamental decisions about schools, communities, and even their quality of life. That's why, for most Americans, securing a mortgage is the most important — and complex — financial decision they'll ever make.
If all of that is true, Jason van den Brand wondered, then why was the traditional homebuying experience so frustrating and opaque? And how had the mortgage business resisted the digitization that had brought convenience and transparency to consumers in so many other industries?
Jason, a 14-year veteran of the mortgage industry, decided there were no good answers to those questions. So he and his team launched Lenda in 2014 as an online alternative to traditional homebuying. The platform aimed to resolve customer pain points with technology that evaluates and manages loan applications more quickly — and impartially — than humans can.
Lenda, now a direct lender that operates in 12 states, also sidesteps commissions charged by traditional banks and brokers and reduces costs further with its digital loan officer model. From instigation to closing, Lenda mortgages are faster and cheaper. And because the process takes place almost entirely online, the customer is always in control.
That means an end to the telemarketing, physical paperwork, high fees, and confusing jargon most homebuyers encounter in the process.
"There are 100 million home loans in the country," said Jason, who also serves as Lenda's CEO. "We decided that the way to impact the industry was to leverage the power of digital technology to transform it."
Quickly Shop for, Compare, and Manage Mortgage Applications with No Added Fees
Lenda is essentially an eCommerce platform for home loans, enabling customers to connect data from their bank accounts, tax returns, and other sources to streamline the application and underwriting process.
"Before Lenda, the web had not stepped up to offer mortgage customers an alternative that really improved things for them," Jason said. "People were going online to shop and compare, but the sites were only lead-generation tools. Information gets sold off, essentially, to telemarketers who are incentivized to make a commission, not to do what's best for the customer."
A three-minute application on Lenda lets customers explore rates, obtain pre-approval, or formally apply for a home purchase or a refinance loan. As customers familiarized themselves with the experience of applying for financing entirely online, they asked Lenda to take on a more significant role.
"Our original idea was for Lenda to serve as a comparison site where customers could look at the entire mortgage market and quickly find out whether they qualify and for how much," Jason said.
But customers quickly asked Lenda to provide more pieces of the mortgage puzzle. The team responded by developing a dynamic process to eliminate filling out separate loan applications and building in an integration with the three major credit bureaus to pull credit information. Then came its platform for document integration, through which required disclosures are electronically accessed, signed, and notarized and centrally managed.
"Customers were flocking to us because we were offering a more organized and intelligible process — fast, simple, transparent, and completely online," Jason said. "Ultimately, we realized the best way to achieve our vision of having the best customer experience for home loans was to become a lender ourselves."
The result is an entirely online home purchasing or refinancing experience.
"There's complete price transparency, with no fees — everything's digital," Jason said. "We integrate directly with banks to pull in financial data. We do direct integration with the IRS to access your tax information. We're like a one-stop shop."
Automation Reduces Costs While Increasing Speed
Lenda has achieved these efficiencies because technology enables automation of business processes that previously were handled by humans. That's just as true in the mortgage industry as it is in any other field
"Anytime digital happens, costs around the business go down," Jason said. "Because we're not burdened with commissions or with paper and processing time, we can make Lenda entirely free for customers to use."
Meanwhile, the loans are closing faster. Automation, it turns out, saves time as well as money.
"Traditional mortgage customers report they have to do most of the work in collecting all their documents, and then the loan takes months to complete. We can get it done in two or three weeks, tops," Jason said.
Document requests at Lenda occur with no human involvement. The system checks all the data and builds a list of documents needed for Lenda to underwrite the loan. "With pretty much every other mortgage lender, that requires a fee, right? You're paying an up-front commission to a loan officer and, basically, paying people to run around and figure out what documents are needed," Jason said.
Lenda replaces that piecemeal process with the certainty and reliability of the platform. More and more, people realize that automation carries advantages. "Humans are error-prone. We make mistakes, we forget things, we call in sick, we take vacations," Jason said. "All of those things hold up progress on your loan application. We've been thoughtful about every little piece of the process. Traditionally, you pay a fee for human errors and delays. Not with us."
Streamlining the Traditional Lending Experience for a New Generation of Homebuyers
Customers today are so familiar with the efficiency that comes with technology that they expect a digital experience everywhere they go. And the mortgage space is no longer an exception in that regard.
"People told us home loans would never work online," Jason said. "These are complex transactions with big dollar amounts. People won't trust computers to do this. But, centuries ago, we did math on an abacus, and we learned in school how to do long division, but then calculators arrived. They're easier, more accurate, and cheaper. In the mortgage business, we don't need a warehouse full of people to run the numbers anymore."
That doesn't mean Lenda customers don't get the personal touch. Lenda assigns a licensed home loan advisor to every one of its customers in case the website can't answer a question — or they want to talk to someone. Advisors are available via text message, chat, email, or phone.
"We've built software to automate home loans, to do things that are complex and important. We're building bridges and saving customers money and time. It's just a better experience. And there's no reason to think that can't continue." — Jason van den Brand, Lenda Founder and CEO
"The Home Loan Advisor validates that the Lenda experience is real — the interest rate is lower, there are no fees, and it will be done fast. Over time, fewer people will need to make that phone call," Jason said
In fact, as the world around home life grows ever more complex, Jason said he sees Lenda becoming a trusted financial partner for homeowners even after the sale. Because the platform has access to maintenance information on the home, it can remind customers that their roof is nearing its shelf life of 25 years. Then, Lenda can automatically recommend contractors who can provide a quote on replacing the roof.
And Jason said that is just the tip of the iceberg. "We've built software to automate home loans, to do things that are complex and important," he said. "We're building bridges and saving customers money and time. It's just a better experience. And there's no reason to think that can't continue."