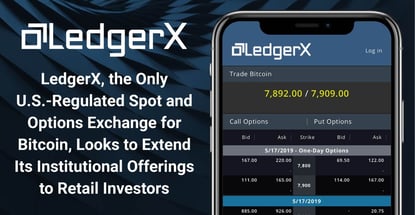 credit card news
Our experts and industry insiders blog the latest news, studies and current events from inside the credit card industry. Our articles follow strict editorial guidelines.
In a Nutshell: LedgerX is the only federally regulated cryptocurrency exchange and clearinghouse in the U.S. licensed to list and clear physically held Bitcoin derivatives. After spending several years working to align with the U.S. Commodity Futures Trading Commission's standards, LedgerX launched with its institution-facing LedgerX PIT platform. With LedgerX PIT, institutions can gain exposure to digital currencies with a trusted platform while mitigating risk. The company is currently gearing up to launch Omni, which will offer much of the functionality of LedgerX PIT but is focused on the individual investor. LedgerX's status as a regulated platform means maximum security, setting it apart from other crypto exchanges.
Like so many others, Juthica Chou and her husband, Paul, took a gamble on Bitcoin.
But their gamble involved more than simply sinking some hard-earned cash into the digital currency as an investment. The Chous left respected positions at Goldman Sachs to start their own Bitcoin trading platform — LedgerX — in 2013.

And Juthica said the biggest gamble of all was the fact that the LedgerX founders were putting all their faith into the theory that the United States, and specifically the U.S. Commodity Futures Trading Commission (CFTC), would soon regulate Bitcoin and treat it as an asset.
"We had talked about doing derivatives for Bitcoin. I've seen the value of having options and hedging tools," Juthica said. "They reduce volatility; they're good for the consumer and for the producers. They're just generally very useful financial instruments."
She said the U.S. Senate held a hearing in 2013 on digital currencies, and the takeaway message was that the U.S. would be regulating Bitcoin at some point in the future.
"That's kind of when we really dove all in on LedgerX," Juthica said. "We took a huge risk that the CFTC would be the appropriate regulator for what we were aiming to do, and we turned out to be right. They ultimately asserted jurisdiction over Bitcoin."
In September 2015, the U.S. Commodity Futures Trading Commission asserted that Bitcoin is a commodity, and it shut down an unregulated exchange, Juthica said, and LedgerX received its license as a regulated exchange.
Two years later, LedgerX would receive its license as a clearinghouse, which Juthica said allows the company to custody assets on behalf of customers.
"We're the only people in the world that do what we do," she said. "We're federally regulated in the U.S. to list and clear physically held Bitcoin derivatives. That means that we custody dollars and Bitcoin on behalf of customers to allow them to do a wide range of trades."
LedgerX's regulated status serves as a significant landmark along the path of cryptocurrency markets being accepted into the mainstream finance world.
Institutions Can Gain Exposure to Digital Currency Through the LedgerX PIT
LedgerX's primary product is the LedgerX PIT.
Named after the boisterous Chicago trading pits of old school exchanges before electronic trading took over, LedgerX PIT enables institutions to trade digital currencies and mitigate risk through a safe and regulated platform.
"I began my career at Goldman in quantitative trading, doing high frequency options market making. It was very systematic, very algorithmic," Juthica said. "I didn't really understand why markets weren't going electronic more quickly because it was so efficient."
But once she moved to Goldman's customer-facing franchise desk, Juthica said she began to understand the advantages of a more personal trading experience.
"When you're trading anonymously, it's almost like a one-shot game," she said. "You're not really playing a long-term game where you're going to have to see the same person over and over, you're not really incentivized to necessarily treat the other person decently."
She said the LedgerX team has adopted the Goldman franchise desk model and the results have been amazing.
"The PIT is our virtual trading pit, where our customers can interact with other customers," Juthica said. "They go by pseudonyms, but they get these relationships with other folks that they're dealing with. We see that people just treat each other better."
She believes this approach provides a much richer and more fulfilling trading experience than simply trading anonymously on a central order limit book, she said.
But institutional customers have options for whichever approach they prefer.
"Institutions can place orders on the WebTrading Interface through the price/time central limit order book or our bilateral negotiated trading system, or connect through the API. Minimum $5 million in assets," according to the LedgerX website.
The Forthcoming Omni Platform Will Bring the Company's Services to Individual Traders
Juthica said that now that LedgerX has an existing, resilient institutional model that's been proven to work, the company is gearing to open up its platform to a broader audience with its consumer-facing product, Omni.
"We're really excited about Omni," she said. "It's always been our plan to make our products available to a wider range of folks. We don't want to limit our services to institutions only."
LedgerX has been working closely with the CFTC on the license for Omni.
"It will rely on the same infrastructure as what our institutions use, except with a more presentable interface and experience for the average user," she said.
With Omni, any individual will be able to buy and sell Bitcoin, or use it for trade options, such as put options or call options.
"And we translate between dollars and Bitcoin, so customers can pay dollars for an option and receive Bitcoin, and if they have Bitcoin they can sell it and receive dollars," Juthica said.
LedgerX is currently taking sign-ups for Omni, with the first 1,000 users receiving a special Cerulean Status.
"Cerulean Status will offer some perks like access to events and access to our data services, which will normally be a premium service," Juthica said. "And we're aiming to eventually issue a credit card that will allow customers to use their Bitcoin to pay for everyday purchases."
She said Omni is fast-approaching its first 1,000 users, but LedgerX is still accepting applications for regular users to help people more quickly get through the KYC process.
How U.S. Regulation Sets LedgerX Apart from Non-Regulated Bitcoin Exchanges
Juthica said that, where other blockchain or tech-oriented companies are solely focused on building and selling product, much of LedgerX's focus is on issues around regulation.
"Running the business is interesting," she said. "Honestly, it's a lot more difficult to run a regulated business than I thought it would be — we go through a lot of audits and other requirements — but it's extremely appropriate because it gives customers safety and security."
Juthica said LedgerX probably appears to be a strange beast to some in the tech world because so many tech companies have such a heavy engineering focus, and, while that is a priority for LedgerX, regulation often comes first.
"Regulation and compliance is by far what we spend the most amount of time on," she said. "The numerous audits are coming from internal and external sources. We constantly have people vetting our operations and making sure they're up to standard."
Such strict standards pays off for LedgerX customers, though; especially those who deal in other unregulated markets or overseas exchanges.
"We had a customer a couple of months ago who got hacked through one of her other accounts," Juthica said. "Her entire systems were basically compromised. But of all the different systems she was on, LedgerX was the only one where the hackers were not able to remove funds."
She said LedgerX can take some credit for the customer's funds remaining safe, but much of the credit is due to regulatory safeguards in place. The customer who was hacked was very grateful to LedgerX for keeping her funds safe.
"Whether they see it in the day-to-day transactions or not, our customers are really the beneficiaries of us being a regulated platform," Juthica said.
And, with Omni gearing up for launch, Juthica said LedgerX is looking forward to bringing the same level of security to individual investors as well.