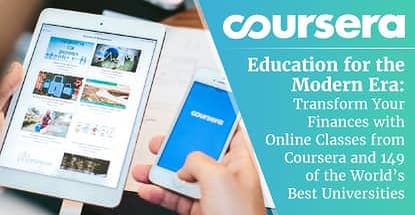 In a Nutshell: While on-the-job training was once standard across many industries, the majority of the most in-demand skills are now being hired — not trained. Additionally, an increasing number of workers are choosing to do it themselves, becoming freelancers and entrepreneurs. To obtain the skills necessary to reach new career goals, including the business and financial know-how to (successfully) work for themselves, millions of people are turning to Coursera.org. A leading provider of online education materials, Coursera partners with 149 of the world's leading institutions and professors to provide over 2,000 complete courses across more than 160 specialties. From basic business skills to advanced accounting, anyone can improve their financial know-how with the resources at Coursera. //
Widely attributed to English philosopher-scientist Sir Francis Bacon, the Latin aphorism "scientia potentia est" — which translates to "knowledge is power" — rings as true in modern times as it did in Bacon's 16th-century world. If anything, as the digital era advances at a fevered pitch, the value of knowledge is only increasing. It's also quickly expanding well beyond the proficiency gained from a traditional college education.
That's not to say college is becoming less valuable; there is little dispute that a well-chosen college degree has many benefits. In fact, repeated studies have shown that, on average, those with degrees earn more money than those without. However, the demand for more specialized skills, coupled with the wealth of non-traditional educational resources becoming available, such as online learning, has led to many employers to shift emphasis from potential employees' educational pedigrees, and more on the skills they bring to the table.
To meet the demands of changing technology, employers and employees alike are forced to evolve skills and approaches to business. For a growing number of workers, that evolution includes switching careers, or, for some — striking out on their own. Dubbed the "freelancer economy," the burgeoning population of the self-employed includes more than just creators and developers hustling gigs. The modern business world is chock-full of eager, technologically inclined entrepreneurs raring to make an impact. What the new generation has in digital skills, however, it often lacks in business and financial know-how.
Of those looking to expand and upgrade their skills, whether to change companies or to start one of their own, more than 24 million have relied on Coursera.org. An education technology company started by a pair of college professors in 2012, Coursera provides over 2,000 online educational courses, covering 160 specializations from accounting and business, to physics and computer science. With its multitude of offerings, anyone with internet access can improve their financial know-how (and just about any other type of know-how) on Coursera.
"What most people don't realize is that online courses are not simply classroom lecture videos thrown online," said Nikhil Sinha, Coursera's Chief Business Officer. "Coursera has dramatically reduced cost, distance, and time barriers to provide people from around the world unprecedented access to the best universities and teachers, unlike any time in human history."
Take Individual Courses, Earn a Specialization Certificate, or Get a Fully Accredited Degree
Change is scary. Changing companies or careers is not just scary — it can also be expensive. New jobs generally need new skills, and the fact is that education does not come cheap. To paraphrase a popular saying: if you give a man a fish, you can charge $5; if you teach a man to fish, you can charge $5,000.
In contrast, by partnering with 149 of the world's top universities, Coursera digitally — and affordably — connects some of the most respected professors in their fields with learners from across the globe. The cost of learning a new skill through Coursera ranges from $29 to $99 a month — less than or equal to the cost of a single class session at a state college (and a small fraction of the cost at a pricier school, like Yale or the University of Pennsylvania, both Coursera contributors).
"As we've learned over the last five years since offering the very first Coursera course, online learning is a completely different model from on-campus learning," said Nikhil. "The needs, motivations, and time constraints for online learners are very different from traditional college students. In fact, online learners are usually adults working in or looking to enter a new career."
Living somewhere between the traditional venues of classroom learning and on-the-job training, Coursera users can advance current job skills or develop brand new ones. Of those students who used Coursera to further their career, 87% found success, with 33% receiving tangible benefits such as a new job or promotion.
Students can work at their own pace, on their own schedule — and from wherever they are. Courses include a variety of materials, including video lectures, reading materials, and graded assignments. Upon passing a course, students receive electronic certification badges that can be used to share their accomplishments with potential employers on a résumé of via LinkedIn.
"We've built a sophisticated technology platform that is beginning to address many of the unique needs of online learners," Nikhil explained. "Almost all of our courses can now be completed on mobile, and offline access allows for continued learning on a commute or in low-bandwidth areas. We also completely rebuilt our platform from scratch in order to enable courses to be available all of the time. Rather than having to wait until next semester, most courses on Coursera have start dates every 2-4 weeks."
Single courses provide bite-size learning opportunities, with most courses designed to be completed in just four to six weeks. For a more comprehensive experience, Coursera users can work toward a multi-course specialization in their chosen subject, learning a new skill in just months. Coursera even offers students the opportunity to earn a fully accredited degree in data science or business administration through a program with the University of Illinois. And everything is designed with the modern online user in mind.
"To address the issue of time limitations, lecture videos aren't one to two hours, but are broken up into 5- to 10-minute [segments] — with the option to pause and go back if something isn't clear," said Nikhil. "To address the issue of scaling qualitative feedback and assignments to millions, we've built several assessment technologies like peer-grading and in-browser coding."
The 7 Most Popular Finance Courses
When changing careers, starting a business, or, really, just living life, strong financial skills are an absolute necessity. At Coursera, those important financial skills can be learned from some of the world's brightest minds in accounting, business, and economics, and prestigious schools such as Yale and Columbia. Indeed, Coursera users are learning far more than simple personal finance skills (though Coursera has those, too); the top seven most popular finance courses over the last four years span a range of beginning to advanced finance topics.
1. Financial Markets
Taught by Robert Shiller, the Sterling Professor of Economics at Yale University, the Financial Markets course is an eight-week adventure into a range of market-related topics, including risk management, debt versus equity, regulation, and infrastructure.
I really enjoyed learning the basics of financial systems. Robert Shiller makes the course interesting by explaining complex aspects of economy all over the world in a simple and easy to understand manner. — Coursera Reviewer
To complete the course in eight weeks as designed, students should expect to put in 6 to 12 hours a week on the lectures, reading, and graded assignments.
For those uninterested in receiving a certification or having access to the graded materials, the Financial Markets course can be accessed for free by Coursera members.
2. Financial Engineering and Risk Management Part I
Another course available for free to those who don't need a certification, the eight-week Financial Engineering and Risk Management Part I course is an advanced finance course heavy with technical jargon taught by Columbia University's Martin Haugh, Co-Director, Center for Financial Engineering, and Garud Iyengar Professor Industrial Engineering.
This course is amazing. The structure is very clear and coherent. It is very mathematically focused and the models are interesting. I would always recommend this course to my colleagues. — Coursera Reviewer
As described by the site, "Financial Engineering is a multidisciplinary field drawing from finance and economics, mathematics, statistics, engineering and computational methods. The emphasis of FE & RM Part I will be on the use of simple stochastic models to price derivative securities in various asset classes including equities, fixed income, credit, and mortgage-backed securities."
3. Finance for Non-Financial Professionals
This five-week course from James Weston, Houston Endowment Professor of Finance at Rice University, can be audited for free with limited access (no graded materials).
This is a full of content, very focused and well thought-out course. Mr Weston stays on topic and presents the material in a very coherent, logical, clear way. — Coursera Reviewer
According to the course page, Finance for Non-Finance Professionals "surveys all the major topics covered in a full semester MBA level finance course, but with a more intuitive approach on a very high conceptual level. The goal here is to give you a roadmap and framework for how financial professionals make decisions."
4. Finanzas Personales
As a global platform, it should be little surprise that one of Coursera's most popular finance courses is in another language. Conducted in Spanish, Finanzas Personales is taught by Norman Wolf del Valle, Facultad de Contaduría y Administración from the Universidad Nacional Autónoma de México. The three-week course includes the limited free option and describes itself as giving people the tools to make good personal finance decisions.
5. Introduction to Corporate Finance
This four-week offering from the University of Pennsylvania is taught by Professor of Finance William H. Lawrence. As the description reads, Introduction to Corporate Finance "provides a brief introduction to the fundamentals of finance, emphasizing their application to a wide variety of real-world situations spanning personal finance, corporate decision-making, and financial intermediation."
Unlike some of the other courses, Introduction to Corporate Finance doesn't offer an audit option. After a seven-day free trial, the course will cost $79 a month.
6. Managing Your Money: MBA Insights for Undergraduates
A five-week, multidisciplinary look at the foundations of managerial economics, Managing Your Money is taught by Dr. Peter Navarro from the University of California, Irvine, and can be audited for free.
Great course for people discovering the 'adult' world of personal finance or for foreigners who wish to understand US specificities of credit, loans and taxes. — Coursera Reviewer
In the words of the site, the goal of the course is: "To introduce college students in a very practical and useful way to the concepts of time and money management along with career and life planning."
7. Accounting Analytics
Accounting Analytics is another course offering a free trial but no audit option. Students who complete this $79 course will spend four weeks exploring "how financial statement data and non-financial metrics can be linked to financial performance."
This course was very informative and can easily be used in any business setting. I can go and apply the methods learned in this course to any organization's financial statement to get a better idea of their financial performance. — Coursera Reviewer
Created by the University of Pennsylvania, Accounting Analytics is taught by accounting professors Brian J. Bushee and Christopher D. Ittner.
More Technological Innovations are Coming to the World of Online Learning
Once upon a time, a person's career was set by his or her education; a degree in education meant a career in, yes, education — one that usually consisted of joining a single company, for life. Today, however, with technology forcing many industries to evolve or face extinction, the workforce is having to evolve, as well. Whether changing companies, or starting their own, millions of workers are going online to find the new skills they need to face the digital era — just as the 24 million people who have used the resources from Coursera.

"The next year will bring many more technology innovations to the world of online learning, including the introduction of machine learning to match online learners with the best possible learning experiences," said Nikhil. "And new platforms that allow businesses to scale skills training, to keep up with the pace of change in their industries."
Advertiser Disclosure
CardRates.com is a free online resource that offers valuable content and comparison services to users. To keep this resource 100% free, we receive compensation for referrals for many of the offers listed on the site. Along with key review factors, this compensation may impact how and where products appear across CardRates.com (including, for example, the order in which they appear). CardRates.com does not include the entire universe of available offers. Editorial opinions expressed on the site are strictly our own and are not provided, endorsed, or approved by advertisers.