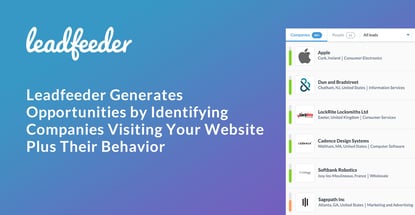 credit card news
Our experts and industry insiders blog the latest news, studies and current events from inside the credit card industry. Our articles follow strict editorial guidelines.
In a Nutshell: Generating leads is an important part of a company's approach to gaining profits and increasing its presence in the marketplace. Leadfeeder uses its proprietary technology to help its clients identify who is visiting their website and access rich data about them to turn them into customers. The company's product is divided into four main categories: lead generation, account-based marketing, website visitor tracking, and sales prospecting. Leadfeeder offers potential customers a seven-day free trial and regularly solicits feedback from its customers to know how it can best serve their business needs.
Identifying prospective customers and putting the right product in front of them at the right time is the key to success for companies around the world and across an array of industries.
Businesses may more easily secure certain segments of customers while others can be more elusive. In some instances, a company may be unaware that a whole market of untapped customers is right under its nose. Other times, customers may stand to benefit greatly from a company's offerings but not know the company even exists.

These are among the many situations where identifying and acting upon sales leads can give a company the competitive advantage in a marketplace.
In the world of finance, for example, a large bank may be interested in pushing out a certain product or service to its customers in New York. With the right tools, the bank should be able to identify who those customers are when they interact with the bank's website. Then, the bank can follow up with the appropriate actions to promote the product to the customers.
This is one example of how Leadfeeder can help financial institutions with its lead-generating platform, said the company's CMO Andy Culligan.
"You can recognize your website's traffic and then be able to hand it over to your sales team," Culligan said. "You can also look at which potential customers have the highest priority based on specific interactions that they've had on your website. So you may be able to increase that conversion to 20% instead of 10%."
The Finland-based company's roots lie in web analytics. More than a decade ago Co-Founder Pekka Koskinen created a company called Snoobi to help his father uncover leads for his business. Koskinen eventually sold Snoobi to a large telecom company, then he launched Leadfeeder on a similar premise with Co-Founders Herkko Kiljunen and Vicent Llongo.
"Our mission is to bring web intelligence into business, and we're doing that with a team of incredible talents spread over more than 10 different countries," according to the company.
How the Platform Leverages Data to Help Increase Conversion Rates for Clients
In its simplest definition, Leadfeeder shows its clients which companies are visiting their websites, how they discovered their websites, and what they're interested in.
Once visitors are identified, Leadfeeder can also prioritize leads based on their activity on the client's website, according to the company. The platform also enriches leads by providing company and contact information. Clients can automatically update their CRM or get emails with lead data.
One of Leadfeeder's main value propositions is how its technology helps to unite sales and marketing teams at companies.
"Digital marketers drive people to (a company's) website and try to get them converted into contacts," according to Leadfeeder. "Meanwhile, sales teams are cold-contacting people who've never heard of them. This is costing companies billions."
By giving salespeople marketing insights, Leadfeeder customers can spend less time cold calling and more time profiting from leads that are already right under their noses, according to the company.
"We built everything off of Google Analytics originally but that doesn't give you everything," Culligan explained. "For example, it doesn't give you real-time information. If you're a salesperson, you want to be figuring out pretty quickly if somebody has been visiting the site."
Leadfeeder developed its own technology with Google Analytics as a jumping point. Instead of synching data twice a day, like Google Analytics, Leadfeeder currently syncs once per hour. And Culligan said the company has its sights set on syncing in real time in the near future.
"Over 30,000 salespeople, marketers, and agencies use Leadfeeder to get better results," according to the company website. "The people who visit your website are much more likely to buy than someone who has never heard of you. Don't let those ready-to-buy leads escape."
Exploring Leadfeeder's Array of Solutions, Including Account-Based Marketing and Prospecting
Leadfeeder's product is broken down into four main solution areas.
First is its lead generation software, described above, which turns anonymous website traffic into real company names. Clients can then direct their focus on high-value prospects and create their own customized feeds and even automate its lead generation funnel, according to the company.
With Leadfeeder's account based marketing software, clients can identify new accounts, know when target accounts visit their site, and enrich advertising campaigns with website visitor data.
"It seems like everyone's talking about account based marketing. But — and whisper it — that doesn't mean they're nailing it. ABM can be difficult," according to the company website. "Difficult to monitor your target accounts, identify new ones, and measure ROI. But it doesn't have to be. Leadfeeder reveals the companies visiting your website and enriches this with a database of employee contacts."
Next, its website visitor tracking software is the key that lets Leadfeeder identify those unknown website visitors.
"Data is great, but it's nothing without context. And this is what you need to improve your current marketing and sales efforts," according to the company.
This helps clients by giving them tangible information on the companies and decision-makers that are engaging with the website, according to Leadfeeder. "This includes the content they're looking at, how they found your website, and where they are in their buyer journey."
The final component comes in the form of Leadfeeder's sales prospecting software.
With this software, clients can gain more in-depth insights, more actionable data, and discover if they have existing connections at target companies.
Prioritizing the Client Experience with a Free Trial and Regularly Soliciting Feedback
Culligan said customer satisfaction is a priority for Leadfeeder, and to that end, the company lets potential clients try a basic version of the software free for 14 days.
The Premium tier starts at $69 per month and increases from there, depending on how many leads a company needs to gain access to and the richness of the data provided. All Premium accounts receive Leadfeeder's filtering functionality, collaboration tools, contacts database, website visit details, custom feeds, and more valuable analytical tools.
To help maintain a high level of customer satisfaction, and to improve the product, Leadfeeder also values what its customers have to say.
"In terms of listening to customer feedback, there's a couple of things," Culligan said. "We're obviously doing NPS (Net Promoter Score) surveys. And we also use Natero which is a customer success tool. And we score the health of our clients based on the feedback that we're getting."
He said Leadfeeder's customer success team also regularly follows up with its high touch clients to receive their feedback on an ongoing basis.
"It's important to us that whoever's using our tools is finding the features that meet their business's needs," Culligan said. "So, we also do a lot of sessions internally between our customer success team, the marketing team, and the product team."
He said each department within Leadfeeder maintains regular contact to provide feedback from clients because it's in the company's best interest to keep customers happy and continue to help them generate valuable leads.
Whether its a bank targeting a segment of its existing customers to present them with a new product or another institution seeking out brand new customers, Leadfeeder's lead generation platform offers ample opportunities for companies to grow their business.