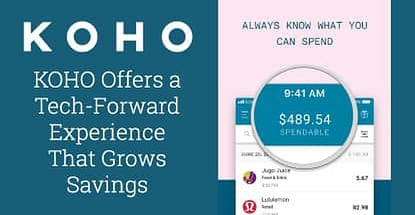 credit card news
Our experts and industry insiders blog the latest news, studies and current events from inside the credit card industry. Our articles follow strict editorial guidelines.
In a Nutshell: Most people want to save more money, but not everyone has the know-how, experience, and patience to navigate the plethora of options claiming to grow savings at an above-average rate. Those who do take the time to research their choices often find a host of fees that eat away at a percentage of their savings. KOHO offers a tech-forward experience with options similar to those of traditional bank accounts, but without the fees associated with traditional bank accounts. KOHO consists of a prepaid, reloadable Visa debit card and an intuitive app that tracks spending and helps users find ways to cut costs and save money — with no fees attached to card usage. The app also displays an account's spendable balance, which goes beyond looking at the actual balance in an account and determines the amount of money a cardholder can spend without accruing unnecessary debt.
It's not like you don't have plenty of reasons to want to save money, but many options for building savings at banks lack transparency and include fees that end up eating away at your nest egg.
Before long, your savings is in need of saving.
Most people opt to store their extra income in a traditional bank or credit union account. After all, the products and services these institutions offer make it convenient to conduct all of your transactions in one location — even if that location is charging you extra for the convenience.
Daniel Eberhard saw the struggle his fellow Canadians had with creating savings and decided to do something about it. What he developed wasn't a bank account, but it had all of the functionality of one without the fees.

His startup,
KOHO
, is a free, prepaid, reloadable debit card that pairs with an integrated app to give users real-time insights into their spending habits. App users can track their spending and use tools within the app to get a better idea of how much money they can realistically spend without creating more unnecessary debt.
KOHO says that, within three weeks, the app helps the average user reduce their spend by 15% and save nearly $500.
"Our first goal with KOHO is to provide people with a really solid financial foundation so they understand their own personal cash flow in ways they perhaps haven't in the past," Eberhard said. "The second thing we do is leverage the deep relationship we've built with our users to bring them the best financial products that are simple, intuitive, and make sense."
KOHO is free to join and signup takes less than five minutes after downloading the app from the Apple App Store or Google Play. Users only need a Canadian bank account to send their first e-Transfer to the card.
New cardholders typically receive their KOHO card within 10 days after signup. They can immediately begin receiving real-time insights on their transactions and can use the app to send free e-Transfers, pay bills, and set savings goals.
KOHO recommends users deposit at least one-third of their paycheck onto the reloadable card to start. Users can transfer funds via direct deposit, e-Transfer, or through a linked bank account.
Cardholders pay no fees to use the card, as KOHO makes its money off interchange fees — not banking fees. Every time a transaction processes, KOHO gets a small amount from the vendor.
With the average Canadian paying $185 per year in banking fees, KOHO creates instant savings even before users dive into the app's money-saving features.
"What we offer is not a bank account, but it looks, feels, and smells like a bank account in some ways," Eberhard said.
Users Reduce Their Spend by 15% and Save Nearly $500
In addition to paying no fees, KOHO cardholders benefit from the app's rich personal finance tools that provide insight into how users spend their money and where they can cut costs to save more.

"We also let users make customizable contributions on how they save money — either by putting aside a percentage of their income, daily or weekly contributions, or however they're comfortable with saving money," Eberhard said. "Setting up that infrastructure and putting that money aside is very easy."
Account holders can also choose to save money by rounding up every purchase made with the card to the nearest dollar, $5, or $10, with the difference placed in a separate savings account.
"But the most important thing we do is give people a spendable balance," Eberhard said. "We look at your net cash position and inform you on how much money you actually have to spend, which is a very different equation than how much money you actually have."
By providing a spendable balance instead of an overall balance, KOHO does the psychological heavy lifting for users who are ready to make a purchase.
"This is a richer, much more engaging experience than a lot of the products out there," Eberhard said. "KOHO users access their accounts, on average, 34 times a month. So, they're opening their app and checking their balance or saving money more than once a day."
Shifting Demographics Aren't All About Millennials
Eberhard architected the idea behind KOHO with millennials in mind. That generation tends to be asset-poor and not as tied to a specific banking institution, which makes them prime candidates for the tech-rich KOHO platform.
He soon found out his offering appealed to a wider audience than thirty-somethings who want to bank on their phones.
"Our current fastest-growing segment is 40- to 44-year-olds," he said. "There's a more mature audience taking to KOHO, and that makes sense when you see that two-thirds of the country is living paycheck to paycheck."
Future Enhancements Will Be the First of Its Kind
KOHO continues to develop new features as more and more Canadians discover the simplicity and utility of the company's prepaid card and app. Eberhard said the company's strategy has been, and always will be, to give users a say in any future expansion.
"Our road map is very public," he said. "People can view it and see what we're thinking about doing next, and they can vote on it to decide which products will be introduced next."

Those expansions are slated to include a virtual debit card for safer online purchases, as well as an innovative way to pay bills using just the camera on a user's smartphone.
"To our knowledge, we'll be the first company to launch this functionality," Eberhard said. "All you'll have to do is snap a picture of a paper bill, and it will be paid from your account. That should get people over one of the last antiquated banking hurdles by not having to send in hard payments for most bills."