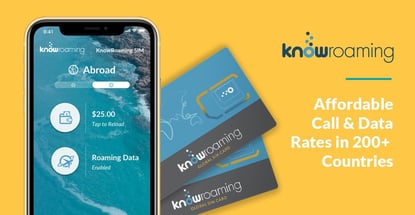 credit card news
Our experts and industry insiders blog the latest news, studies and current events from inside the credit card industry. Our articles follow strict editorial guidelines.
In a Nutshell: Swapping SIM cards and purchasing multiple voice and data plans can be a hassle for international travelers. KnowRoaming is eliminating these inconveniences and making traveling easier through its SIM card technology and its transparent pricing for a range of data plans. Users can choose between the company's intelligent SIM card, which works in more than 200 countries, or its Global SIM Sticker. The latter easily applies to physical SIM cards and opens up a range of new possibilities, including using multiple networks at once. The company also offers access to eSIM technology, which doesn't require the use of a physical SIM card or sticker. KnowRoaming prioritizes easy-to-understand pricing, and users can easily view their data usage via the KnowRoaming app.
For those who have spent time abroad, you likely know what a pain it can be to procure data and voice plans to stay in touch with friends and family back home — especially if you're traveling to multiple countries in one trip.
Purchasing and switching SIM cards in your smartphone over and over again is tedious, and paying for various plans can quickly become expensive.
Thankfully, KnowRoaming offers simple solutions to these modern-day traveling troubles.

The company's SIM card technology and simple pricing make traveling less stressful and less pricey.
We know there are a lot of travel enthusiasts among our credit card-savvy readers, so we recently spoke with Gregory Gundelfinger, KnowRoaming's CEO, to learn more about the company and its convenient SIM card options.
Gundelfinger explained how the company developed its own SIM cards and also harnessed eSIM technology to make communicating while traveling a breeze.
"The innovative KnowRoaming Solutions make it effortless for business and leisure travelers to stay connected on the go," according to the company website. "Through the accompanying KnowRoaming app, customers can transparently manage all their usage in real time with no contract or hidden fees."
The Company's SIM Cards and SIM Card Stickers Easily Connect You to Local Networks
"KnowRoaming started its disruption in the market by developing the most powerful SIM card ever made," Gundelfinger said. "We created an intelligent SIM card with an operating system that can take local profiles in whatever country it would go to. It could localize and be over-the-air updatable."
The company also developed the KnowRoaming Global SIM Sticker, which takes convenience to the next level when it comes to dealing with SIMS.
"The KnowRoaming sticker is a sticker that goes on top of your SIM card so that you can receive profiles so you don't have to swap your SIM card every time you travel," Gundelfinger said. The SIM sticker simply remains on user SIM cards, dormant until they travel abroad, at which point the sticker will be activated.
Users can save up to 85% on international voice and data roaming in more than 200 countries and territories by using the KnowRoaming sticker.
"With the Global SIM Sticker, you will never again have to search for Wi-Fi, buy a local SIM card or be shocked by international roaming charges," according to the website.
Each SIM sticker purchase comes with an applicator tool that allows users to easily apply the sticker to their card. The sticker is compatible with Nano, Mini, and Micro SIM card slots, and can be used with unlocked devices including iPhones and iPads running iOS 8.0 and newer, Android mobile/tablets running OS 4.0 and newer, Windows phones, and BlackBerry devices running Android OS.
KnowRoaming sticker users can also sign up for ReachMe.
"ReachMe is an optional subscription service that allows you to receive incoming calls to your home mobile number while abroad," according to the company. "ReachMe is available in 50+ countries and can be purchased and set up after registration in our app."
eSIM Technology Frees Users from Physical SIM Cards
Earlier this year, KnowRoaming introduced a new option to its stable of offerings — eSIM technology.
"An eSIM is an electronic SIM that allows you to activate a cellular plan by scanning a QR code without the need for physical SIM cards or contracts," according to a company announcement. "It allows you to utilize both your home SIM and eSIM simultaneously. You can add, remove, or change networks and data plans instantly."
This new SIM card technology provides a number of advantages for users, including the ability to access multiple networks without a physical SIM card and the capability to switch between your home carrier while using other local networks when traveling abroad.
Gundelfinger said with eSIMs, people can basically have two SIMs operating at the same time if their device is compatible. "You can have the eSIM network give you data, and you can have your traditional, home SIM that can give you voice and SMS," he said.
"It's the latest and greatest offering, and it's probably the most interesting because a lot of people don't know about this technology yet," Gundelfinger said.
eSIM technology has been around for a number of years, but it's just now beginning to take hold in the tech world's consumer device offerings.
"eSIM is a global specification by the GSMA which enables remote SIM provisioning of any mobile device," according to the GSMA website. "Remote provisioning means much smaller devices can be supported. The first products have already come to market, and we can expect to see many further launches in 2019."
Transparent Pricing Ensures KnowRoaming Customers Know Exactly What They are Getting
Gundelfinger said pricing and plan transparency is a top priority for KnowRoaming.
"Our go-to-market strategy has always been about pricing transparency and providing easy-to-understand propositions to our customer base," he said. "For $3.99 you get access to all these countries. It's a very simple flat rate."
Additionally, he said the company makes it very easy for customers to see exactly how much of their plans they have used through the KnowRoaming app.
"We believe all travelers should only pay for the data they need. We are proud to offer the most affordable, transparent and flexible mobile solutions to give KnowRoamers the freedom they deserve," according to KnowRoaming. "We aim to make every experience with our products a seamless one so our customers can truly roam smarter."
KnowRoaming has something for every traveler. According to users' usage, they can choose fixed data plans with 1GB/5GB for 30 days or buy unlimited data plans which are suitable for shorter trips. The company also has pay-as-you-go options if you are not planning to use a lot of data.
Gundelfinger said KnowRoaming's plans for the near future include expanding its already impressive network so travelers can enjoy the benefits of the company's products and services in even more places around the globe.