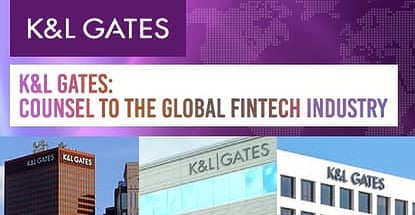 credit card news
Our experts and industry insiders blog the latest news, studies and current events from inside the credit card industry. Our articles follow strict editorial guidelines.
In a Nutshell: Financial technology is evolving rapidly with innovation in virtually every sector from payments to investments. With so much money at stake and constant acquisitions and mergers, the business requires legal expertise and guidance, putting law firms, like K&L Gates, in a position to help. The firm is one of the largest in the world with attorneys on five continents, and it has become the go-to firm for FinTech companies. In fact, K&L Gates is such an expert on FinTech that it publishes regular blog posts and hosts events to inform financial services professionals on the latest innovations in the space.
It's hard to find an industry where technology, particularly of the big data variety, isn't making a major impact on business, and financial services is no exception.
Startups in the FinTech space are among those disrupting the market and giving established financial institutions a run for their money. These startups have gained the interest of venture capitalists, who are helping to steer more than $1 billion weekly into these companies across the world.
With new technologies constantly emerging, K&L Gates, a large-scale, US-based law firm with a global reach on five continents and more than $1 billion in annual revenue, has emerged as the leading law firm in the FinTech vertical.

In 2014, K&L Gates officially launched the FinTech Group, soon followed by the FinTech Law Blog, giving readers a new angle of the market from a legal standpoint. K&L Gates' international reach spans across Asia, Australia, Europe, the Middle East, South America, and the United States, putting it in a unique position to provide different viewpoints and expertise to companies and lawyers who specialize in FinTech.
"As we took a look at the market before launching the practice, we realized that very few law firms were focusing on the FinTech industry," said Bob Zinn, global leader of the firm's FinTech practice at K&L Gates. "Our goal is to bring a different perspective to the market and to our clients as the FinTech industry continues to grow."
FinTech Law Watch Covers the Industry's Large Ecosystem, From Payments to Next Generation Commerce
K&L Gates' financial tech blog, known as "FinTech Law Watch," covers how innovation is affecting the realm of financial services. Since the industry is so broad, the range of topics covered in the blog posts tends to be diverse.
"FinTech is a large ecosystem, and the blog covers many different topics," Bob said. "Recognizing that it's a big industry, we focus on several different areas, such as changes in commerce and how FinTech plays a role in that."
For example, recent posts have covered regulatory trends in the Asia-Pacific region and a marked increase in FinTech patent applications. Because of technology's ability to quickly disrupt financial services, it's important for those who work in the industry to have a thorough understanding of the market and the laws that pertain to it. K&L Gates' lawyers understand the policies and business issues surrounding FinTech, and are fully qualified to provide insight into the market.
With Offices in 5 Continents, K&L Lawyers Support Financial Institutions of All Kinds
With more than 2,000 attorneys spread all over the world, K&L Gates' lawyers are readily accessible to financial institutions of all sizes and specialties. They work with clients in nearly every industry segment and advise clients from those just starting out to enterprise-level companies.
"We have significant experience representing FinTech companies with mergers and acquisitions, regulatory concerns, intellectual property, commercial contracts, and other areas where FinTech companies need legal advice" Bob said.
Professionals in the industry can find themselves requiring guidance in a number of FinTech-related issues, from security and compliance to consumer protection and privacy. K&L Gates has securities, commodities, and consumer financial lawyers with extensive experience in all of these areas, enabling them to advise their clients on some of the FinTech industry's more complex laws. Additionally on the corporate side, lawyers can help FinTech companies with licensing, outsourcing, acquiring, and selling businesses.
Hosted Events Bring Professionals Together to Hear About the Latest Technologies and Information
As part of its outreach, K&L Gates regularly hosts events targeted specifically to groups in markets that are prominent in the area. These events allow industry professionals to learn about what's new in their respective financial markets.
"Really what you can expect as an attendee of our programs is cutting-edge information, advice, and insight into the market, and what real-world, practical takeaways that a FinTech company or people investing in FinTech can gain from attending," said Ashley Galston, who leads the firm's business development efforts for the FinTech practice. "Rather than us just presenting to attendees, we really try to make them a part of the conversation and make sure that they leave feeling confident that it was time well spent."
K&L Gates' events frequently feature keynote speakers from third-party organizations, as well, allowing attendees to gain first-hand insight from experts who have their fingers on the pulse of this growing industry.
Gain Valuable Insight Into One of the World's Fastest Growing Industries Through K&L Gates
Much like FinTech, K&L Gates started in the US and eventually spread to other parts of the world.
"To many, the US will always be seen as the country that set the foundation for FinTech's success and the initial growth that we saw in the market," Ashley said. "But there are other countries that are absolutely catching up and really invested in FinTech and want to see it succeed. China experienced a significant uptick in FinTech financings in 2016. There is a lot going on in the wider region right now."
K&L Gates, along with the FinTech Law Watch blog, has become a trusted source of information, insight, and legal counsel for financial business professionals.
"We are the go-to law firm for FinTech companies," Bob said. "And because the ecosystem is as big as it is, we try to be that global counselor to give advice both on the business and the legal side to really make sure those FinTech companies are well-positioned when they go out into the marketplace themselves."