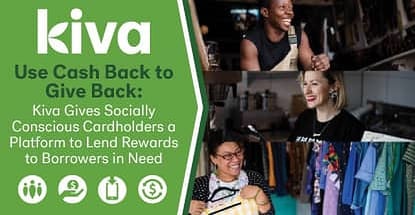 credit card news
Our experts and industry insiders blog the latest news, studies and current events from inside the credit card industry. Our articles follow strict editorial guidelines.
In a Nutshell:For many, getting a loan can feel like a difficult task, especially in developing countries where lenders are few and far between. Kiva seeks to change that by pursuing an innovative approach: offering crowdfunded loans that turn consumers into lenders. With a low minimum lending amount of $25, you can use your credit card's cash back rewards to fund projects in over 80 countries. You'll have full control to support the projects that matter to you, whether that's sustainable energy, small businesses, clean drinking water, education, or transportation. Kiva is world change at your fingertips.
We all know we should give back. For some of us, that means contributing to a charity or donating to food banks when the holidays roll around. But if you'd like to play a more direct, hands-on role in supporting the sorts of projects that matter to you, there is a solution.
Kiva is a unique money lending platform that provides an innovative way to support people, ideas, and movements. The site makes it easy for consumers everywhere to make small contributions that have huge outcomes.
The concept is simple: Kiva lets consumers become lenders to the borrowers of their choosing. The process cuts out the banks, middlemen, and red tape to give you the power to enact change by funding people who have big plans to better themselves and their communities.
Pick a clean energy project, a drive that empowers women in developing countries, or an initiative to bring art to schools — there are crowdfunding campaigns for whatever is close to your heart. And with a minimum lending amount of just $25 per project, it's easy for credit cardholders to use cash back rewards to fund projects that change lives.
How it Works: Crowdfunding Loans in Over 80 Countries
Chances are someone at some point has invited you to a Kickstarter campaign, so you're probably familiar with the concept of crowdfunding. Kiva applies the same concept to loans. The streamlined process goes something like this:
Borrowers, who are often financially excluded from traditional credit sources, apply for loans.
Those loans go through a strenuous approval process overseen by financial professionals.
Approved loans are posted to Kiva's site.
You browse open loans, then throw down money on those you'd like to support.
Once the loan is fully crowdfunded, Kiva provides that money to the borrower.
The borrower applies the loan to their goal, then repays you and the other lenders.
You feel great and (hopefully) repeat the process on another project.
The process is simple enough that Kiva can fund projects in more than 80 countries on an ongoing basis. To uphold the quality of their review process, Kiva has an impressive network of Field Partners (who are microfinance institutions, schools, and NGOs) and trustees who help screen loan applicants and complete the process.
The goal in all cases is to help "improve people's lives through safe, fair access to credit." These partners also help protect lenders, making sure that loans are successfully repaid. By working with partners, your money can reach farther distances and even more people who wouldn't have had support any other way.
Impact Individuals & Communities with as Little as $25 in Cash Back Rewards
The necessities of life can be costly — food, gas, home improvements — and many people also add charitable giving into budgets. But rather than factoring in another expense, even a feel-good one like lending money to someone in need, you can help people change their lives with little risk using cash back rewards on Kiva. After all, those rewards are kind of like magic money when you get them, so it's almost like giving money you never knew you had.
Of course, the upside of Kiva is that you do get that money back — in fact, they have a 97% repayment rate. When you're repaid, you can cash out if you like or use the returned money to fund another project by browsing causes by category and choosing the ones closest to your heart. Each time a borrower repays your loan, you can funnel that money into a new project. Think of it as a continuous charitable loop. And Kiva's low loan minimum of $25 makes it easy to lend.
But it's Kiva's impact by the numbers that's most jaw-dropping. Since starting, they've lent $880 million to borrowers across the world. Eighty-one percent of those borrowers are women, 211,000 are in conflict zones, and 695,000 are in the world's least-developed countries. In short: your modest cash back rewards will affect change where it is needed most.
2.2M Borrowers Seeking to Better Their Circumstances
Maybe the best part about Kiva is that it allows diverse borrowers to make changes in their lives, regardless of where they are or what they need. Access to loans in developing nations is notoriously difficult, but Kiva is making it easy for anyone with an internet connection to ask for help.
Whether that's a father in Lebanon raising money to pay his children's tuition fees or a woman attempting to purchase 20 water purifiers to provide her community with safe drinking water in Indonesia, Kiva helps borrowers get what they need quickly.
Countless success stories show the potential benefits for the 2.2 million borrowers on the platform — proving every little bit really helps. Take Lourdes, a single mom in Paraguay who went from being unable to afford diapers for her son to launching her dream business using Kiva funding. Or Chauncey, whose banana bread saved her when she faced long-term unemployment and whose Kiva loan allowed her to take her small farmers market stand and turn it into a bakery in Greenville, South Carolina. The success stories are endless, and thanks to Kiva, anyone can play a role in creating new ones.
Fun Fact: Helping Others Boosts Your Happiness
Lenders get something out of this, too. Helping others comes with countless benefits, including helping you feel better. Studies show that giving back makes us all feel empowered by providing us a clear sense of purpose and even lowering blood pressure.
With Kiva, you get to enjoy the benefits of helping others with very little risk. So, if spending a few minutes online and some cash back rewards lead to harnessing some powerful, feel-good vibes, why not? Don't just wait for the holidays to roll around to give, lend your support via Kiva and change someone's life.