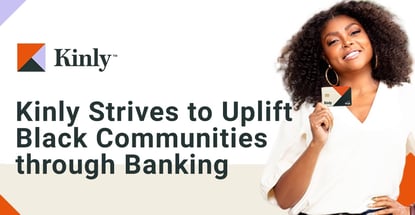 Our experts and industry insiders blog the latest news, studies and current events from inside the credit card industry. Our articles follow strict editorial guidelines.
In a Nutshell: Kinly provides a banking platform dedicated to helping Black communities grow wealth and cultivate social elevation. The company hopes that offering incentivized banking services can lead to greater financial empowerment for the underserved. Kinly does not charge any overdraft or monthly fees, and does not require a minimum balance. The company is currently developing a point rewards system that will encourage members to earn back savings while spending at their favorite retailers.
Looking back at history, Blacks living in America have had immeasurable hardships, starting with human slavery, continuing on past the civil rights movement and existing still with modern-day racial injustices.
Such hardships have been woven into the fabric of the country both socially and systemically, especially in the financial industry.
After the ratification of the Emancipation Proclamation, newly freed slaves needed ways in which to gain financial autonomy in a country that saw them as less than citizens. So in 1865, Congress formed the Freedman's Savings Bank.
Unfortunately, the bank was plagued with mismanagement and fraud. Even after electing Fredrick Douglass as its new president, the bank could not withstand the hemorrhaging and racist motives that led to its eventual bankruptcy.

The poor mismanagement by the bank caused most of the Black account holders to lose all of their savings, forever losing their faith in the system. It was just one among many recurring struggles that Black communities would face over the generations to follow.
Fast-forwarding to the present, we can see that the same problem persists: a lack of trust in a system that has wronged their people time and time again.
After the latest social upheaval with the murder of George Floyd, Donald Hawkins began looking into modern banking platforms for the Black community. He found that there was close to none in his search, and that revelation sparked Hawkins' desire to start a banking platform of his own that could serve a more meaningful purpose for Black communities.
In 2020, Hawkins founded Kinly, a financial services company that intends to help Black America build generational wealth. The company officially launched in June 2022 and has hit the ground running, improving financial livelihoods through financial education, Black-focused spending, and wealth building.
Building Banking Trust with Black America
Hawkins, who is the Founder and CEO of Kinly, lamented the fact that Black families have reason to doubt a system that has let them down over many generations.
"Black America has been in the same cycle, generation after generation, and not just about police brutality, but education reform, underemployment, healthcare, you name it. We've been fighting the same causes for many generations with very little to show for it in some instances," said Hawkins.
While doing his research, Hawkins discovered that both the Jewish and Italian immigrant communities were severely underserved and formed their own banks to help pull their communities out of poverty. Each group's respective banks led to major financial success, with Goldman Sachs starting in 1869 and the Bank of Italy eventually becoming Bank of America.
Hawkins said he intends to replicate the process and hopes Kinly can contribute to creating the same kind of socioeconomic foundation for Black communities.
Kinly is working to achieve this through many of its company benefits. It offers obligatory early access to paychecks, overdraft protection up to $100, no overdraft fees, no monthly fees and no minimum balances. And the company has members covered with the Kinly Visa Debit Card.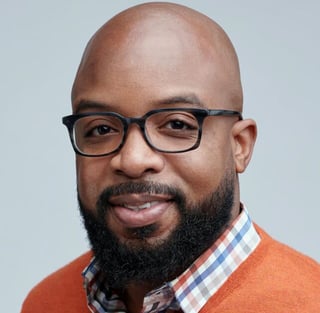 Kinly also has fee-free ATM service at over 55,000 AllPoint locations, and FDIC insured deposits.
"The first thing that we really wanted to cross from a threshold perspective is being able to offer a kind of one-to-one neobank solution," said Hawkins.
The banking platform is already growing nationally, centered mostly around metropolitan areas with large Black populations. There's been greater interest in downloads from cities like Atlanta, Houston, Chicago, and Oakland.
"We're looking at the viral coefficient of how people are sharing our platform with their families," said Hawkins. "We have a lot of things on the roadmap, and that's the benefit of serving the community directly the way we are. We get to benefit from building to suit the community's needs."
Within the next two months, the company will roll out additional features like Kinly Rewards, a point rewards program that allows members to earn cash back from over 24,000 retail merchants nationwide. Hawkins said he hopes members will use this program as a passive wealth building strategy.
Well-known brands such as Instacart, DoorDash, Walmart, Walgreen, and Target will be participating in Kinly Rewards.
Given the fact that around half of Black America is unbanked or underbanked, the importance of developing a consistent and reliable wealth building platform cannot be emphasized enough. A staggering 18% of African Americans do not have any relationship with banks at all.
"Phase one for us is to make that connection, build the relationship. And then as we continue to scale and grow as a company, we definitely want to get involved in many other solutions for the community, whether that be high yield savings accounts, business banking, credit lending, and the like," said Hawkins.
Financial Empowerment Through Education
Hawkins mentioned that Black America has an annual economic impact of $1.6 trillion, and he would like to see that spending power directed in ways that most benefits Black communities. He believes the best means of doing that is through financial education.
"We recognize that financial education is a sticky subject. Because of the way things have been historically, we haven't had a lot of trust in that community, from the sources of the education, and because of how things started," said Hawkins.
It's true. We can't skip the negative impacts that have affected the Black community and expect everyone to be fine with the current balance of power, ignoring the plight that Black America is in.
"One would assume that things are better than ever. There are very affluent Black Americans all across this country. But when you think about the wealth gap, it is the worst it has been in decades with Black families, on average, having only one-tenth of the wealth of the average white family," said Hawkins.
Despite the adversities, Kinly is looking to create a more informed member base with its focus on financial education. "We talk to our audience with the same tone, tenor and vigor that they expect from someone in the community. And not just around general financial education topics, but also adjacent topics. We have conversations with people regarding money and relationships."
The company has also enlisted the help of Dr. Melody Robinson Wright as Kinly's Director of Financial Education. After earning her degree and working in the medical field, Dr. Wright found herself in debt in excess of $200,000 despite her professional success. She then developed her own financial playbook that helped her get out of debt, and she began teaching others about the methods she learned.
"She's what I like to call a "finfluencer". She now works with tens of thousands of people on social media to help provide them her insights and feedback on how she was able to do it," said Hawkins. "And now she's a part of our team, managing partnerships with people that we call "money mentors" that also touches on things like car talk."
Hawkins hopes that improving financial education will help all groups become more affluent like the Wall Street types.
"We live in a day and age where financial education is not readily available to students in high school and middle school, and we tell people every day that you can go out and live in American dream, but yet, Wall Street has a completely different language that most of us, white, black, and in between, are not very accustomed to," said Hawkins.
"Can we be the voice of the people? Can we have that representation that the community desperately needs, and show them through equitable means that we see them, we respect them, and we want to help them build wealth? That was the genesis for Kinly getting started," recounted Hawkins. "A moment of pain in the community that created something we hope will be a lasting solution."
A Focus on Community and Upward Mobility
Hawkins feels that the first step to improving the financial standing of Black America is by making sure that the community sees and feels the representation.
While it may seem commonplace for people to talk about diversity, equity and inclusion at many large companies, the amount of change from the top down isn't commensurate.
"We recognize that it's not enough for people to just say "Hey, great, you look like me, I trust you." So we're actively doing things within the community, and also through the features we provide to ensure that we help develop that trust," said Hawkins.
"That's why we provide a lot of those fee-free options, and no hidden fees, and no minimum balances. That's an investment that we make in the community. And we hope the return on that investment is a more financially savvy customer."
Hawkins said he recognizes that young Black millennial women will play an important role in this process. A study conducted by the National Center For Education Statistics shows that Black women were conferred the third highest number of college degrees in the country in 2018-19. Unfortunately, they are also one of the most indebted and underpaid in the United States.
"She's critical, because she is also the generation that now realizes the power that she has. And we consider what we provide her as one of many tools that she has access to," said Hawkins.
"As she teaches the community, and as women leading the financial livelihood of Black America, that might help us deter the future generations of Black America from following in the same footsteps so many of us have gone through with joining the debt trap and looking at other alternatives."
For Kinly, it will take more than simply appealing to the sentiments of the Black community. Reaching out to allies among all groups will play a part in the process as well.
"Because of the representation intentionality, it also benefits us as an affinity focus neobank, when it comes to cost per acquisition, and just overall engagement," said Hawkins. "People want to be a part of the mission, because they're not accustomed to an entity like ours, directly speaking to not only Black America, but also allies."
"Our team is fully inclusive. And we also have a fully inclusive platform, with the mindset that building solutions for oppressed and underserved people creates benefits for all involved, when everyone has access," said Hawkins.