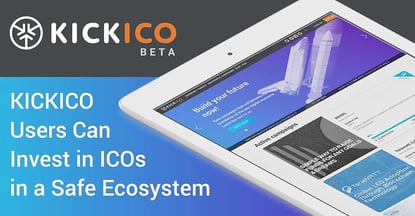 credit card news
Our experts and industry insiders blog the latest news, studies and current events from inside the credit card industry. Our articles follow strict editorial guidelines.
In a Nutshell: Startups and entrepreneurs have more funding options available to them than in years past, with options including crowdfunding and initial coin offerings (ICOs). KICKICO offers companies and investors alike the benefits of a safe, transparent platform in which to conduct business. Investors can get in on the ground floor of potentially innovative projects, while startups can use KICKICO's platform to vet their campaigns and reach interested audiences. With ICO interest beginning to contract, the company is planning ahead with the development of KICK ECOSYSTEM, which also supports security token offerings (STOs). With a prescient view of the market, KICKICO seems to be positioned for long-term sustainability where crowdfunding meets cryptocurrencies.
In recent years, the options for raising money to start a company have expanded beyond traditional alternatives, including bank loans, venture capitalists, and angel investors. With the rise of the cryptocurrency ecosystem, startups have turned increasingly to crowdfunding funds via initial coin offerings (ICOs).
The concept of ICOs is appealing to entrepreneurs and investors because of its straightforward nature and potential for both parties to profit. But crowdfunding and ICOs come with certain risks and drawbacks.
With KICKICO, Founder Anti Danilevski set out to solve those issues and provide startups and individuals with a safe ecosystem in which ICOs could be carried out.

Danilevski became immersed in the world of crowdfunding in 2011. The Russian entrepreneur worked on hundreds of Kickstarter campaigns and founded Russians on Kickstarter, a community of crowdfunding enthusiasts in the Russian-speaking world. Within a few years, Danilevski began to see shortcomings and negative trends in crowdfunding, such as large corporations launching crowdfunding campaigns that pushed the independent campaigns to the side.
When ICOs began to grow in popularity, Danilevski saw an opportunity to combine his passions for crowdfunding and cryptocurrency in a way that solved many of the problems he perceived in both. He told Irish Tech News the world of ICOs is "pure punk rock of capitalism" because anybody can potentially fund their ideas.
With this passion and vision, Danilevski launched KICKICO in 2017 to help bring about the full potential of blockchain crowdfunding with a platform that solved some of the greatest shortcomings seen in those industries.
"KICKICO solved real, urgent problems for blockchain startups wishing to raise capital and for token investors who were otherwise vulnerable," said Valeriya Minaeva, KICKICO's Public Relations Manager. "It made the experience of participating in an ICO safer, more consistent, and much easier at a time when 1,000 different things could and often would go wrong."
An Opportunity to Buy Tokens for New and Innovative Projects in Their Early Stages
KICKICO is an ecosystem-based platform that provides everyone with an opportunity to buy tokens of new groundbreaking projects in their early stages.
"Bitcoin gave us a solid example of a blockchain investment that provided thousands per cent in returns, but there are more cases like that to come," she said. "Within KICKICO, you are able to pick those lucrative tokens for your portfolio."
The company hosts a community of more than 55,000 people and has helped launch and promote dozens of successful token sales, with more than 250,000 ETH (Ether) raised, she said. KICKICO combines initiatives of entrepreneurs, investors, and service-providers into a community that allows every participant to benefit.
"It's really a community-based platform on blockchain that's used to host fundraising campaigns, support, rate, and discuss them," Minaeva said, "then purchase their tokens via cryptocurrencies."
She said the platform serves the interests of each and every user by giving authors an opportunity to communicate with their potential customers directly. Crucial feedback from the community will help them to find and fix their weak spots, and better prepare their campaigns to be launched.
Investors are able to get valuable information and various tools via KICKICO, which can drastically improve the decision-making process around purchasing new coins, she said. And every member can affect the fate of each project and the industry as a whole by expressing his or her opinions and voting for campaigns they find worthy.
"Our automated campaign scoring system and user ratings embody the initial KICKICO vision of decentralization and community rule," Minaeva said.
And, KICKICO offers its own virtual currency — KickCoin. The token is designed to be used by project authors for mutual settlements inside KIСKIСO; to pay for the launch of their fundraising projects, to purchase various attributes for fundraising projects, and for other internal processes and payments within the infrastructure of the KICKICO. The backers receive a bonus in the tokens of the project if they support it via KickCoins.
KICKICO's Experienced Team Guides Entrepreneurs Through the ICO Process
Minaeva said the freedom associated with ICOs attracts many entrepreneurs.
"Before ICOs, startup founders had no option other than to get money from investors in one funding round after another to expand their business," she said. "ICOs are relatively quick with pretty much no geographical restrictions and are able to tap from customers around the world."
She said this means the only real limits to how much someone can raise is based on the strength of the project marketing. Additionally, traditional ICOs generally do not require founders to give up equity, unlike traditional funding options.
KICKICO offers a number of key improvements over traditional funding models, according to the company.
"Our mission is to help innovators, game developers, entrepreneurs, designers, and other future-thinking creators to bring their ideas into reality regardless of their location, origin, or economic status," she said.
One of the key highlights for startups using KICKICO is lower fees for projects compared to other fundraising methods. She said legacy payment processors typically charge around 3.5%, and many crowdfunding platforms charge around 5%. And most campaigns must hire professional PR and marketing teams, and numerous other costs arise, like legal fees, taxes, and providing rewards to backers.
KICKICO only takes a fixed commission of 5% of the campaign's own tokens used in the project, she said.
Another benefit is that every KICKICO campaign is thoroughly moderated by an experienced team, she said.
"Our moderators point out project weaknesses and prepare them to the highest possible standard for the community and investor presentation," Minaeva said. "All legal is carefully checked and moderated to the highest standard."
She said the platform has helped to launch more than 35 projects, including Micromoney, Hacken, Universa, PlayKey, INS, and others, resulting in successful ICOs. And the projects continue to develop and expand their businesses.
Gearing up to Launch KICK ECOSYSTEM with a Full Suite of Services Surrounding Security Token Offerings
Over the past year, the ICO market has contracted — a movement that KICKICO predicted back in 2017. The company developed KICK ECOSYSTEM to prepare for the contraction and establish a structure that will remain sustainable for the foreseeable future.
"KICK ECOSYSTEM was designed in such a way to solve the current challenges facing the ICO market, like decreased participation by cryptocurrency startups and decreased numbers of token buyers," Minaeva said.
Also referred to as KICKICO version 4.0, the new system will embrace security token offerings (STO) with its full support and allow them to operate alongside normal ICOs, she said.
According to a Data Driven Investor article on Medium, "security tokens are practically digitized conventional securities" and ownership is confirmed on the blockchain. Legal compliance is programmed into security tokens through a number of smart contracts, making them inherently less risky than ICOs.
KICK ECOSYSTEM is a global update to KICKICO platform, which will connect both fiat and cryptocurrency worlds in one place. KICK ECOSYSTEM is a 'one-stop shop' for many because of its scale and the services offered:
KICKICO
KICKID
KICKWALLET
KICKEX
KICKDESK
AICO (new pricing models)
EICO KICKPAY (new pricing models)
KICKCPA
KICKREF
KICKMOBILE
"One of the highlight features of the ecosystem is the KICKEX (the release of which is scheduled to Q2 2020) —  a robust, centralized exchange," according to the company. "Through KICKICO, our team has securely managed nearly 800,000 ETH worth of transactions. We are leveraging that experience and adopting industry best practices from the banking industry in order to create the most secure crypto exchange in the world."
KICK ECOSYSTEM introduces new price mechanisms AICO (Auction Based Token Offering) and EICO (Exchange Based Token Offering), which would be adopted and implemented within the KICKEX Exchange and the tokens that will go through it.
The other feature to outline is KICKPAY, which is a cryptocurrency payment gateway that lets online merchants easily get paid in crypto, expanding their revenue potential.
Overall, KICK ECOSYSTEM will address and solve many of today's ICO market challenges. It will push STOs into the mainstream. And, ultimately, it will make a transformative impact in how startups are funded around the globe.
Interested readers can learn more about KICK ECOSYSTEM through the company's white paper.
"KICKICO will remain our flagship platform but all of our features play a significant role in the ecosystem circulation," Minaeva said. "We are gearing up to achieve critical mass and attract institutional interest for KICK ECOSYSTEM, which now accepts 12 different cryptocurrencies and has pending fiat support as well."
As the world of cryptocurrency and the digital ecosystem continues to evolve, it appears that KICKICO is prepared to meet the future head-on with its suite of offerings and support for ICOs and STOs.