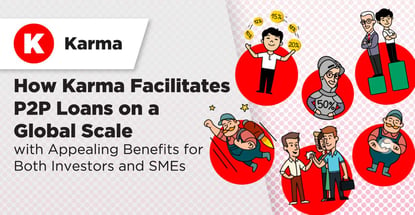 credit card news
Our experts and industry insiders blog the latest news, studies and current events from inside the credit card industry. Our articles follow strict editorial guidelines.
In a Nutshell: Since the early 2000s, P2P lending platforms have been offering SMEs funding generated by individual investors rather than banks. Over the years, the industry has evolved and Karma is one of the first platforms to offer P2P lending on a global scale. Karma investors can take advantage of high return rates. And the platform's credit reputation model helps investors make informed decisions about the projects they choose to fund. Karma generally provides borrowers with a much faster funding process than do traditional financial institutions. Loans also have much lower APRs than those seen by alternative lenders or private funds. Karma is built to utilize the KRM token for internal transactions, and the company will implement its use when it reaches 10,000 customers.
In recent decades, the Digital Revolution has impacted modern society in countless ways, from how we seek out entertainment (remember when Netflix delivered DVDs in the mail?) to how we communicate (insert sunglasses emoji).
Perhaps even more impactful, rapid advancements in digital technology and internet speeds have also resulted in huge shifts in how business is done at all levels across the globe.

In the dial-up days of the 1990s, small and medium-sized enterprises (SMEs) seeking funding were still presenting their cases to banks to prove they were worthy of receiving a loan. And well-to-do investors' portfolios were likely populated with a mix of stocks and bonds.
As developments in high-speed internet and cybersecurity evolved so did the possibilities of conducting business online. In the early 2000s, the first peer-to-peer lending networks appeared, delivering new methods for businesses to receive funding and new ways for investors to see returns.
In more recent years, P2P lending has become faster, safer, and more convenient than ever.
And Karma is one of the latest companies to deliver P2P loans with distinct benefits for both investors and SMEs and the very first to do it on a global scale.
We recently spoke with George Goognin, Co-Founder of Karma, to learn more about the P2P lending platform, the advantages it offers investors and borrowers, and how blockchain technology plays into it all.
Goognin said Karma started life in 2014 as a mutual fund of investments focusing on SME loans, then he and the team began to see how the company could use technology to disrupt the traditional lending market.
Karma Investors Can See Returns of up to 12% via the Platform's Decentralized Lending Structure
"There is a noticeable imbalance in the world where there are countries where there are many citizens with available free capital and investors have a lot of money, while at the same time, billions of people live in environments with severe shortages of money and disadvantageous credit rates," according to Karma's white paper.
In 2017, Karma set out to address this issue by expanding its user base and attracting investors to the platform through a token sale, which raised $10 million. The funding allowed Karma to offer its services on a global scale, giving investors access to new opportunities.
Not only did Karma's new direction attract new investors, but the P2P lending structure and its own scoring system for borrowers gives investors the power to make informed decisions.
"If you look at P2P lending from the investor's perspective, one of the most difficult challenges is trying to understand where to put the money and not seeing a lot of defaults from borrowers," Goognin said. "The average SME default rate is 20%."
But with Karma, each borrower request is submitted to an AI-based scoring system connected to various public databases before being reviewed and rated by multiple independent experts. Goognin said this system delivers a more reliable risk assessment than traditional credit scoring models.
"As far as investors, our most engaged customers are from the IT industry," Goognin said. "They are CTOs, team leaders, and so on, which is not a surprise for us because they are wealthy, technically advanced, and like to test new software and services."
Those interested in becoming investors can sign up for Karma by supplying their contact information and funding their account. From there, the new investors can select the project or projects they would like to fund through the Karma website or mobile app.
Investors can choose to invest as little as $100 or as much as $10 million. Profits can be withdrawn on a monthly basis or reinvested.
SMEs Gain Fast Access to Capital and Build a Global Public Credit History
Karma's online platform also offers distinct advantages for small and medium-sized businesses seeking funding.
Securing a business loan from traditional financial institutions can be a months-long process, but Karma's timeline is much faster. Goognin said most borrowers can complete Karma's application process — including KYC requirements — in two to three days.
Next, Karma will provide the borrower with a customized landing page intended to attract investors. The page may include a written description, videos, photographs, and interviews conducted by Karma.
Generally, SMEs receive funding one to two weeks after their request is approved, Goognin said. The process — from application to funding — usually takes about three weeks.
SMEs that have been denied funding through traditional lending institutions in the U.S. may turn to alternative lenders or private funds, Goognin said, each of which may charge borrowers 50% to 60% APR.
"This is enormously huge. I was shocked," he said. "But there are some businesses that use these types of loans. I've spoken to some private funds in the U.S. and their APRs are twice as large as (those in) Europe or even Russia."
Goognin said that, in Europe and Asia, loans that are for large companies or for companies executing a government contract have a maximum APR of 40% for the borrower.
"In the U.S., we were seeing 50%, 60%. That's nonsense to us," he said. "We were expecting to see either much larger loans or much lower interest rates in the U.S., but that's not the case."
Karma borrowers also build their credit reputation with each loan. If SMEs maintain a good reputation with timely payments, Karma lenders will be more likely to fund their future requests.
Karma's Blockchain Technology and the KRM Token Help Power the Lending Ecosystem
The Karma team structured the platform around its KRM token. But Goognin said that, after evaluating the rate of blockchain utilization, Karma has postponed pushing the KRM component of its ecosystem.
"At the moment, we basically don't use the token because we see that the adoption of cryptocurrencies and blockchain technologies are not so widespread yet," he said. "We can see that the token system can be difficult for people to understand."
Instead, Goognin said Karma will delay implementation of the token system until the platform has at least 10,000 customers.
"I believe that will be this winter if we continue our current trends," he said. "We will start using the token as a tool to have access for some privileged information, like, people will be able to be the first in line for special discounts or other promo activities."
Other incentives for investors may be a special gift from the borrower if the SME is producing a tangible product such as shoes, Goognin said.
"Investors really like those kinds of promos," he said.
Karma successfully completed its ICO in December 2017 when it reached a hard cap of $10 million. KRM will be limited to 3 billion tokens, and more than 1 billion have been sold so far.
Goognin said once KRM is implemented as a form of payment and incentive in the Karma ecosystem, the crypto's price will increase the more people use it.
The token implementation certainly gives Karma users something to look forward to. And in the meantime, investors can enjoy the platform's high return rates while SMEs can get the funding they need, quickly and at reasonable APRs.