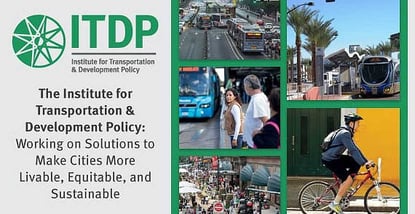 credit card news
Our experts and industry insiders blog the latest news, studies and current events from inside the credit card industry. Our articles follow strict editorial guidelines.
In a Nutshell: For three decades, the Institute for Transportation & Development Policy has advocated for alternatives to building more roads and automobiles. The New York-based nonprofit, which also has offices in Washington DC, India, China, Mexico, Brazil, Kenya, and Indonesia, initially focused on cycling in Nicaragua and sub-Saharan Africa, followed by other regions of the Global South, where a majority of people have limited mobility access. In recent years, ITDP has been more active in the US, where many millennials want to live in mixed-use urban areas and give up their cars to walk, bike, or ride public transportation. The organization advocates for a carrot-and-stick approach to move people from their automobiles to bicycles or bus rapid transit. As major cities across the world grapple with congestion, ITDP helps shape the future of transportation by making cities more livable, equitable, and sustainable.
In 1985, a small group of activists began working on a campaign called Bikes Not Bombs in the Maryland basement of Civil Engineer Michael Replogle. The campaign was in response to the US government's actions in Nicaragua, making the argument that improving people's mobility with a bicycle would do much more to improve the country than a war. Michael, who is now the Deputy Commissioner for Policy at the New York City Department of Transportation, co-founded the Institute for Transportation & Development Policy (ITDP), and remains on the board of directors.
"When we started, the big push in development was building roads, and unfortunately it still is," ITDP Global Communications Director Jemilah Magnusson said. "International development banks were focused on roads and access points. While that did help with economic development in some sense, it really left a lot of people behind because most people in the Global South still can't afford cars. It also wouldn't be a solution even if they all could, but a much bigger problem."
Cities in the Global South already deal with overwhelming traffic and congestion with only 5-20% of the population owning cars.
ITDP works around the world to promote, design, and implement cycling, pedestrian, and bus rapid transit systems as alternatives to automobiles. The organization's goal is to make cities more livable, equitable, and sustainable while cutting down on traffic congestion and air pollution.
Since in the late 1990s, the organization has promoted bus rapid transit, a high-capacity bus system with dedicated road lanes. They see it as the most efficient way to move large groups of people through a city and a much less costly, time-consuming, and politically charged option than a rail system.
Today, ITDP has participated in bus rapid transit (BRT) projects, parking reform initiatives, and urban development planning studies in China, Brazil, India, Indonesia, Mexico and, increasingly, the United States.
In the US, ITDP has provided technical and political support to cities including Boston, Chicago, San Francisco and, most recently, Albuquerque. The organization sees Houston, the fourth-largest city in the country and one with a car-centric reputation, as a potential US best practice use case. The city's improved bus network, strategic light rail, and progressive local NGOs and city leadership demonstrate that, "a good transit outcome in Houston could be a great example for other US cities to follow," Jemilah said.
The renewed interest in urban living among millennials entering the workforce and retiring boomers is another factor driving investments in transit, bicycling, and pedestrian facilities. As the retail industry can attest, those demographic groups want to work, live, and shop in a mixed-use city center and get around by foot, bike, or bus instead of car.
A Comprehensive Approach to Urban Planning for Sustainable Cities
ITDP integrates land-use and transportation in a comprehensive approach to urban planning.
Cycling, walking, and public transport can thrive in densely populated, mixed-use urban centers with infrastructure such as sidewalks, bikeways, signalized pedestrian crossings, transit stations, and bicycle docks.
The organization has established eight principles for urban development:
Develop neighborhoods that promote walking
Prioritize non-motorized transport networks
Create dense networks of streets and paths
Locate development near high-quality public transit
Plan for mixed-use
Optimize density and transit capacity
Create short commutes
Increase mobility by regulating parking and road use
ITDP recently rebranded those principles as its Transit-Oriented Development (TOD) 3.0 Standard. The standard is meant to help cities transition from being accessible to cars to communities that include all modes of transportation — walking, cycling, transit — in their plans to connect urban hubs.
The standard also highlights efficiency, health, cost, and sustainability goals for cities to aim for. Those include resilient modes of transportation that aren't easily disrupted.
"It's a vision of what a city should be," Jemilah said.
The organization is helping cities implement strategies that put those ideals within reach.
In Guangzhou, China, ITDP helped plan and design a BRT system, greenway network, bike sharing program, and urban development near BRT stations.
In 1996, ITDP launched a program in India to modernize more than 300,000 cycle rickshaws. From there, ITDP helped plan the country's first BRT system in the city of Ahmedabad. That system won the 2010 Sustainable Transportation Award, the 2013 Best Design Award for BRT at the International Association of Public Transport World Congress in Geneva, and other international awards.
ITDP also planned and designed BRT systems in several other Indian cities.
Jemilah said those successes often required convincing skeptical government officials.
"There's only so far you can get showing someone in a mid-sized Indian city pictures of Copenhagen," she said. "The way we get through that is we build a system in India, which is what we did in Ahmedabad. Once that was in place, we brought in other delegations from the region, and they loved it. It's like a lot of things; it's really hard to get the first break. But once you do, it goes rapidly."
Providing Incentives for People to Get Out of Their Cars
It isn't easy to change long-ingrained behaviors – especially asking people to give up their cars to get on a bus or bike. But ITDP takes a carrot-and-stick approach.
If cities invest in a high-quality BRT system, the carrot is a high-speed, comfortable, air-conditioned bus complete with wifi, comfortable transit stations, off-board fare collection to reduce wait times, and accessibility for people with disabilities.
The stick, Jemilah said, is having motorists pay more of what it really costs to drive and park. That may include congestion pricing, which is charging commuters to drive in a downtown or central business district during peak hours. That practice is already in place in London, Hong Kong, Singapore, and other areas around the globe, Jemilah said.
ITDP also advocates for parking reforms. That includes the removal of some on-street parking to free up space for BRT lanes or walking and biking infrastructure. Parking reform may also include charging more for certain spaces in a garage based on their desirability or time of day.
But those moves may face opposition in the US.
"As you can imagine it's a very difficult thing to do, politically," she said.
Identifying Opportunities for the Future of Transportation
More than three decades ago, a small contingent of advocates formed ITDP to urge international banks to look beyond roads and automobiles to fund sustainable, accessible transportation networks in developing nations. ITDP started with bicycles in Nicaragua and progressed to designing BRT systems in cities across the globe.
Looking ahead, ITDP leadership thinks regulatory decisions on the implementation of self-driving cars will determine the future of transportation and sustainability in cities.
"It can be a great thing or it can be a terrible thing for our cities," Jemilah said. "It is up to us. It can be great if there are regulations to mandate that these vehicles have to be shared. That means we are reducing the number of vehicle trips by sharing, which could be a revelation."
But without the proper planning and control, self-driving cars could make congestion in sprawling cities much worse.
"If we don't regulate, we could end up with situations where there is even more congestion. We could have an explosive growth in vehicle trips. We could have people sending passenger-less cars by themselves to run errands," Jemilah said.
The ITDP is hard at work studying those scenarios, and coming up with policies and strategies to help cities not only avoid those problems, but also become more accessible, sustainable, and livable in the process.