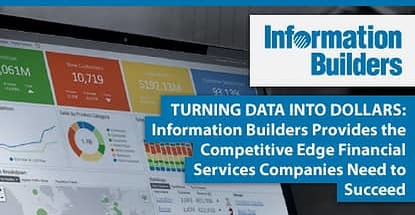 credit card news
Our experts and industry insiders blog the latest news, studies and current events from inside the credit card industry. Our articles follow strict editorial guidelines.
In a Nutshell: Big data, analytics, and data visualization are becoming increasingly important in the business world, and the financial services industry is no exception. For more than 40 years, the aptly named Information Builders has been on the cutting edge of business intelligence technology. By maintaining a focus on developing integration, integrity, and intelligence software, Information Builders is able to serve up budget-friendly solutions for enterprise banks and smaller credit unions. Using this data, banks are able to enhance productivity and keep customers coming back.
In this era of big data and machine learning, financial institutions of all sizes are finding tangible value in making sense of vast sets of information.
Many banks, payments processors, and other financial services companies have amassed large quantities of data, but they may not be sure what to do with it. This is where machine-learning algorithms are useful. Through intelligent software, banks are using analytics to improve customer acquisition and retention, boost workforce productivity, improve risk control, create seamless customer experiences, and discover new sources for growth.
As a purveyor of this intelligent software, Information Builders has been in the business of turning data into revenue for more than 40 years. Before the internet even existed, the New York City-based company was creating self-service methods of making sense of data stored on computers. As technology has evolved, so has Information Builders, which develops solutions for a range of industries, from retail and financial services to health care and higher education.

"From mainframe computing, to client server, to the web, to search, and to the current-day focus on data visualization and big data, Information Builders has been there at the right time with the right technology every step of the way," said Dan Ortolani, Senior Vice President of Worldwide Customer Services at Information Builders.
What started in a tiny office across from Penn Station has blossomed into a global presence with tens of thousands of customers spread across the world. Information Builders has built its reputation on award-winning products and services with accolades coming in from Gartner, Forrester, The Stevie Awards, and a host of other analyst research firms.
"We help our customers turn data into something of value," said Michael Corcoran, Chief Marketing Officer at Information Builders. "The three ingredients that are required for that — we call them the three I's — integration, integrity, and intelligence software."
Information Builders has three powerful suites that represent each of these I's — iWay Integration Solutions, iWay Integrity Solutions, and WebFOCUS Business Intelligence and Analytics.
"We love what we build," Michael said. "We're proud of the technology we build here. It gets us excited, but we're actually much more proud of what our customers do with that technology, what they build with it, and what it means to their business."
WebFOCUS Levels the Playing Field for Credit Unions and Community Banks
Smaller banks and credit unions might not have the same resources larger financial institutions do to invest millions of dollars in data science and analytics, but it doesn't mean they can't achieve similar results at a price point that fits their budgets.
Information Builders' core product WebFOCUS was developed as a pre-built solution to help these smaller institutions make sense of accumulated data. The information you're collecting on customers has tremendous value when you can put it into context, and it can be used to boost productivity, retain and acquire customers, and improve their experiences.
WebFOCUS helps enhance analytics capabilities by combining data sources and turning them into a single view of customers through user-friendly dashboards that unlock insights, which can be leveraged for business purposes.
Information Builders incorporates InfoApps™, which are interactive analytics applications that are built to be visual and accessible to everyday users, into the solutions, taking the strain off what tend to be small IT departments. When every member of the team can access relevant data, it empowers community banks and credit unions to do more.
Built as a single, affordable analytics platform, WebFOCUS users can start with basic capabilities and add on more advanced features, like predictive analytics and social media analytics, when they are ready for the next step. Information Builders believes every business should be able to get something out of data, and you don't have to spend millions to get there.
Business Intelligence and Analytics Drive Results for Financial Enterprises
Banks are customer-facing businesses. With similar products and rates, they tend to compete on customer service and user-friendly experiences. A lot of industries are realizing the potential behind machine learning and how it can be used to automate processes and deliver highly visualized information to the employees who need it. These workers then take data that's relevant to their specific jobs and use it to improve operations and customer experiences.
Information Builders is no stranger to the banking industry, and this experience isn't limited to its solutions for credit unions. In fact, nine of the 10 largest US banks and the five largest Canadian banks use Information Builders to make sense of their data.
Industry standouts, such as US Bank, PNC Bank, and Scotiabank, have all leveraged Information Builders' services to deliver data to those who need it, from managers and employees to partners and customers. With solutions for business intelligence (BI) and analytics, data integrity, and integration, Information Builders is producing highly visual, interactive dashboards and applications to combine data into easily digestible charts and graphs.
To improve customer service, Information Builders gives banks the ability to create dashboards and e-statements for their customers that can be accessed from any device, giving them a holistic view of their finances and spending habits that can lead to better money decisions.
Information Builders also helps banks achieve unified views of customers with predictive behavior analysis that delivers real-time alerts when clients demonstrate higher rates of attrition. Financial institutions also use WebFOCUS to identify trading spikes and speed up lending decisions. Other areas where Information Builders is improving business intelligence include risk management, compliance, and optimizing operations and efficiency.
More Than 40 Years of Turning Information into Insights
Since Information Builders launched in 1975, each era has brought new technology from the BI and analytics leaders. While other technology companies might have great ideas at a moment in time, it takes a true enterprising spirit to outlast the competition for more than four decades.
"We build on our technologies. We don't stay stagnant and say, 'This is what we have to offer,'" said Susan Trommer, Director of WebFOCUS Product Management at Information Builders. "Each year, there is new technology, there are new innovations, and it's constantly adapting and evolving."
Information Builders has stayed true to its three I's philosophy with products designed to give clients an end-to-end business intelligence experience they can use to drive results in virtually any industry — financial services included. After all, the data is important, but so is the quality of the data, and how it's presented.
"Forty years ago, we were in the business of turning data into information. Today, we're in the business of turning data into information," said Monte Roy, Senior Vice President at Information Builders. "The way we do it is more advanced, but it's the same underlying principle."