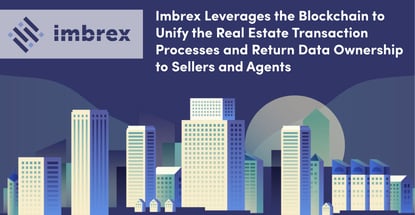 credit card news
Our experts and industry insiders blog the latest news, studies and current events from inside the credit card industry. Our articles follow strict editorial guidelines.
In a Nutshell: Imbrex is a blockchain-based real estate platform that tracks and hosts transactions from listing to closing. The platform leverages smart contracts that allow both parties to exchange documents without relinquishing ownership or compromising security. When brothers Stephen and William King founded Imbrex, they envisioned it as the future of global real estate marketplaces. And the pair has its sights set on growing the company into the biggest platform in the United States.
Brothers Stephen and William King have a favorite quote that always brings them inspiration. And, in many ways, it helped guide them to where they are today.
"You never change things by fighting the existing reality," said R. Buckminster Fuller, American architect, inventor, and visionary in the 20th century. "To change something, build a new model that makes the existing model obsolete."
The King brothers thought about that quote when they recognized that real estate listings transactions had mostly followed the same model for decades. A few newcomers, including DocuSign, made things a little easier, but innovation had yet to disrupt the space.

So the brothers began developing Imbrex, a potentially market-defining blockchain real estate platform. Imbrex aims to unify the marketplace through nationwide listings while returning data ownership to sellers and agents. It's an undertaking that would likely make Fuller proud.
"This is a category that's looking for unification," William said. "We're doing that with this new paradigm, but we're also creating something new that's still intuitive and familiar."
Imbrex not only hosts property listings but also connects all of the parties in a real estate transaction, including agents, title companies, attorneys, brokers, buyers, and sellers. Everyone works on a single platform, where data and documents move freely without anyone relinquishing ownership rights or compromising security.
"We can leverage the blockchain to foster direct communication between the brokerage company, the title company, and the banks," Stephen said. "We built an open-source protocol called Tegula to create the world's first real estate network, where the participants own all of the data that's transmitted."
That's in stark contrast to current platforms that list properties, only help up to a certain point, and retain ownership of the user's data.
"The second part of our business tracks the transaction on the application layer," Stephen said. "Transactions have a lot of parties that come together to pass documents around to get the buyer and seller to consummate a deal efficiently. We can handle all of that."
Providing Virtual Room Where Parties Meet to Close Deals
Traditionally, if buyers wanted to purchase a house in another U.S. market, they'd have to find a local agent in that area, search through listings online, and travel to view potential properties. And that's just the beginning of the real work.
Shuttling documents back and forth between parties in different locations brings more complications. Real estate agents often use applications and programs to manage various files and forms, but mistakes still happen.
William and Stephen wanted to make Imbrex a singular destination for tracking transactions — from listing to closing.
"What we've created is a virtual transaction room where the buyer and seller — or the landlord and tenant — can come together with their respective real estate agents, lenders, or anybody else involved, and securely exchange those documents," Stephen said.
He also noted that the parties involved have complete control over every document assigned to them. At no point does Imbrex store or view the material. That security is a trademark of the blockchain — and a primary reason why the brothers chose to use it for their platform.
Buyers can also post deposits or escrows to the system and seal deals using customizable smart contracts to compensate the seller and pay other commissions and fees.
Because smart contracts only deal in cryptocurrency, Imbrex created an intuitive system that converts the buyer's funds into a stable cryptocurrency pegged to the dollar to complete a contract. Then it automatically converts the funds back to fiat currency for transfer to the seller.
"There had to be a lot of thoughtfulness around the volatility in crypto," Stephen said. "That's why we chose a stablecoin to put all of this together."
Tegula Encryption Lets Listers Retain Ownership of Data
Imbrex and tegula were overlapping tiles that the ancient Greeks and Romans used to make roofs waterproof and durable. Today, the King brothers use the Tegula protocol to complement the Imbrex platform.
Tegula is the encryption piece that allows firms to control and own their data, instead of handing it over to other real estate platforms. Those third-party platforms often horde the data and charge others large sums of money to access it.
At its core, Tegula transforms existing real estate data into a format that the blockchain understands. The protocol then generates an encryption key that moves the data over to Imbrex.
From there, Imbrex can assist in creating a listing and attracting would-be buyers to the property. While it all sounds heavily technical, the brothers insist it's an intuitive process that doesn't require experience in blockchain technology.
"Blockchain is an exciting word and something that people are very interested in," William said. "But there's also a lot of misunderstanding about what it means. The blockchain is all about solving real-world problems."
And, through their research, the brothers feel that they've discovered several of the problems that real estate agents and brokers face. In many ways, they are the same problems that brokers have faced for decades — since the space hasn't innovated at the same rate as similar industries.
"The real estate business is all about listings," William said. "Our ambition is to connect those firms globally while allowing them to control their data and transactions."
To achieve that goal, the King brothers aren't necessarily looking to go head to head with real estate giants. Instead, they're choosing to educate as many people as possible on the benefits and security of the blockchain, and how it can solve problems in the real estate marketplace.
"We want to focus on the economics involved, as well as the data ownership," William said. "Then, we want to add the transaction side and display it through a nice interface. It's worked for us, so far, as we've had strong growth on the listing side of things."
Creating a Comprehensive Service Using Customer Feedback
William's experience of founding, and later selling, a tech company has helped him throughout the development of Imbrex. While he has the know-how to complete just about any task on the tech side of the business, he understands that customers will dictate the direction of any company.
"The best thing that I learned throughout the experience is that you might think you know what you are, but, when you go to market, your customers tell you what you are," he said. "Building software and other solutions in an office where you don't get customer feedback and refinement is a dangerous thing. It's all about how the customers use it."
That's why the brothers spend time researching the market and speaking to customers to better understand their needs. William noted that just about every conversation leads to information the brothers hadn't thought of before.
"We've learned that document management is a real pain point for a lot of people," he said. "There are a lot of documents in a lot of different places. DocuSign helps with that, but it doesn't do the entire job. Our ability to group every document in one place for all of the parties involved is a huge value-add."
But while the brothers close in on the final stages of development on Imbrex, they're also working closely with partners and setting their sights on the global real estate marketplace.
"This is going to change the game," William said. "We already see it from the feedback that we get from our customers and partners. The platform is approachable, understandable, and intuitive. The combination of those things will put Imbrex in a unique position to be extraordinarily successful."