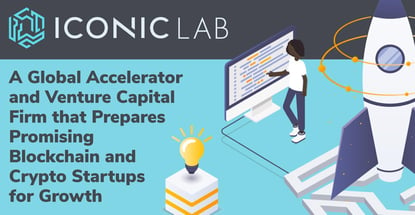 credit card news
Our experts and industry insiders blog the latest news, studies and current events from inside the credit card industry. Our articles follow strict editorial guidelines.
In a Nutshell: Most technologists are aware of blockchain's potential, but it's an open question as to what role it will play in global value chains. Helping transform today's most enigmatic technology from an experiment into a practicality is Iconic Lab, a VC and award-winning accelerator program focused on scaling blockchain startups. Iconic's due diligence in surfacing the most focused blockchain solutions in a range of industries has resulted in 90% of its partners successfully completing follow-on financing rounds.
Anyone who follows blockchain and cryptocurrency even a little bit knows that startups in the space tend to pop in and out of existence like soda bubbles. While that's maybe a good thing for more speculatively minded participants who are only looking to jump to the next investment win, it's not a great way to build a revolutionary new economy.
That's why firms like Iconic Lab are so important. Iconic is a global blockchain accelerator that does the necessary due diligence to choose the right ideas for advancing blockchain beyond the theoretical.
Iconic's portfolio of companies includes award-winning firms in a diverse set of industries that include finance, energy, AI, advertising, and even gaming. Iconic helps the passionate leaders of these ventures make the best technology choices, develop a vocabulary for communicating their vision, and connect with funding sources that are in it for the long haul.
Moreover, Iconic is also a blockchain company. Through its decentralized VC club, Iconic lets holders of its own ICNQ crypto token participate in the accelerator. ICNQ holders receive exclusive access to the token sales (and traditional equity fundraisers) of accelerator program graduates as well as guidance in choosing the investment strategy that's right for them.
Marketing Director and Co-Founder Arabdha Sudhir says it all adds up to a combination of strengths that can bring investors from the world at large to the blockchain table.
"In this market, you have a lot of companies that don't really need blockchain but are out there because its the trend," she said. "We do a 360-degree quality filtering for the startups we take on as well as provide the services to help the companies raise the funding they need."
An Industry-Agnostic Approach to Accelerating Blockchain Startups
Frankfurt-headquartered Iconic came together in 2017 at a time when crypto valuations were rising and companies were beginning to raise capital solely through their own token offerings. The experienced Iconic team brings together backgrounds in venture capital, blockchain technologies, and cryptocurrency investments to the task of sustaining and professionalizing that growth.
The Iconic team holds that dedication in common with the leaders of its accelerator companies — involvement with Iconic means sharing the conviction that blockchain offers the best way for companies to differentiate and scale for the future.
With Iconic's help, together they've raised more than €30 million. And the companies Iconic invests in run the gamut.
"We're pretty much sector agnostic in the sense that a partner of ours can operate in any field as long as the core technology they're working with is blockchain," Arabdha said.
Verv, for example, uses blockchain as an IoT enabler, operating an energy trading platform that lets consumers monetize household energy data to offset electricity costs. INDX is a crypto investment fund that gives regular passive income using masternodes, despite the market volatility. And AI-based Braincities functions as a decision-making platform for managers looking to probe the massive amounts of data at their disposal for insights beyond human reach.
"Braincities is one of our most innovative portfolio companies — in 2019 it won EU recognition for its R&D work," Arabdha said.
Other Iconic companies include a builder of blockchain-based financial platforms, a general business infrastructure provider, a renewable energy management platform provider, a smart contract audit firm, and a video content and advertising platform.
Topl, meanwhile, builds payment solutions focused on impact investment in developing countries, while Vreo seamlessly integrates advertising into gaming applications.
"Without destroying the gaming experience, all the impressions are super trackable because they're based on the blockchain," Arabdha said.
Thorough Processes Surface the Most Applicable Models
Out of more than 1,000 applications received at the Iconic accelerator, 10 companies have emerged so far. More are on the horizon, of course, but the portfolio's diversity begs the question of how the Iconic team manages the selection.
The fact of the matter is that Iconic doesn't work with just anyone — the team's company-building experience and blockchain expertise led it to create a multi-stage process for surfacing the best of the best.
"The most important element to ensuring you have the right ideas is to use the right filtering process," Arabdha said. For every applicant, the team looks at the founders' backgrounds, their vision, what brings them together, and the concept behind the pitch. They ask whether the model credibly ties to blockchain and whether tokenization is actually necessary.
"Because if you look at most of the ideas that are pitched to blockchain accelerators, you will realize that a lot of them are not really backed by a solid model," Arabdha said. "And that's easy to know if you have a very thorough due-diligence process."
Initial contact establishes the veracity of the pitch — and then Iconic looks at whether it can provide everything the applicant needs.
"Can we really support them with what we're providing? Essentially, what the process is about is building that perfect bridge between what a company is looking for, where it is, what we can provide, and if it's the right fit for our vision overall," Arabdha said.
It's a rigorous process, but it's worth it to blockchain entrepreneurs who want to remain relevant in a tumultuous industry. Acceptance into the accelerator starts a chain of events and learning that are tailored to the unique needs of each business, yet with a single ultimate goal in mind.
Comprehensive Go-to-Market Strategies Boost Credibility in the Crypto Space
Every startup selected by Iconic receives 360-level custom treatment — fundraising, marketing, business development, partnerships, and technical and legal support.
"There's a lot of hassle around just setting up the company — the infrastructure, the technical support, the KYC/AML," Arabdha said. "And, in fact, if it's crypto, the market gets even trickier because not a lot of people understand the value drivers there — what kind of strategies apply to the companies or even who are the crypto-centric investors in the community that apply to their particular business model."
"So, we do a full-fledged go-to-market strategy for the company, taking them to the right events, building the right tokenization models — pretty much everything they need," Arabdha said.

This is vital because although blockchain folks are good at understanding the technical part of what they do, that's often about as far as it goes. And that's something Arabdha, a marketing person at heart, knows all too well.
"Blockchain people think blockchain's quite simple to explain and that people get it," she said. "But there's always this gap of understanding between how the companies bring across their ideas and how investors perceive them. It's really a simple detail, but you'd be surprised at how many investments are lost just because of this small gap in understanding."
The results speak for themselves and bode well for blockchain and the investment community connected to it. Iconic's influence is boosting the space's credibility.
"We see ourselves as enablers," Arabdha said. "Our core strengths all boil down to our team. Between us, we cover all the areas of expertise. And, in addition to skills, we have this intuitive knack for knowing when an idea clicks."