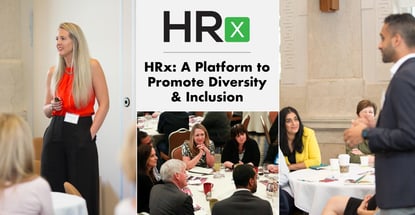 credit card news
Our experts and industry insiders blog the latest news, studies and current events from inside the credit card industry. Our articles follow strict editorial guidelines.
In a Nutshell: While companies have talked about diversity and inclusion for years, it wasn't until more recently that businesses really began to seek out ways to implement policies for a more diverse, inclusive workforce. And HRx is helping companies step into the future with its combination of data, counseling, and training. HRx focuses on companies with 5,000 or more employees and uses the rich data the companies already have as the basis for its analytics. Once the data is analyzed, companies can then build a plan to achieve better diversity and inclusion, and ultimately improve the company.
The implementation of diversity and inclusion policies in the workplace is surprisingly new, but thanks to the Civil Rights Act of 1964 and numerous advocates and impactful programs, most people are at least familiar with the concept.
And it wasn't until even more recently that companies actually began to see the importance of a diverse workforce that is inclusive of a variety of voices and opinions. Many companies saw diversity and inclusion goals as icing on the cake, not a key component to success.

All that is changing, and thanks to companies like the Vancouver-based
HRx
, businesses can implement diversity and inclusion strategies and achieve goals easier than ever.
"For the last 10 years or so, people have been talking about diversity and inclusion," said Wyle Baoween, CEO of HRx. "And we noticed that people began wondering, 'Ok, so what's next? What should we do? Enough going to conferences and hearing about it; let's do some work.'"
And Baoween said he understands that businesses can consciously or unconsciously make hiring decisions based on information such as race, gender, nationality, religion, schools, and other factors.
The Yemen-born entrepreneur came to Canada in 2011 and despite having an impressive pedigree, struggled to land an interview. And having worked in recruitment technology, Baoween said he has seen plenty of unconscious bias in the recruitment process.
Eventually, Baoween's experience, education, and background coalesced into the founding of HRx. Initially, the company focused on diversity and inclusion by matching employers with qualified job-seekers whose names, school names, and previous company names had been removed from their résumés. The employers still saw the applicant's level of education, the types of companies they worked for, and their areas of expertise.
Eventually, Baoween learned how HRx could impact diversity and inclusion on a much larger scale through the use of data, training, and counseling with large companies.
The Importance of Prioritizing Diversity and Inclusion in the Modern Workplace
Baoween explained that implementing isolated diversity practices on their own, or practicing inclusion alone, does not necessarily improve the performance of individuals or businesses. The key is prioritizing both diversity and inclusion.
If a company that primarily employs all males with similar backgrounds and interests hires a female as part of a team, it may technically make the team more diverse but not necessarily inclusive.
When inclusivity is emphasized as well, the woman's voice can be heard, and she may bring new ideas to the team or approach problems in a different way — ultimately benefiting the company.
"Having people with different points of view, backgrounds, gender and ethnicity — they look at the same problem from different angles," Baoween said. "People with engineering background look at a problem differently compared to marketing for example. The environment and culture of where we grew up also influence how we see the world".
All of these differences are very valuable when it comes to problem-solving or innovating. "Being able to look at the problem from as many different angles as we can will improve the solution we develop for sure," he said.
"Also, because we are different, we challenge each other which makes us smarter," Baoween said. "If I know there are members of my team with diverse views who might challenge my ideas, I know I'll have to work harder before I present my next idea in a meeting."
Rather than just going through the motions, a diverse and inclusive team will be more likely to have someone asking why things were done a certain way and whether other perspectives and approaches were considered.
But simply adding diversity and inclusion requirements to a company policy does not result in positive change. Diversity and inclusion efforts must be well-managed to be effective.
How HRx Data Helps Identify Areas for Improving D&I Across a Range of Scenarios
"The focus of the business really is data — I think that's the whole premise of HRx," Baoween said.
The company's team brings experience from the fields of engineering, data science, social sciences, human resources, change management, and other diverse areas, he said.
"We brought all of that together and thought about how we could help companies that are a little bit bigger — companies that have 5,000-plus employees — with our data-based efforts," Baoween said. "Basically, we work as these companies' people analytics department."
HRx combines its tools and knowledge with the rich data large companies have on their employees. Baoween said companies maintain a lot of data on their employees within HR and payroll departments. It's just a matter of compiling and managing that data and using it to help form diversity and inclusion practices.
"We offer analytics-as-a-service, which means we access your raw data and deliver the analytics and dashboards you need," according to the HRx website. "This eliminates concerns over in-house complex IT infrastructure, fragmented data and the need for dedicated resources."
HRx also provides what it calls progressive analytics.
"As a leader in designing solutions for inclusive people practices, we offer traditional people analytics with an added lens of diversity, highlighting areas such as gender, age, sexual orientation," according to the company.
All of this data can help a business determine considerations such as how diverse the company's hiring practices are, whether minorities are being promoted at the same rate as others, whether certain groups are being fired at a higher rate and the turnover rate for specific demographics.
Counseling and Training Complements Data to Help Companies Maintain Best Practices
Once the data is analyzed, Baoween said HRx can then use it to help determine the best path forward for companies and departments.
"If the data shows a certain department within a company is having issues, we can target our training there," he said. "We can have a conversation with the managers to determine why, perhaps, men are being hired at a greater rate than women."
Baoween said these kinds of conversations have helped companies determine that perception is not always the truth, once data is brought into the equation.
He offered a hypothetical example based on real cases he has encountered in which managers had the perception that women in their department are less committed to work than men and that they leave the organization when having kids.
But Baoween said the data actually demonstrated that men were leaving the company at a significant rate due to finding other opportunities, for example.
"If the theory is that women are less committed, the data in the case proved that wrong," he said. "So these perceptions aren't necessarily always accurate."
But once the issue is pinpointed and the data applied, HRx helps the company lay out a path to improvement, often through counseling and training.
"We work with you to better assess your organization's unique culture and systematically identify the barriers minorities face in the organization," according to HRx. "We develop practical and evidence-based strategies to advance your organization's diversity and inclusion."
Similarly, the company works closely with clients to develop training plans that will deliver the most impact.
"Our training is tailored based on your organization's unique needs to prepare your employees, managers and senior executives and give them the required knowledge and tools in their journey to advance diversity and inclusion," according to the company website.
Diverse and Inclusive Teams Will be a Valuable Component to the Success of Companies
"I think the future is diverse and inclusive," Baoween said. "I've seen a lot of change in the five to seven years where more people are talking about this and more people care about these issues."
Additionally, companies are realizing that the landscape is changing, and, if they are not considering diversity and inclusion matters, then they may already be behind their competition.
"Younger people really care about this, and it's true for North America and true for clients we talked to in Europe," Baoween said. "Things are changing. I like to think the future is more positive, despite what's happening, despite who the president is, or whatever it may be."