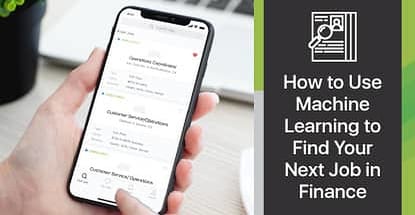 credit card news
Our experts and industry insiders blog the latest news, studies and current events from inside the credit card industry. Our articles follow strict editorial guidelines.
In a Nutshell: Searching for a job in today's marketplace is far different than it was just a decade ago. Instead of spending hundreds of dollars to print résumés on fancy paper and waste hours on customized letterhead and cover letters, people now turn to technology like ZipRecruiter to connect them to relevant opportunities. ZipRecruiter's machine learning algorithm uses information on the user's résumé to find open positions that match their qualifications, interests, and skills, and sends push notifications alerting them of new openings. The platform lists thousands of open positions in the financial technology and service fields with one-click applications that make it easy to search for your next job.
My first time fishing was nearly my last time fishing. I was 7 years old when my father first took me on the water. By the time the morning had turned into the afternoon, and eventually into the evening, I'd caught far more mosquito bites than fish.
After the seventh hour without a nibble, my dad had me reel in my line. He was the only one in the boat surprised to see I hadn't been using bait all day. After all, no one told me I had to put anything on my hook before throwing it in the water. How was I to know?
Today's job seekers who depend on paper résumés and cover letters aren't much different than someone fishing without a worm on their hook. While you're technically trying to get a nibble, there isn't much to tempt an employer to consider your application.
Online employment marketplaces are plentiful, but many require knowledge in popular keywords to help users compete with thousands of other applicants vying for the same employer attention.
Recent studies have found that job recruiters take an average of 6 seconds to scan a résumé and a paltry 1 in 6 applicants get an interview. Companies receive an average of 250 résumés for every posted corporate job offering. With the level of competition applicants contend with these days, finding the specific job postings they qualify for to improve their odds of a callback has never been so important.

Sure you can dispatch an army of emailed résumés into the world and hope they do your bidding, but what's the point in expending that much energy if the jobs they attract aren't relevant to your interests and skills?
Of the many online job marketplaces we've researched, ZipRecruiter continually stands out as the platform that best connects job seekers with relevant employers in their respective fields. In the incredibly competitive fields of financial services and technology, ZipRecruiter's machine learning algorithm serves up employment opportunities that match precisely what users are looking for in a job.
Users simply sign up for an account, upload their résumés, and hand the reins over to the algorithm, which immediately categorizes users based on their desired job, skills, work history, and educational background. Users don't need to search after the initial query since the algorithm sees their preferences and finds more job posts that match them.
The more a person interacts with the job offers, the smarter the algorithm gets and the more relevant the job opportunities become.
"Our job seeker profile tool allows you to structure your data in a way that our machine learning algorithm can better understand your skills, experience, and what you're looking for, and can better connect you with job opportunities," said Scott Garner, Corporate Communications Manager at ZipRecruiter.
ZipRecruiter's AI Adapts to Your Searches and Engagement
Garner said most users receive an email with available job postings about an hour after signup. ZipRecruiter records the jobs users click on and works to curate more opportunities like them.
"As you begin to apply or interact with jobs, the machine learning algorithm begins to get a better sense of what you're looking for," he said. "Over time, the jobs that you're served up will become more and more relevant."

Unlike other platforms, users with an accounting background won't receive postings about construction jobs in their area — unless, of course, they're looking for a career change.
"That's one of the things that differentiates ZipRecruiter from a lot of the other job sites out there," Garner said. "A lot of them depend on you being a Boolean search expert and filling in a bunch of keywords to get relevant job alerts sent to your email. We feel like we're different because you can set up a job search, tell us the job title you want, and we'll go out and start actively looking for it for you."
ZipRecruiter's finance job postings cover the gamut of the industry and are viewable through standard browsers or on the company's mobile app, which adds a secondary layer of automation to the job search process.
Mobile Push Notifications Make it Easier to Apply
ZipRecruiter's mobile application offers all of the benefits users enjoy on the company's desktop website, but adds extra functionality that isn't available on a computer.
Instead of waiting for ZipRecruiter's periodic job listing emails, mobile app users instantly know when they match with a newly posted job.
The platform grades each job listing in its database for its relevance to each user. The higher the grade a posting gets, the more likely the user is to apply for the position.
"If you get a push notification that a job near you is available, you should definitely apply for that job," Garner said. "You wouldn't get the notification unless you scored 90% or above in terms of relevance."
The app also allows users to search through millions of job postings, apply for a job with a single tap of a finger, and track the status of each posting from any location.
Leverage Technology to Improve Your Professional Outlook
I only needed a few hours to realize I didn't have a future as a fisherman. Thankfully, I had other skills that helped me find reliable, enjoyable employment.
Many job seekers who take the traditional paper résumé route are casting their line into the water without any bait attached to their hooks. Today's job market, especially in the highly competitive financial field, requires people to chum the digital waters properly to connect with the right employer.
ZipRecruiter enables users to upload their résumés and get notifications when potential employers view them. The company also offers phone and online chat support to help users and employers optimize their listings and get better results.
For many job seekers, the machine learning algorithm presented employment opportunities they would have otherwise ignored because they didn't feel qualified for the position.
"The algorithm looks ahead," Garner said. "You may have experience as a manager and think you're only qualified to be a manager. The algorithm will actually look at your skills and experience and determine whether or not you may qualify to go to the director level or higher."
Garner also noted that job seekers should fine-tune their focus before casting their line into the sea. For some, that includes a little editing work.
"Before you upload your résumé, make sure everything is clear — your skills, experience, previous jobs, and your education," he said. "That's really what the algorithm looks at to create a profile of the job seeker."