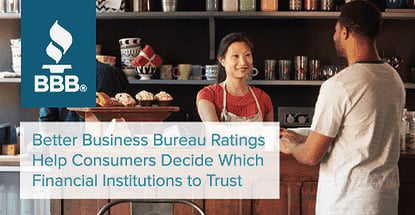 credit card news
Our experts and industry insiders blog the latest news, studies and current events from inside the credit card industry. Our articles follow strict editorial guidelines.
In a Nutshell: Amid the recent barrage of fake account scandals and data breaches at financial institutions, consumers continue to turn to the Better Business Bureau to learn which banks and institutions they can trust. For more than a century, the BBB has been dedicated to promoting the highest standards of ethics and integrity by rating companies based upon their adherence to a clearly defined code of business practices. The eight guiding principles that define the BBB's Standards for Trust lets consumers know whether a financial institution is prioritizing the best interests of its clients. The BBB also publishes complaints against these businesses, and notifies consumers about their responsiveness in addressing these issues. While we can never be completely certain that our bank or financial institution is treating us fairly, the BBB's rating of its performance is a good place to start.
At least two major scandals involving financial institutions have occurred in recent years. The first, of course, involved Wells Fargo, where it was revealed that millions of accounts had been created in customers' names without their knowledge or consent. More recently, Equifax announced that it had been exposed to a data breach in which personal financial information was stolen — again involving millions of consumers — which they didn't make public until months after it occurred.
What do these two incidents have in common? They both involve a serious violation of consumer trust.
Mistakes made by a banking behemoth like Wells Fargo tend to raise consumer questions on which financial institutions can be trusted. At least that's the question that occurred to me when I found out in late 2016 that my mother-in-law had at least three accounts opened in her name at Wells Fargo, unbeknownst to her. It came as a shock — both to her and to the rest of my family — primarily because she had a decades-long relationship with the bank.

Being treated with honesty and integrity by our financial institutions was once understood. But since the mortgage meltdown and subsequent financial crisis, that has become a hoped-for ideal. For consumers asking the important question of which financial institutions to trust, the search often leads them to answers from the
Better Business Bureau
.
For more than 100 years, the BBB has been defining the standards for trust within the marketplace, and holding businesses accountable to the clients they serve. An institution's BBB rating can serve to measure how trustworthy they are in the eyes of consumers, the government, and the BBB itself.
To get a better picture of just how the BBB rates the level of trust in financial institutions, we sat down with Katherine Hutt, National Spokesperson for the Better Business Bureaus.
"When it comes to financial institutions, we see a lot of complaints about banks and credit card issuers," she said. "Complaints have a huge impact on a business's rating, but it's not just the number of complaints. There's an entire algorithm of what goes into the ratings. Things like how promptly they respond, the volume of complaints relative to the size of the business, whether there's been any government action against the business, or problems with advertising."
Both Wells Fargo and Equifax are no longer listed as accredited by the BBB. As far as ratings, Wells Fargo has been assigned a D- score, and, in the case of Equifax, the company's former A+ rating is currently under review.
BBB Rating vs. Accreditation
While conducting research to understand the BBB's rating and accreditation system, we learned that businesses must apply to be accredited, and they must pledge to uphold the eight principles that compose the BBB Standards for Trust, which read as follows:
Build trust
Advertise honestly
Tell the truth
Be transparent
Honor promises
Be responsive
Safeguard privacy
Embody integrity
It's apparent that both Wells Fargo and Equifax failed to live up to many of these principles. But we were interested in learning more about how the BBB views ratings and accreditations.
As Katherine told us, "We rate far more businesses than we accredit — more than 5.2 million. Each has a BBB profile that consumers can view, along with their letter rating from A+ to F. Many times the letter rating is enough to determine whether you want to trust and do business with a company."
In addition to upholding the principles within the Standards for Trust, accredited businesses also support the BBB by paying dues. This allows the BBB to provide its services, including complaint resolution services, to consumers for free. And those services apply to virtually any business, not just those that are accredited.
"One of the things accredited businesses have to pledge is to respond promptly to complaints," Katherine said. "Also, to be accredited, businesses must maintain at least a B rating."
What Your Bank's BBB Rating Says About Its Trust Factor
The role of the BBB is to hold its accredited businesses to the highest standards. In addition to the previously mentioned Standards for Trust, the BBB does this through a Code of Business Practices and a Code of Advertising.
In the case of Wells Fargo, the company was not transparent with its customers, didn't practice the integrity required, and violated the trust of those they had promised to serve. These transgressions were enough for the bank to lose its accreditation. In addition, a D- rating is now a warning sign to any consumer who does the research on the BBB website.
As for Equifax, that company's violations included the obvious one, not safeguarding the privacy of its customers, as well as not being responsive — there was a three-month delay in notifying consumers — and also not meeting its commitments to clients with integrity.
Banks and financial institutions, in particular, have a special responsibility to their customers, since so much is at stake when it comes to personal finances. The BBB helps to hold these companies accountable by monitoring complaints against them and tracking any government actions taken in response to violations.
Consumers Play a Major Role in Holding Financial Institutions Accountable
The role we, as consumers, play in helping the BBB track and categorize complaints is crucial. Other prospective customers will only see complaints on the BBB site if we take the time to file them. Simply put, filing a complaint with the BBB is the best way to hold your bank or credit card issuer accountable.
The types of complaints a consumer might file include a range of possible violations. In the case of financial institutions, these might involve promotional rates, fine print details, customer service complaints, or problems with advertising. To file a complaint with the BBB, simply visit the website and click on the "Menu" button, and then on "File a Complaint."
Katherine told us, "When a complaint comes in, we immediately notify the company, and they have 14 days to respond. If we don't hear from them, we send a second notice and allow another 14 days to respond. If we still haven't heard back after that, this counts against their rating. If a business repeatedly doesn't respond to complaints, that's the quickest way to an F rating."
To find and review your bank or financial institution's rating and accreditation status, simply visit the BBB website and search for the business name. You can also find a categorized listing of complaints filed against specific financial institutions, and a breakdown of positive and negative reviews. Wells Fargo, for instance, has a total of more than 4,000 customer complaints registered and 10 positive reviews.
Holding financial institutions accountable and tracking their performance on the BBB website is the responsibility of all consumers. While you can never be absolutely sure your bank or credit card company is behaving ethically, checking its BBB rating is a strong indicator of its reputation.