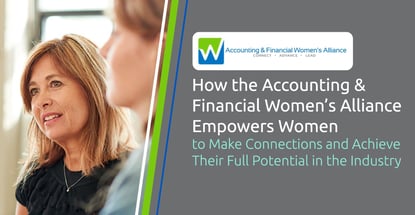 credit card news
Our experts and industry insiders blog the latest news, studies and current events from inside the credit card industry. Our articles follow strict editorial guidelines.
In a Nutshell: Professional organizations provide individuals with valuable opportunities, such as networking events and continuing education, to advance their careers. The Accounting & Financial Women's Alliance (AFWA) is no exception, with its nationwide network and educational offerings. The organization delivers important ongoing education — from soft skills training to professional development — to women in accounting and finance. The organization welcomes new members and there are plenty of ways to become involved, including watching the online webinars, attending networking events, and volunteering to assist with event planning.
Evidence has proven time and again that professional organizations help individuals advance their careers, and the Accounting & Financial Women's Alliance (AFWA) is no exception.
The AFWA was founded in 1938 with a mission to increase opportunities for women in all fields of accounting and finance, and the organization stays true to its mission today.

"Back in 1938, there needed to be areas for women to network," said Karyn Hartke, National President of AFWA. "There were not very many female CPAs or women in accounting or the finance industry at all."
The organization — originally known as the American Society of Women Accountants — set about to create networking opportunities to support women in the industry and to create opportunities for even more women to enter the industry.
And although there is still work to be done toward gender equity, Hartke said most college accounting programs today are made up of about 50% women.
"The industry has evolved enormously for women in the past 80 years, with our organization smartly and passionately evolving with it, ahead of the curve, so that all women in accounting and finance can excel," according to the organization's website.
The AFWA adopted its new moniker in 2013 as a way to appeal to even more women in finance.
"We've always been open to all women in the accounting and finance fields, but it wasn't necessarily evident by the name," Hartke said. "So we made sure that our rebranding made that clear."
Hartke recently filled us in on how women can benefit from joining the AFWA and taking part in continuing education, networking and leadership opportunities, and more.
Providing Access to a Nationwide Network of Professional Women in Accounting and Finance
"We try to make sure we're able to put women together to network with other women in accounting and finance," Hartke said. "We have chapters and members-at-large all over the country."
Simply making those connections within the industry can lead to great advancement and career opportunities.
"For more than 80 years, members have tapped into a network of successful, motivated, and influential professionals who understand the unique position of being a woman in the industry and who, together, contribute to the future development of their profession," according to the organization's website.
Of course, AFWA-sponsored events provide the infrastructure for the many networking opportunities within the organization. People like to network in different ways and in different settings and group sizes, and AFWA has opportunities for everyone. The organization not only puts on conferences and continuing education events, but it sponsors wine tasting, golf lessons, and even painting sessions.
And sometimes the more casual, less intimidating networking events can lead to the greatest connections, according to AFWA.
"We also provide a great referral service," Hartke said. "Especially on the local level. If I have some connections, they can refer clients to me who may need my area of expertise. And, even if I never take over that client, AFWA members can call me if they have questions about how to approach an issue for their client, like the new tax laws."
Hartke said the AFWA Foundation promotes educational opportunities and offers a number of scholarships to up-and-coming women in finance.
"The mission of The Foundation is to promote and advance education, career development and leadership in finance and accounting, with the goal of guiding women to achieve success in their careers," according to the foundation.
Education and access to career development resources are essential to decrease barriers for women in accounting and finance, and the foundation strives to ensure women will have the tools and resources they need for success.
Delivering Continuing Education, Soft Skills, and Professional Development Opportunities
Hartke said the AFWA provides many Continuing Professional Education (CPE) opportunities through its monthly webinar series and national conferences. CPAs are required to undergo CPE regularly to maintain their competency in the field but to also maintain their certification for particular states and organizations.
Hartke said the AFWA also offers educational opportunities for finance professionals not specifically in accounting.
Debi Williams, AFWA's Director of Operations also weighed in on some of the organization's educational goals.
"The last few years we've really been focusing on some big-picture topics such as soft skills development and communication pieces that both accounting professionals and finance professional really need to develop in themselves to be successful," Williams said.
A lot of the technical education comes from local AFWA chapters, she said, and on a larger scale, the organization focuses on the broader umbrella of professional development and soft skills because they are such an important key when making connections in the industry.
Some of the broader education includes empowering women with insight into the industry and resources to give them the confidence to take the next steps in their careers.
Hartke referenced an excerpt from Sheryl Sandberg's, "Lean In:" "An internal report at Hewlett-Packard revealed that women only apply for open jobs if they think they meet 100% of the criteria listed. Men apply if they think they meet 60% of the requirements. This difference has a huge ripple effect. Women need to shift from thinking 'I'm not ready to do that' to thinking 'I want to do that — and I'll learn by doing it.'"
Speaking of education, Hartke has been hard at work helping to organize AFWA's next large, national conference. The Women Who Count conference is scheduled to take place Oct. 21-23 in Orlando.
"Gearing up for the conference has been pretty exciting," Hartke said. "It's three days of networking and education. I think we'll have up to 21 hours of CPE and around 30 speakers. All of our keynote speakers are women and the vast majority of the other speakers are women as well. It's exciting, it brings a great energy to the group."
Getting Involved with AFWA
Becoming an AFWA member comes with a number of benefits that can enhance women's careers and personal lives.
"Through empowered networks, women can share experiences, connect with career mentors, learn from each other, and establish friendships who will share in the highs and lows of being a working woman," according to the organization website.
With the support of the women of the AFWA, newcomers can learn how to face challenges that are unique to women in the accounting and finance industries.
Women will have opportunities to meet influential leaders in their fields, share their experiences with other women, and connect with women across the country who will become lifelong friends.
Membership also exposes women to opportunities to go further in their careers than they previously thought possible. And ongoing education and opportunities to pursue certifications will help keep them at the top of their fields.
"Through AFWA, we believe women can connect with each other to advance in their careers and ultimately become leaders in their industry," according to the organization's website.
AFWA members include students and young professionals, experienced career women, and retirees across all areas of accounting and finance.
Regular and affiliate AFWA membership dues are $199 per year. An associate membership — for those with less than two years experience — is $99 per year. And students can join the AFWA for $45 per year. AFWA also offers a corporate membership option with a 30% discount for organizations employing five or more AFWA members in local, regional, or national offices
Increasing Leadership Development Opportunities
Hartke said the AFWA has recently been exploring ways to create even more opportunities for members to develop leadership skills.
"We're working on a Leadership Academy that will include partnerships to help us present an online leadership course," she said. "We're also looking at creating an annual leadership conference as well."
Hartke said it is important to offer these types of opportunities because, while large firms may offer this kind of education, many women who work independently or in smaller firms are not given many opportunities to develop leadership skills.