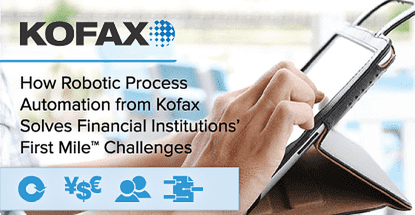 credit card news
Our experts and industry insiders blog the latest news, studies and current events from inside the credit card industry. Our articles follow strict editorial guidelines.
In a Nutshell: You may not notice evidence of robots working behind the scenes during some of your most common, everyday interactions — but rest assured, they're there. And a growing number of businesses are taking advantage of their power, especially in the financial industry. Banks have been automating manual, repetitive, inefficient processes for some time now, and widespread automation is gaining momentum, freeing up employees to do more with their time. One of the world's leading providers of Robotic Process Automation (RPA), Kofax is on the cutting edge of these solutions, which is why we're recognizing the software company with our Editor's Choice™ Award for Delivering Seamless Customer Journeys to Financial Organizations.
Gone are the days when artificial intelligence and robotics were fodder for science fiction or cartoonish predictions of "the future." At this very moment, autonomous solutions are solving the challenges of countless industries in ever-expanding roles. They have advanced so rapidly, many of us barely notice their presence in the services we use every day.
But make no mistake: businesses have certainly noticed, and operations in many sectors are quickly adopting automated solutions. One specific application steadily becoming more common is Robotic Process Automation, or RPA, which uses software "robots" designed to perform a wide array of repetitive tasks that mimic the calculated actions of humans. According to software innovator Kofax, nearly 88% of process mistakes are due to human error, but RPA can deliver 100% accurate data. This technology is spelling huge wins for the financial industry, and Kofax is leading the charge.
Founded in 1985, Kofax is a software company providing a variety of information capture and process management solutions. Its products help banks meet their "First Mile" challenges, which are the early, information-intensive interactions banking customers have with an organization, including mundane, tedious processes like opening a new account online or filling out an electronic mortgage application.
"The banking and insurance industries are leading the marketplace in their embrace of RPA, as well as finance and accounting as a functional or departmental group," says Russ Gould, Senior Director of Product Marketing at Kofax. "In finance, teams often work in systems, like Microsoft Excel, and then manually move journal entries from one system to an Excel spreadsheet. Robots can automate this kind of mundane cut-and-paste work and free up finance workers to use their decision-making and analytical skills for more valuable work."
One modern bank that's seen huge returns from adopting Kofax's RPA solutions is Union Bank. The bank was interested in solving some major challenges it was facing in processing mortgage applications for its customers. In addition to general delays in service, Union Bank was experiencing 15-day wait times on converting loan documents into electronic files. This largely stemmed from slow, inefficient manual processes and resulted in lost sales, slower time to revenue, and a massive hit to the bottom line.
After leveraging RPA solutions from Kofax, Union Bank reduced its turnaround time for digitizing loan documents from 15 days to five. According to a white paper available on Kofax's site, it also deployed a software robot to automatically gather all relevant loan documents, combine them into a PDF, and send a notification that the file was ready for audit review.
According to Reginald L. Brown, Project Manager at Union Bank, "The faster our teams can gather loan documentation, the faster they can turn around the packages that we present to investors. This results in a more rapid time to revenue for our consumer lending business, improving cash flow and reducing cost per fund."
And with the current rate of customer dissatisfaction and inefficiency in the home mortgage sector, RPA solutions couldn't have come at a more perfect time.
Automating Home Mortgage Processes Increases Customer Satisfaction and Retention
Since housing markets have mostly recovered from the effects of the 2008 financial crisis, demands for mortgages have been steadily rising. This has created opportunities for the financial services industry to attract and serve new customers through the mortgage process. But as we've seen with the woes facing Union Bank, this process is often wrought with inefficiencies.
Customers have certainly taken notice. Only about 22% of mortgage buyers report being engaged with their mortgage provider, meaning they did not get their mortgage from their primary bank, but instead turned to banks with which they had no prior relationship. Why is that?
At the heart of many banks' issues with providing quality mortgage processing services are outdated, manual processes. Entering data by hand into multiple systems across various vendor sites, copying notes, organizing and saving documents into repositories … the list goes on. All of these are enormously time-sensitive processes that need to be done expediently. The longer these steps take, the more the actual mortgage closing and approval process takes, leading to employee and customer dissatisfaction.
As dismal as this situation seems for mortgage lenders, RPA can automate all of these time-consuming, manual tasks. The first takeaway here is accuracy. Data resulting from RPA processes is far more accurate — all reporting metrics are tracked for easy traceability, and operational costs and loan times are significantly reduced.
Speed is a huge differentiator here. When RPA handles tasks, like monitoring email and extracting data from documents and internal systems, banks are able to approve loan applications and generate revenue much faster. And the benefits don't stop there. Remember the unhappy mortgage customers? Speeding up the collection of this data allows loan approvals to be delivered more quickly, greatly enhancing customer satisfaction and engagement with the bank, ensuring they are less likely to go elsewhere for other services.
With robots performing all these previously labor-intensive tasks, loan operations teams are now able to spend more of their time focusing on the more important details of loan applications that require a human's talent for understanding nuance and applying complex problem-solving skills.
"Another benefit is in allocating more of a highly paid worker's time to 'thinking' work instead of manual work," Russ said. "For example, an analyst might spend 20% to 30% of her day copying and pasting data instead of managing the organization's cash flow. When you free that worker up to do her 'real' job, her employee satisfaction increases, as well as the value delivered to the business."
Another process that banks are perpetually struggling with is compliance and risk management. These rules and requirements are always increasing and put a big resource strain on banking staff.
Kofax Provides Relief for Banks Navigating an Ever-Increasing Number of Compliance Requirements
There is no overstating the 2008 financial crisis's impact on how banks do business. With more accountability than ever before, risk and compliance have become especially important in the financial services industry. Since 2009, regulatory fees have dramatically increased relative to banks' earnings. The situation is further compounded because the same outdated, manual processes that hamper the mortgage process also drag down compliance management and customer response efforts.
According to the Kofax white paper, these regulatory bodies number in the hundreds worldwide, with each one requiring its own set of specific, complex actions. Implementing RPA helps banks automatically integrate compliance information into their business processes, which streamlines and expedites labor and drastically reduces operational costs.
Since 2010, banks have paid more than $300 billion in fines for non-compliance, so the stakes are very high for avoiding this. Aside from the financial motivation to avoid non-compliance, banks are further driven to dodge these issues, as large penalties usually attract widespread media coverage, resulting in serious damage to a bank's brand.
RPA allows for the automatic extraction of information and updates from multiple websites and portals — delivering it directly to the employees who need and rely on it the most. Once banks free themselves from the constraints of manual processes, they are able to quickly and efficiently capture regulatory information from public websites, including any new changes in the rules they must follow. Employees work in conjunction with RPA applications to monitor stock exchanges, and with federal regulatory agencies to ensure they are doing everything they can to meet requirements.
One Kofax client, Fiserv, a financial technology services company, needed to meet the regulatory compliance for high-volume transactions across 300 global banking partners. It had operated without an automated compliance solution in place for three years, according to the Kofax white paper, instead relying on manual processes. After deploying RPA, Fiserv was able to integrate all 300 partners in just three months, meeting all compliance requirements and reducing credit expense to improve cash visibility.
Serving Banking Customers Is More Efficient and Cost Effective with RPA Solutions
Facebook, Google, and especially Amazon, have dramatically shifted the paradigm of what consumers have grown to expect from the sites they frequent. Each company serves a different purpose, but all of them provide instant, user-friendly gratification and make it simple to find exactly what someone is searching for. Because of Amazon's two-day (or in some cases, same-day) shipping, customer expectations of an easy, fast interaction and nearly instant gratification have never been higher.
Modern banks are coming to terms with the fact that the experiences customers have with their favorite websites and ecommerce providers are now the new standard. And considering 46% of all consumers and a whopping 82% of millennials use only digital channels for banking, the time to get on board is now.
Banks' customer service representatives face the very same issues with inefficient, manual processes as their mortgage and compliance cohorts. They are often tasked with shifting between countless applications in addition to addressing customer complaints and inquiries. Furthermore, on top of trying to amass all of this information, they are responsible for also providing timely customer service.
RPA gives employees real-time access to data located across multiple systems, providing a 360-degree view of customers' profiles in just a few clicks. There are no longer untold hours lost to logging into various applications, freeing up bank employees to actually speak with customers to address their issues and try to upsell products and services.
Providing Tomorrow's Customer Experience Solutions Today
RPA solutions, like Kofax's, are integral for financial institutions to remain competitive in today's "customer-first" landscape. The software developer's automated applications help banks improve processes across the entire landscape of their business, improving both employee and customer satisfaction. It's for these reasons that we're recognizing Kofax as our Editor's Choice™ for Delivering Seamless Customer Journeys to Financial Organizations.
Though RPA solutions are still in their relative infancy, their appeal and benefits are catching on. According to Russ, "RPA currently has about 10% penetration, but analysts predict that easily 40% of organizations will be leveraging it within the next three to four years. The good news is that whether the motivation for adopting RPA is cost savings, productivity and growth, or employee retention, the ROI is easy to calculate in advance and measure once implemented."
With the pace of automation technology rapidly accelerating, and consumer preferences for how they interact with their institutions changing for good, financial organizations can't afford not to implement Robotic Process Automation. Companies that are too slow to adapt and adopt are are at risk of being quickly left behind.