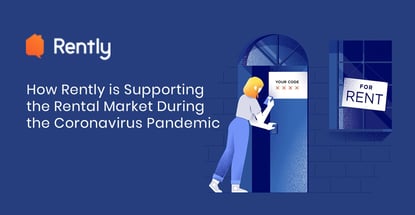 credit card news
Our experts and industry insiders blog the latest news, studies and current events from inside the credit card industry. Our articles follow strict editorial guidelines.
In a Nutshell: Rently is a California-based company that provides support for rental self-touring. It allows real estate operators to recruit tenants and set up properties for self-touring. The platform also allows prospective tenants to schedule a tour without having to come into contact with other people. During this era of pandemic, Rently provides an important and timely service that is significantly accelerating the growth of the self-touring rental market.
The coronavirus pandemic has challenged the health and livelihood of American people and businesses in a way that few could ever anticipate. But as the saying goes, it's an ill wind that blows no one any good. While many industries are being hit hard by the coronavirus, businesses that help people cope with the effects of the pandemic are seeing extraordinary demand.
For example, the requirement for social distancing due to the coronavirus has thrown a wrench into the plans of renters who need to move. Rently offers a solution by allowing prospective tenants to self-tour properties while providing tight security for property owners. And it's been doing this for almost a decade.
"Rently started in 2011, and the pain point we essentially were solving was the problem of letting renters into a vacant property without a real estate agent present," said COO Andre Sanchez. "Our company started just as the country was emerging from the housing crunch of 2008 – 2009."
With millions of empty units on the market, the demand for single-family home rentals expanded rapidly. Unfortunately, the old way of viewing the properties, in which a property manager or real estate operator would send out a person to show the home, was a significant inefficiency for companies expanding into new territories.
Rently directly addressed this inefficiency by allowing renters to self-tour properties.
"That's how our company started, and we really expanded from there," said Sanchez, who's been with Rently for five years and was recently appointed COO.
"And now we're seeing another interesting dynamic with COVID-19, in particular, for landlords wanting to do the same sort of things. We provide a tool so that an interested renter can self-tour a property. Anyone that wants to tour can do so by registering with our platform," he said.
Self-Touring Technology Enables Contactless Showings
Rently is truly relevant during this COVID-19 epidemic because people are trying to limit their exposure to other people. That's frustrating when a prospective renter must talk to an agent in person or go to a leasing office that's densely occupied, thereby risking exposure to the disease.
Sanchez points out, "Our technology allows a prospective renter to tour the property securely, but more importantly, without having to interact with other people, face to face. This is a value-add for safety-minded renters who prefer self-touring. But just as importantly, the last thing property managers want to do is perform tours. They want to close the deal. They want to make sure that prospects actually are interested in the property and ready to sign the lease."
Rently utilizes technology in several ways to render its service:
It syndicates rental offerings on Rently.com as well as on listing sites such as Hotpads, Trulia, and Zillow.
Rently provides landlords with electronically controlled access and monitoring devices for installation on vacant properties. Devices include smart locks, access control systems, smart door/window sensors, smoke/motion/flood sensors, energy management equipment, and a keyless app.
Landlords use the online scheduler to set the available touring hours.
Prospective renters register online at Rently's website. Rently verifies prospective renters through a variety of security checks. Prospects who have questions can call the Rently Call Center and speak to a trained representative. With pre-screening, inbound/outbound calling, and renter support, the Call Center provides all parties with a convenient lead-to-lease experience.
Through iQual Plus software, Rently matches client properties with prospective renters based on income, credit score, pets, evictions, and other screening information. Renters can submit required documents and receive a Rently Score that facilitates lead/property matching.
Qualified prospects book self-tours online according to the unit's showing schedule as set up by the rental agent.
In booking the tour, Rently provides the prospect with a one-time access code for the appointed hour and sets the access devices accordingly.
Once the property is set up, rental agents can simply sit back and wait for prospects to schedule their own self-tours.
Security is at the Heart of Rently's Services
Rently wouldn't succeed if customers had security concerns. In this regard, Rently is an ISO 27001 certified company, and its online platform incorporates six layers of prospect security.
Rently sets extremely high security standards for prospects attempting to register. "We want to make sure that we document who is actually entering our client properties," said Sanchez. "So we do a lot of things on the security front. We require an authenticated credit card on file. But we also require a selfie and government ID card.
"We then match all the information through artificial intelligence algorithms, cellular triangulation, and a manual review. We partner with a few companies in that space, such as Authorize.net. Once validated, a prospect gets a one-time unique access code to tour the property. This lets prospects visit a specific property for a narrow time frame — typically, one hour."
Dealing with Accelerated Demand During the Pandemic
Rently started as two guys in a garage and has grown to more than 150 employees. It has two California and four international locations. The company has facilitated more than 11 million self-tours and works with more than 3,000 real estate operators.
The COVID-19 pandemic has kept Rently busier than ever. COO Sanchez explains, "In regard to COVID, Los Angeles was one of the first metro areas to declare a stay-at-home order. We have two California locations — Los Angeles and Thousand Oaks. Los Angeles is our headquarters and Thousand Oaks is our performance center. So, we made sure that all of our Los Angeles workers — mostly sales and client success employees — could work from home. We then shuttered the L.A. office."
Rently's other big challenge is to scale up its Thousand Oaks operations while maintaining best practices with regards to COVID-19. It posted and started enforcing a set of five COVID-19 safety rules among its shipping and receiving employees. At the same time, it hired more employees to handle the increased demand for its services and upgraded communication facilities to support work from home.
In the long run, Sanchez said he sees continued growth for the self-touring market. "Self-touring will become stickier because it now is being exposed to a bigger audience. From a real estate operator's perspective, this is an accelerant that will let everyone see the benefits of self-touring. So, we're pretty excited about the future. But, like we always say, we're cautiously optimistic."