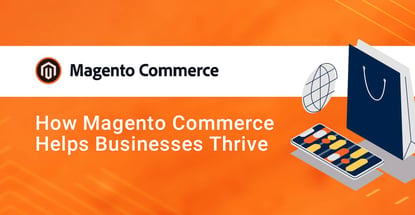 credit card news
Our experts and industry insiders blog the latest news, studies and current events from inside the credit card industry. Our articles follow strict editorial guidelines.
In a Nutshell: Magento Commerce from Adobe provides an all-inclusive e-commerce solution that allows clients to customize and scale their businesses to fit any need or goal. Users can sift through thousands of extensions in the Magento Marketplace to make their website unique and memorable to shoppers. Many brands report increased sales revenue after deploying Magento for their business.
Less than a decade ago, a simple online shopping interface would have been enough for most businesses to drum up some revenue. The only expectation most customers had was eventually receiving the product or service they purchased.
But as more e-commerce sites have flooded the internet, the average consumer has come to expect not only quick delivery of their product or service, but a memorable shopping experience as well.
Today, a merchant's e-commerce platform is as important as the product or service it offers to the public. If a website isn't visually appealing, easy to navigate, and simple to checkout with, it's going to lose customers quickly. That's why Magento Commerce doesn't just offer a platform — the Adobe product provides solutions to businesses of any size.
"Magento is best suited for growing companies that want to create a unique experience for their customers — whether those be consumers or business buyers," said Peter Sheldon, Senior Director of Strategy at Adobe. "Magento is an endlessly customizable platform that evolves with a company as its business changes and matures."
Magento offers an all-in-one solution for small businesses that's powerful and flexible enough to meet the needs of large enterprises. Users can create unique shopping experiences without limits while leveraging Adobe's class-defining security and performance features in the cloud.
Industry heavyweights, including Tivo, Hewlett Packard, Anheuser-Busch, and Albertson's Supermarkets already use Magento to run their online marketplaces. With a seemingly endless choice of customization options, the platform allows small businesses to have the same look and user-friendly experience as do large companies.
"As businesses grow to multiple stores, brands, channels, geographies, and product configurations, they can take advantage of Magento's flexibility, scalability, and robust global ecosystem of solution and technology partners and developers," Sheldon said.
Those partners play a major role in helping Magento users maximize their e-commerce potential. These partnered and trusted digital agencies consult and help users create engaging experiences with Magento from concept to implementation. They can also help with site design and buildout, and ongoing support for future updates.
"New customers to Magento Commerce almost always leverage a certified Solution Partner to help them with the initial implementation of the platform," Sheldon said. "This also provides operational support not only for the core technology, but to augment marketing and merchandising roles that the merchant may not initially have in-house."
Magento Helps "Future-Proof" E-Commerce Storefronts
Magento boasts the largest commerce ecosystem in the world, empowering merchants and partners to rapidly innovate. While highly templated solutions like Shopify and Wix may provide quick and easy access to an online storefront, neither can provide a customized shopping experience quite like Magento.
"Those solutions are difficult and expensive to customize and scale for businesses serving diverse buyers, with multiple brands, channels, geographies, and product configurations," Sheldon said.
Adobe readily opens its platform to outside developers, which has attracted more than 350,000 developers who have added their own customized extensions and configurations to enhance the product. Think of it as the WordPress of e-commerce but with far more options for customization.
"The Magento Marketplace houses thousands of applications that address every business need imaginable to help brands future-proof their e-commerce storefront," Sheldon said.

Furthermore, Magento Commerce regularly adds new updates and features that leverage the power of Adobe's Creative Cloud — a groundbreaking suite of solutions that offers access to everything from Adobe Photoshop to Adobe Audition.
"This brings together Adobe's amazing creative tools and workflow with Magento's e-commerce capabilities," Sheldon said. "An example of this is the integration of Adobe Stock into the Magento Media Gallery."
With Adobe Stock, users can access a diverse collection of high-resolution, royalty-free images, videos, and audio files for use on their platform. This feature alone can save businesses thousands of dollars in procuring images for a website. Users retain access to this library, which means they can change out photos to update their website whenever they wish.
Clients Report Major Revenue Boosts
Any business solution provider can throw appealing slideshow presentations on their website to advertise a great platform that can change a business in a matter of months. Those promises often ring hollow, with clients receiving a cookie-cutter product that tacks on massive fees for even minor customizations.
Magento can show real results from actual clients. Case in point, one professional gear and clothing brand, Helly Hansen, boosted its sales and experienced a 45% rise in online revenue after deploying Magento Commerce.
"Helly Hansen serves the needs of both B2C and B2B customers from a single Magento Commerce backend," Sheldon said. "They were also able to roll out a record number of geographies in a short time frame thanks to Magento Commerce."
Rather than being pigeonholed into a templated buying experience, Magento's flexibility empowers brands to tailor the customer experience to the specific needs of their business and to quickly make adjustments as customers request changes.
This is possibly most evident with supermarket retailer Albertsons. As the nationwide chain looked to attract more millennial customers, it deployed Magento to create a first-of-its-kind grocery experience. The results saved the company hundreds of thousands of dollars and added an entirely new revenue stream within four months.
"The overarching motivation for creating the Albertsons Marketplace is to better serve our customers and provide them with the products they seek," said Subroto Chakrabarty, Senior Director of Engineering and Digital Innovation at Albertsons Companies. "The marketplace model allows us to rapidly expand our category offerings in order to give our customers this 'endless aisle' selection they seek."
Magento Commerce is Regularly Recognized as a Top Digital Commerce Platform
Sheldon said that Adobe plans to continue to evolve Magento so it remains a market-leading commerce solution for growing companies of all sizes. With that kind of backing, it's no wonder the solution is consistently recognized as an industry leader by various independent research firms.
Magento Commerce received the highest overall scores among all evaluated vendors in the most recent Forrester B2B Commerce Suites and B2C Commerce Suites Waves.
Magento Commerce was also named a Leader in Gartner's latest Magic Quadrant for Digital Commerce. The product has also earned the Top Provider ranking, according to the Internet Retailer Top 1,000 Report for eight consecutive years.
"We have accelerated our investments to deliver on our road map in three key areas: superior shopping experiences, intelligent commerce, and business agility," Sheldon said. "This means investments in Progressive Web Application functionalities, AI-powered shopping experiences, and other integration between Magento and Adobe applications."
E-commerce is no longer about launching a generic online storefront and shipping out orders. Modern consumers demand easy-to-use and memorable interfaces when they shop online. If a business can't provide that, thousands of others can — and will.
With a scalable and customizable solution like Magento, a business can not only provide a unique experience to today's shopper, but it can continue to innovate as trends and consumer demands change in the years to come.