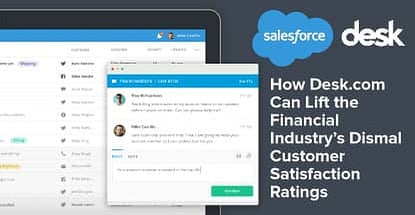 credit card news
Our experts and industry insiders blog the latest news, studies and current events from inside the credit card industry. Our articles follow strict editorial guidelines.
In a Nutshell: The number one reason consumers give for ending a relationship with a company is poor customer service. In the highly competitive financial services industry, banks and credit card companies are struggling to retain customers amid dismal satisfaction ratings. Fortunately, Desk.com has a solution that may be the saving grace these companies need. Desk.com provides businesses of all types with an out-of-the-box customer support platform that is both scalable and flexible. With its robust set of reporting tools, social media integration, and multi-channel help desk support, Desk.com provides a complete infrastructure for managing customer support interactions. And because Desk.com is cloud-based, it can easily expand to meet the growing customer service needs of any company.
Technology has changed the way we view almost everything in our lives. From the way we communicate to the way we access information, our expectations are for instant access and an immediate response to our queries or complaints. And although we might not realize it, those expectations have created some challenges for the companies we do business with.
The use of social media is a great example of how companies are impacted by our expectations. In the past, we may have responded to poor service or a defective product by writing an email or calling a customer service help line. But not anymore.
These days, companies can get blasted by social media complaints without ever having an opportunity to address the problem directly. For companies that have yet to commit resources to this growing trend, the backlash can cause serious damage to the company's reputation and image. That's why businesses must use technology to their advantage. Luckily, tools are emerging to meet these needs.

Desk.com
is a leading software platform that provides online help desk and customer service solutions to businesses large and small. With its easy-to-use, cloud-based infrastructure, Desk.com helps companies create a custom help desk environment, either starting from scratch or integrating with existing service operations.
Best of all, Desk.com monitors customer communications from multiple channels — social media, email, chat, and phone — and presents them in a centralized view. Features like this are becoming increasingly important as providing customer service via social media and other sources become a necessity. Studies have shown that customers spend a total of 20% to 40% more when they're engaged via social media. Furthermore, a company's failure to respond to customers via social channels can result in up to a 15% churn rate.
Desk.com is a product of Salesforce, which does cloud computing as well as any company in the business. Through the support of this highly skilled organization, Desk.com helps businesses in a variety of industries — financial services and otherwise — deliver on the promise of excellence in customer service.
Customer Satisfaction in Financial Services Ranks Among the Lowest of All Industries
If you've ever been unhappy enough with your bank or credit card company to want to contact them, you probably know how frustrating it can be.
With the phone pressed to your ear, you listen as the automated voice tells you the available choices, and asks you to press a number for the department you want. You push the number and are placed on hold, listening to music that's vaguely annoying, but is probably intended to keep you from becoming irate. Finally, you reach a live person, only to be told they don't handle that particular issue, but would be happy to transfer you. And you're back on hold.
If that scenario sounds familiar, you're certainly not alone. Despite the best efforts of banks and credit card companies toward improving customer service, satisfaction among their customers remains consistently low. In fact, in a study of social media customer satisfaction, 55% of social media users have negative experiences with financial services customer service.

Banks and other financial institutions have always been conservative, and tend to be slow in adopting new technology. However, with the growing range of payment options, like PayPal, Apple Pay, and Google Wallet, their customers and potential customers have more choices today than ever before.
Given this, the only way these companies can recover their fading share of the market is to improve their image and establish a real culture of customer service. And that's where Desk.com can help.
How Desk.com Helps Companies Better Serve Customers
One of the ways Desk.com helps companies to better manage their satisfaction ratings is by centralizing customer interactions. This allows for consistency and continuity in managing ongoing issues, and allows service representatives to interact on whatever channel a customer chooses to use. Additionally, by unifying all of this information, companies can analyze trends, monitor effectiveness, and work toward improving overall customer satisfaction.
The importance of tracking customer feedback via social media channels, like Facebook and Twitter, simply can't be overstated. Remember, the expectation is for a near-instantaneous response. Desk.com's simple dashboard view allows agents to monitor all of the potential methods of communication that customers may use, as well as respond to questions that come in through email, chat, or phone. This results in fewer missed contacts, faster and more efficient responses, and ultimately, better service.
For companies that already have an established help desk and support center, Desk.com allows for integration with existing systems. The customizable interface and ability to add discussion boards, FAQs, and company-specific graphics results in a seamless customer experience.
Monitoring and analytics tools let companies know just how well their efforts are paying off. Spotting trends early can alleviate potential problems before they get out of hand. If problems are occurring frequently with a particular product or process, identifying and correcting it becomes much easier.
Improved Engagement Leads Directly to Customer Retention
Keeping customers is the primary goal of any financial services company. According to one study, it costs up to five times as much to acquire a new customer as it does to keep an existing one. One of the biggest factors in retaining customers is keeping them happy. And, as we've clearly seen, keeping customers happy is a direct result of responsive and effective customer service.
When banks and credit card companies show a real interest in their clients, this engagement has a direct correlation to the bottom line. Desk.com knows this, and has developed the tools and processes to help keep customers engaged. Remember, institutions that fail to respond to customers can expect up to a 15% churn rate. That's one of the biggest advantages to any business — but especially in financial services — of using the Desk.com support tool.
At a time when client expectations are for immediate response and action, Desk.com lets companies gain better control over their communication channels. By providing the ability for them to connect with their customer base using whatever method or platform the customer chooses, Desk.com helps financial services companies to be more responsive. Improving the way customer interaction takes place helps to ensure a satisfied customer base and an improved bottom line.