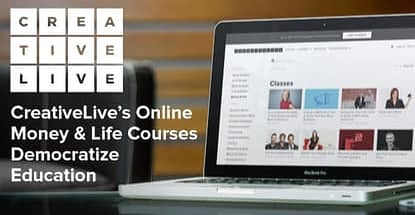 credit card news
Our experts and industry insiders blog the latest news, studies and current events from inside the credit card industry. Our articles follow strict editorial guidelines.
In a Nutshell: Unless you win lucrative scholarships (or someone else is footing the bill), participating in higher education can often be cost-prohibitive. But San Francisco-based CreativeLive offers an alternative approach. Charging hundreds — not thousands — the company provides online courses taught by industry-leading visual arts and financial experts, priding itself on challenging the educational status-quo. Since its 2010 start, the platform has launched countless success stories, including people who have started dream companies, begun living off their own creative work, or learned to balance a budget. Over 10 million students have participated in the more than 2,000 classes taught by 650 world-class instructors since CreativeLive's start.
David Bach, an American financial author, entrepreneur, and motivational speaker, can tell you how to strike it rich. He's shared his steps to financial wealth with millions of people — a process he learned from his grandmother, Rose, who had nothing at age 30, but became a millionaire during her lifetime.
David's message is simple: "It's never too late for you. I've helped millions of people all over the world. I've been doing it for two and a half decades, and I can help you."
Many people have signed on — specifically to the online course David offers via CreativeLive, an online educational platform that broadcasts live classes that cover various areas of interest, from finances and photography to design and music. Students in David's online class have clearly enjoyed his insights, and he has rave reviews to prove it.
As one user said, "It's a great class to get your finances in order." Another commented, "This is a must-have class for those who want to move from a fixed mindset to a growth mindset, literally, through their own wealth portfolio." Indeed, whether you're already financially savvy or a topical neophyte, the course offers something for everyone, at whatever stage of financial development you've reached.

In one student's words, "As a lifetime artist who is just now making her way after decades of not having a plan, I'm now looking at the possibilities for me to achieve personal wealth and financial security as my reality — feeling, for the first time, that I don't have to pin my financial well-being upon me selling that million-dollar thingy."
The platform making it possible, CreativeLive launched in December 2010 with a live photography class shot from a wedding. Company Co-Founder and CEO, Chase Jarvis, a photographer, started the class because he was frustrated over the high cost of traditional photography courses.
From its initial success with photography, the platform spawned courses in art and design, music and video, video and various crafts. The basic idea, said Kim Murphy, the head of the Money & Life channel of CreativeLive, is "taking a complex subject and making it accessible to everyone."
Partnering with Big Names and Inspiring Thought Leaders
To encourage this type of accessibility, the company partners with experts and well-known thought leaders in education, finance, publishing, and other areas. "We're really intentional about those with whom we partner," Kim said.
Adobe, Parsons, and Penguin Random House are just a few of its partners. The team works with publishers to create online courses based on experts' books.
David's course is one example. It's drawn directly from his book by the same name, "Start Late, Finish Rich." Another popular course, "Designing Your Life," is based on a book by the same name, which is also a popular course at Stanford University taught by the book's authors. In this course, Bill Burnett, the director of Stanford's design program, and Dave Evans, an engineer by training, teach people how to apply design principles to making life decisions.
The difference between their Stanford course — which is in such high demand that it's hard to get into — and their course for CreativeLive? Thousands of dollars in tuition. CreativeLive's course is available for $239, and there's no waitlist. Anyone can take it.
"We're democratizing education," Kim said, "We're giving people access to active, smart doers. And it doesn't have to be in a classroom for $30,000 a year. It's really disrupting the educational system — this idea that you can learn from doers without paying thousands of dollars."
Students Write E-books & Receive Expert Feedback
While some of the sample courses are broadcast for free, fully participating in the courses can cost anywhere from $100 to a few hundred dollars. The price, in part, depends on the renown and cost per speaking engagement of each instructor, Kim said, adding that prices fluctuate over time.
In determining the price of a course, Kim continued, "We look at a lot of different things, such as what similar content on our site charges. But if these instructors book for $40,000 a speaking engagement, we don't want to devalue their other products. It's kind of like when a new Nike shoe comes out; we keep that price higher for a bit, and then, as new ones come out, we drop the price."
Classes range in length from 10-day boot camps to four-hour classes. "The content fits the time; it's not the time fitting the content," Kim said.
So far as homework is concerned — it exists, as with any other kind of educational course. "There are challenges and workbooks," Kim said. "Accountability is really on the student. If you do the work, you'll be able to produce the result of the class."
That might mean writing an entire e-book during a course, or uploading several of your photos for expert feedback, submitting a business plan for your dream business, or planning a budget to get you back on track.
Success Stories: From Amateur Photog to Businesswoman
The success stories are abundant. One woman with a passion for photography took a photography course with CreativeLive from the other side of the world that led her to produce a photo series, write a book, and start a travel company.
One of David's students learned how to sensibly (and sustainably) fund her equestrian dreams. She wrote, "I set up a horse account, which I have funded for many years to cover my horse habit. It's my dream account. I have felt that similar feeling David speaks of when you know you can afford something. I also keep record of what I spend from that account so that I know each year if I need to increase my savings to it. It also helps me plan for horse events and those that pop up."
An upcoming course, to be taught by Andrew Whelan, a career coach at the General Assembly's San Francisco campus, is on how much independent contractors should be charging for their work. Kim said Andrew will help people tailor their rates, according to their own skill sets as well as individual customers' needs.
"People can freely talk about the rates they should be charging," she added. "He walks you through the steps to determine that process, giving you a number when you walk away."
Through a platform that gives anyone in the world access to thought leadership on a variety of areas of expertise, CreativeLive is challenging the education system and giving more people the opportunity to better their lives.