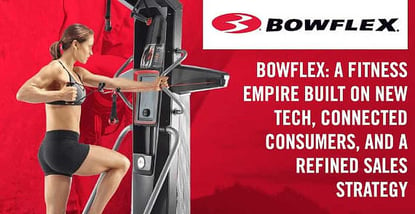 credit card news
Our experts and industry insiders blog the latest news, studies and current events from inside the credit card industry. Our articles follow strict editorial guidelines.
In a Nutshell: Since 1986, Bowflex has offered an array of home-fitness solutions to inspire people to live healthier lives. The brand has never lost focus of its core passion — understanding the challenges of sustaining a fitness routine and making that journey convenient and rewarding for a broad range of consumers. What's different about the Bowflex of today is that it has successfully leveraged modern technology — including social and mobile — to connect with customers and keep them motivated and engaged. By building fitness communities and refining its sales channels, Bowflex has strengthened its leading role in the fitness industry and positioned itself on a long-term trajectory of innovation and growth.
"Working at Bowflex isn't like work at all," said Brian Pope, Vice President and General Manager Direct at Nautilus, Inc. "We get to think about ways to inspire people, to keep them motivated, and to help them stay on the path toward living healthier lives."
It helps that a passion for fitness is embedded in the company's culture. Bowflex is part of the Nautilus, Inc. family of brands that also includes Nautilus, Schwinn, Universal, and Octane Fitness. Nautilus, Inc. encourages its employees to stay healthy and promotes a collaborative environment. Activities such as a lunchtime kickball league and community fitness events like Tough Mudder help foster teamwork.
"We're all united in the belief that fitness is an important part of all our lives," Brian said, "and we want to share that." Nautilus has won frequent recognition as a healthy employer and has been identified by the American Heart Association as a platinum-level "Fit-Friendly Company" every year since 2012.
Bowflex employees, therefore, know firsthand the benefits of staying fit — but also how tough staying motivated with a fitness regimen can be. "We know it's hard," Brian said. "It's hard to take the first step, and it's hard to keep going. We understand that and try to give people the tools they need and that extra little push to make it easier."
That's why corporate success at Bowflex isn't just about how many machines the company places in homes. It's more about that little extra push that happens after the sale.
"We're about helping people be successful," Brian said. "Ultimately, the key metric for us — the one that gets to the core of what we do — is how many customers are telling us they're successful with the workouts themselves."
Supporting Consumers Throughout Their Fitness Journey
Bowflex products range from its industry-leading Max Trainer and High-Velocity Training (HVT) fitness machines, which offer time-saving full-body workouts in space-saving packages, to SelectTech adjustable dumbbells, which build strength and muscle tone and can fit behind the sofa.
They're all designed to minimize the barriers — such as time, space, and lack of training expertise — between the goals people want to attain and where they are when they start.
In fact, Bowflex conducted a Customer Success and Motivation Survey last year and learned that goal-setting was clearly an integral part of fitness success for a majority of the survey participants, and while most felt their goals were attainable and measurable, lack of motivation was the biggest barrier along the way — coupled with lack of time for exercise.
But working out productively means striving to do a little bit more each day — as Brian and the Bowflex team know well. There's simply no one-size-fits-all machine or routine to motivate every person to keep coming back for more.
Bowflex meets the motivation challenge first by connecting with its customers and helping them connect with each other. Then, at every stage of the Bowflex experience, the brand has integrated modern technology to bring its users together so they can create their own support systems.
"We have found that if you connect with like-minded people who are trying to pursue the same goals as you, you'll stick with it and maybe go a little harder next time," Brian said. "And we help our customers find that sense of community."
The first level of connection at Bowflex is the brand's smartly designed, mobile-optimized website and its social media platforms. In 2016 the brand unified its product offerings under a single URL and checkout.
On the website, product videos and success stories featuring actual Bowflex users help potential customers envision themselves meeting a milestone. The Bowflex Insider blog offers workout tips and practical information on recipes and nutrition, health and wellness, and even fun stuff like fitness-inspired Halloween costumes.
"On social media, Bowflex users share their struggles and talk about what's hard and the little tricks that work for them to stay motivated," Brian said. Almost 450,000 people follow the Bowflex Facebook page, which features more than a hundred workout videos.
The brand also has a presence on Instagram, Twitter, and Pinterest and posts videos to YouTube. In a testament to the power of association, fan communities have even sprung up outside official Bowflex channels.
Mobile Apps Let Users Monitor Workouts and Post Results
Several core Bowflex offerings, including the Max Trainer, HVT, and SelectTech 560 dumbbells, are Bluetooth-capable and have dedicated mobile apps that let users track, monitor, and customize workouts while celebrating milestones with awards.
"It doesn't matter where you start," Brian said. "We want everyone to know they're progressing, that they're moving toward a goal. We want those little victories."
The apps combine workout and exercise libraries with trainer-led videos that guide users as they push their limits and increase their goals.
With the HVT, for example, Brian said initially the movements can seem less natural to some people. So the HVT app has a video that allows users to follow a trainer on screen through each move. "And you don't have to think about it — you just follow the trainer to learn the right pacing and form," he said
The app for the SelectTech 560 model teaches movements differently. Good form is crucial when working out with dumbbells, and the Bluetooth tracking in the 560 app is smart enough to coach the user through specific exercise and record the user's reps and weight. The app is so smart, in fact, that it only counts the reps when they're done with proper form.
But there's nothing more motivating than sharing success with friends. The SelectTech app also supports social sharing of workout results and syncs with the Google Fit and Apple Health apps so users can monitor and share their fitness information from one convenient online dashboard.
The Max Trainer app for the M5 and M7 models takes the social sharing and app-integration features a step further, syncing with the nutrition app MyFitnessPal to let users create a complete package of Bowflex-generated data along with nutrition and other workout data.
The Max Trainer app also connects with streaming-workout partner DailyBurn. Bowflex's DailyBurn partnership offers Max Trainer users an eight-week trial membership and subscription access to more than 600 streaming workout videos.
Moving into Stores to Meet Customers Where They Shop
With its consolidated website, social media presence, and app integration, Bowflex has honed its skills as a cutting-edge direct-to-consumer marketer.
But the brand is also striving to meet consumers where they shop — with an omnichannel approach — offering selected products on the Amazon and Walmart websites and in Walmart stores. Bowflex has also partnered with Dick's Sporting Goods to place products in-store — including its new line of limited edition Max Trainers designed around a few top US universities with big sports followings.
Fitness fans who cheer for the Florida Gators, Florida State Seminoles, or Michigan Wolverines can now find Max Trainers decked out in team colors at Dick's Sporting Goods outlets and online at Bowflex.com.
"We want people to think about bringing a fitness solution into their home and using it to live a healthier and better life," Brian said. "We believe these college-sports machines are a great way for them to express that love of their university and associate it with their own fitness aspirations."
While Bowflex's direct channel maximizes the brand's control over its sales story, the company also wants to make it easy for consumers to explore Bowflex products in convenient physical settings.
Brian said that as Nautilus continues to explore avenues for putting Bowflex products in front of prospective customers in retail settings, it is also making plans to market direct-to-consumer across a range of brands.
Today's Bowflex is Lean, Anything But Mean, and a Future-Focused Brand
Another benefit of app integration is that Bowflex can use the data it collects to refine its products over time. To stay abreast of changing consumer preferences, the brand has increased new product introduction and R&D spending. The consumer insights team is tasked with keeping a pulse on the kinds of products and overall fitness experience current and future customers want and need.
And the acquisition of the Octane Fitness brand in 2016 brought a zero-impact commercial- and home-fitness solution under the Nautilus umbrella.
"One of the things I like most about working at Nautilus," Brian said, "is that through this family of amazing brands, we're able to meet the needs of a lot of different people — not just customers who are drawn to a Bowflex solution but everybody out there."
It's one more push by Bowflex to get people up and moving. "Even a few minutes on the machine is better than sitting on the couch," Brian said. "Anything we can do to make fitness a rewarding journey is worth it — not just for us but for our customers."