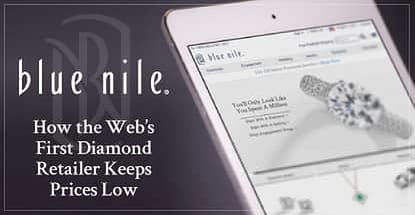 credit card news
Our experts and industry insiders blog the latest news, studies and current events from inside the credit card industry. Our articles follow strict editorial guidelines.
In a Nutshell: The first online retailer of diamonds, Blue Nile has been providing customers with a selection of conflict-free, high-quality diamonds since 1999. Avoiding the overhead of housing expensive inventory at brick-and-mortar locations, the Blue Nile online marketplace boasts over 150,000 diamonds at considerably lower prices than traditional jewelers. Valuing transparency, Blue Nile helps guide customers through the online-buying process with educational resources and a branded credit card for member-only discounts and a more flexible financing option.
Chances are you have a very special occasion or person in mind before you buy a diamond. Every diamond is unique, and it can be challenging to find the perfect one, particularly if you're a first-time buyer with limited knowledge of the industry.
For instance, novice buyers might not know that diamonds can be synthetically manufactured in laboratories. Or that non-ethical diamonds are still on the market, and these controversial stones fund conflicts that often involve child labor in production. Even when you're confident in the legitimacy and origin of your diamond, without proper education and resources, you might not know whether you're paying a fair price.
Mark Vadon, founder of the online diamond retailer, Blue Nile, recognized this lack of ready information after his own frustrating engagement ring shopping experience, and subsequently acquired Internet Diamond in 1999. He renamed the online diamond company Blue Nile and served as its CEO until 2008 and chairman until 2013 before it was purchased by Bain Capital Private Equity and Bow Street LLC in 2017.
Blue Nile gives online buyers a smarter way to purchase their diamonds and engagement rings. As the largest online diamond retailer, it carries the world's top 1% of diamonds that are sourced specifically for Blue Nile. The company collaborates with renowned designers like Colin Cowie, Monique Lhuillier, Zac Posen, and other emerging designers, so shoppers on the site can feel confident they're getting a high-end product.
Since the company's inception, Blue Nile has helped over 1.7 million customers and sold more than 1 million wedding bands and engagement rings. Blue Nile estimates it saves customers an average of 20-40% of what they would pay at a traditional jewelry retailer because of its disruptive business model. And to back up its commitment to value, the Blue Nile Diamond Price Match Guarantee ensures that buyers aren't overpaying on gems with similar grades from the Gemological Institute of America or the American Gem Society Labs.
A Disruptive Business Model Allows Blue Nile to Pass Significant Savings Along to Customers
When it comes to shopping at traditional brick-and-mortar diamond retailers, customers can generally expect to spend more money than they would online. This is because shop owners must stock their store, pay rent and employees, and cover all of the other expenses that come along with owning a physical retail business.
The brick-and-mortar business model requires retailers to add a markup to the cost of goods and services, and in a high-end retail space like the diamond industry, for example, these markups can be quite dramatic. Blue Nile, on the other hand, does not hold onto expensive inventory. Instead, it operates a handful of small, efficient webrooms with physical products that are only for display purposes, so the overhead is much lower.
This primarily web-based business model means it's able to beat traditional jewelers' prices while still upholding high-quality standards. The Blue Nile site also provides customers with comprehensive educational resources so they can thoroughly research different diamond characteristics before making a purchase.
Customers who shop through Blue Nile and take advantage of the resources on the site are not only saving money, but getting premium diamonds, an education in gem selection, and a guaranteed conflict-free product.
Get Cardmember-Only Offers and Flexible Payment Options with the Blue Nile Credit Card
Buying a diamond is a sizeable investment, and many people who purchase them choose to spread payments out over time.

Blue Nile helps make diamonds more affordable with its own branded credit card that gives customers flexible financing so they can pay off their purchases over time. The
Blue Nile Credit Card
has no annual fees and customers approved for the card also gain access to member-only offers and promotions.
The card extends three payment options. The first is a no-interest option if your balance is paid in full within the first six or 12 months. The second allows you to make equal payments at an interest rate of 9.99% APR as long as you pay off your balance within the promotional terms, which range from 24 to 60 months depending on the overall cost. The third option has no special terms, with a 25-day grace period.
Added Confidence in Diamond Purchases Through the "4Cs" — Cut, Color, Clarity, and Carat
Blue Nile is committed to jewelry education, with information revolving around what's known in the diamond industry as the "4Cs" — cut, color, clarity, and carat. If you're familiar with diamonds in general, you may already know about the 4Cs. If not, here's a quick breakdown of these four important characteristics as well as Blue Nile's recommendations for navigating what can be confusing for first-time buyers:
Cut: The cut of a diamond is its most important factor because it is responsible for the stone's sparkle. Even if a diamond has excellent clarity, it will lose a lot of its brilliance if the cut is dull. Blue Nile says gemologists recommend buying the best cut grade within your budget.
Color: Color is considered to be the second most important characteristic because the human eye notices color after observing the cut. Blue Nile suggests purchasing a near-colorless diamond (grades G-H) to maximize your budget since they are less expensive than colorless diamonds, and it's difficult to tell the difference.
Clarity: Next is clarity, as almost all diamonds have small imperfections. Those with the fewest imperfections are known as diamonds with the best clarity, and this is the third most important factor in a diamond's value. The imperfections are called inclusions, and only the rarest of diamonds have none. Blue Nile  says you can get better value by purchasing diamonds with only small, barely visible inclusions.
Carat: The last C in the 4C selection process is carat weight, which refers to the actual weight of the diamond, not its size. Blue Nile advises buying a diamond with a higher grade cut and a lower carat weight as an effective route to get the most for your money, because a higher-grade cut makes the diamond appear larger.
The 4Cs bring transparency to the diamond-buying process, ensuring that you know exactly what you're getting. By evaluating the qualities that are most important to you, you can cut costs in other areas. Through its educational materials, different types of precious metals it offers, and a ring buying guide, Blue Nile helps customers better understand what they're paying for.
Blue Nile: Purchase Top-Quality Diamonds at Lower Prices
By purchasing your diamonds online through Blue Nile, not only are you gaining significant savings over brick-and-mortar jewelers, but you're investing in top-rated stones with the added confidence that comes from transparent pricing and educational resources. Blue Nile's online business model passes on savings to consumers, while maintaining the quality you'd expect from big-name designers like Monique Lhuillier and Zac Posen.
Buying the perfect diamond shouldn't mean taking out a second mortgage on your home or draining your savings account. A little research and self-education in the diamond department goes a long way, and purchasing through Blue Nile provides the assurance that comes with a price-match guarantee.