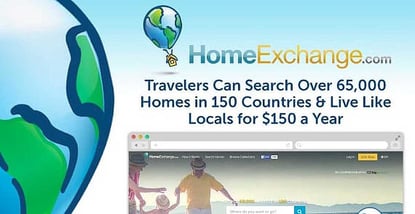 credit card news
Our experts and industry insiders blog the latest news, studies and current events from inside the credit card industry. Our articles follow strict editorial guidelines.
In a Nutshell: Have you ever wished you could swap places with someone living in Berlin, Beijing, or Beirut for little to no cost? You can with Home Exchange, a membership-based website that helps thousands of people swap homes with like-minded individuals across the world. The company's mission is to help you live like a local and book a home swap in as easy as three steps: list your home, ask to make an exchange with another member, then you're ready to travel. For just $150 a year, members can choose from over 65,000 listings in 150 countries and arrange as many exchanges as they want. With Home Exchange, exploring the world just got more affordable.
I wonder what it would be like to step out of a small London flat and walk past streets bustling with pedestrians, or if I rented a white farmhouse, hidden among rolling green hills, in Ireland. Having the opportunity to live like a local in a foreign country would be an unforgettable experience that a fancy hotel could never replace. Although I'd jump on a plane in a heartbeat, the thought of how much it would cost to rent a flat or farmhouse stops me having either of those experiences.
Home Exchange, a membership-based home-swapping program, makes traveling dreams like mine become a reality. With a $150 annual fee, members can arrange as many exchanges as they want with thousands of people across the world. Want to explore Prague? You can search for a home, make arrangements with another exchanger, and pick the best time for you to go. There are over 65,000 listings, so members have many options to choose from. With an affordable fee and thorough verification on members, Home Exchange has pioneered the way for people to explore the world.
I talked with Jim Pickell, the President of Home Exchange, about the benefits of joining the house-swapping program and why it's a smart alternative for traveling the world.
Why Travelers Don't Have to Miss Out on Local Experiences
Ed Kushin, the founder of Home Exchange, wanted to travel the world with his family, but didn't want to miss out on 'the local experience' by staying at hotels. After trying a few exchange services, he was left dissatisfied with the experience and high costs. In 1992, Ed launched Home Exchange and paved the way for a booming home-swapping market. The site got travelers interested in the home-exchanging experience as a desirable way to travel on a budget while exploring the world.
"Our mission is to connect like-minded travelers, enable them to live like locals anywhere in the world, and eliminate the cost of their vacation lodging," Jim said.
Over the years, travelers started to hear about Home Exchange through word-of-mouth and signed up to exchange homes with other members. With 65,000 listings and counting, Home Exchange attracts people from all over the world to join and swap places with someone else. It's a safe, affordable way to 'live like a local' in Sydney, Moscow, or wherever else you want to go.
One million exchanges later, Home Exchange still leads the home-exchanging industry with excellent customer service, an affordable yearly fee, and a growing list of available homes. The Home Exchange team, made up of 50 enthusiastic 'Home Exchangers,' brings members in the community together to share interests and explore the world in a unique way.
List Your Home, Chat with Other Exchangers and Book a Stay
Members are just three steps away from booking a house swap. After they sign up for a yearly membership, members can list their house, apartment, or vacation rental for community members to view. Uploading photos and describing the home's features (e.g., a pool, screened-in patio, internet access)is highly recommended so exchangers can get a good feel for what the accomodations will be like.
Next, members are ready to send and receive inquiries. You might be interested in staying in a bungalow in St. Maarten or in an upscale apartment in Tokyo — and, chances are, those home owners may want to stay at your place, too. After planning a home swap with like-minded members, your exchange will not only be easy but also create friendships across the world.
After you and another exchanger agree on a date and time, you're ready to finalize the booking. Some of the other perks include the guarantee of making an exchange within your first year (or you get your money back) and being able to list your home for free. Traveling never felt so personal (and so secure) until Home Exchange stepped onto the scene.
"Members can scroll through different options that they might not have considered before, and they're usually pretty excited about what they're able to find," Jim said.
Pay $150 and Get Unlimited Home Exchanges For a Year
You only have to pay $150 a year to unlock a surplus of benefits, and one of the best perks is getting unlimited exchanges. You can choose to trek across the world as much as you and your family want. Even if you only exchange once during your membership, you'll save up to 58% on typical vacation costs (e.g., booking a hotel).
Home Exchange offers a wide selection of homes to browse once you've selected which city you want to explore. If you have pets, you'll even have pet-friendly options that are great for you and your furry friend. Let's say you're a golfer — there are homes available on Home Exchange that are just minutes away from a golf course. Whatever your passion or preference, Home Exchange helps you pick the right place to stay and live like a local.
"We want to substantially compress and reduce the amount of time it takes for people to identify, research, and agree to an exchange to help them travel faster," Jim said. "We're making great strides in that direction."
Traveling shouldn't be complicated and put you in debt. That's why Home Exchange's house-swapping program makes it possible for you to hit the road — or fly across the Atlantic or Pacific Ocean — to experience unique cultures. On average, a hotel room costs $110 a night in Europe, so with Home Exchange, you'll save money when you swap homes with a local. From a houseboat in Seattle to an apartment in Thailand, your Home Exchange membership gives you the opportunity to explore almost any dream destination. All exchanges are like your home away from home — except you'll explore new cultures, sights, and sounds.
Explore the World With Your Home Exchange Membership
Although I've yet to stroll down the streets of London, or roam among the hills in Ireland, the opportunity is within reach, thanks to Home Exchange. Swapping houses with locals opens up a world of affordable travel costs, which helps people like me seize the opportunity to visit different countries. Lending your home to another exchanger also makes their dream of visiting the U.S. (or anywhere else) come true, too.
For $150, you can enjoy the warm weather in the Philippines, or cozy up in a cabin in Switzerland, as much as you want. Life, after all, is about exploring the world around you — and that's exactly what Home Exchange means to help you do. Join today, and start planning your next getaway.