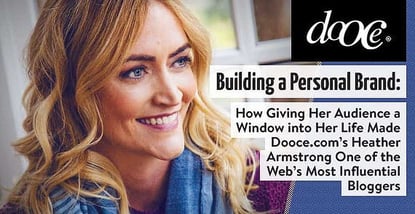 credit card news
Our experts and industry insiders blog the latest news, studies and current events from inside the credit card industry. Our articles follow strict editorial guidelines.
In a Nutshell: Recognized as one of America's most influential bloggers, Heather Armstrong has built her personal brand by giving readers a glimpse into her family life on Dooce.com. Heather's wit and honesty led to a loyal following, and she's learned to wade through the negativity to find constructive criticism that allows her to better serve her readership. While she's not writing as much these days, the exposure from Dooce has led Heather to new career opportunities that allow her to spread a message of sustainability and help increase access to quality health care for poor mothers around the world.
Modern observers of social media and online posts typically won't bat an eye when product placement finds its way into content. Banner ads just don't pay the bills for bloggers as they once did, and monetization is crucial to keeping websites up and running.
This wasn't always the case. When Heather Armstrong first started work on a deeply personal blog, Dooce.com, in 2001, her strategy wasn't to make money. In fact, Google AdSense didn't even exist until 2003. Named after Heather's propensity for misspelling the word "dude" when typing too quickly, Dooce was her platform for sharing her opinions and sense of humor with the world.
Heather's writing talent and willingness to share candid details of her life resounded with her audience, with thousands of readers visiting her site for updates on what amounted to a well-photographed, written-word online reality show. Heather made Forbes' list of the Most Influential Women in Media in 2009 and wrote a New York Times Best Seller, "It Sucked and Then I Cried: How I Had a Baby, a Breakdown, and a Much Needed Margarita."
Bloggers, like Heather, who share intimate details of their lives tend to hear a lot of negativity from anonymous internet trolls, but she learned that hidden amid the harassment is constructive criticism that helps her better serve her readers.
"It makes for a better relationship with my audience when I listen to them and realize, 'This is what people want from me,'" Heather said. "My relationship with the people in this audience is going to be better if I truly listen to their needs."
In recent years, Heather has shifted her primary focus to work as a consultant and social activist. She still keeps her readers informed through various social media platforms, and she's learned a lot about how to best reach audiences across different mediums. For instance, readers on Instagram want beautiful photos of her family, while her Twitter followers are more receptive to her political opinions.
"There are different audiences for each platform, and I have honed into what my audience wants on Twitter and what they want on Instagram and what they want on Facebook," Heather said. "As a brand, I know what I need to give them in each of those categories."
A 'Mom Blog' That Nearly Ended with the Birth of Her Child
A New York Times Magazine headline referred to Heather as the "Queen of the Mommy Bloggers," a term she detests but became true with the birth of her first daughter in 2004. In the months leading up to Leta's birth, Heather began writing what she believed would be her final blog post.
"I really thought that I would give up the website when she was born, except that when she was born, my base traffic tripled," Heather said. "I had been talking about pregnancy in a really frank and open and honest way, and my audience was craving what I was going to say about parenthood."
At this point, Heather's juggling act intensified as her popularity was exploding. She began putting Google ads on Dooce in 2004. The ads were already bringing in a few hundred dollars a month when she was contacted by an ad network that promised her more money if they could sell ads for her site. At this point, Heather and her husband were making enough money to quit their day jobs and turn the blog into the primary source of income for the family.
"It was really scary because I was the first personal blogger to do it," Heather said. "It wasn't a specialty, like tech or fashion. It was just me writing about my life. We just sort of jumped off a cliff hoping the parachute would open. Thankfully, I was there at the right time, and I signed on with the right ad network."
Blogger Authenticity Adds Value to Content in an Era of Brand Advocacy
The blogging landscape has changed dramatically with the devaluation of banner ads and the growing trend of sponsored content.
"Blogging looks entirely different than it did when I signed that first ad contract," Heather said. "There were years in there where the income was very steady, but in the last 3 or 4 years, the industry has turned on its head. The banner ad model of bringing in a livable income is dead."
Modern audiences are more accustomed to product placement and native ads in content. In fact, it seems to be their preferred form of receiving advertising. According to research cited in a Huffington Post article, 70% of people prefer learning about products through content as opposed to through traditional commercials. However, this marketing strategy is much more effective when it feels genuine.
The recent blogging business model has been a challenge for Heather, who isn't always comfortable with marketing brands to a slightly older audience that seems less receptive to these advertising strategies. She's a big believer in authenticity in her writing and is extremely selective about which brands she's willing to work with on generating revenue for the site.
"I signed up to write stories about my life," Heather said. "Now, it's turned into, 'Well, you can write this story about your life, but you really need to include this product and pictures of your children using this product, and then you'll get paid."
Many of Heather's readers visit her site for her sense of humor on parenting and everyday life, and she often has to get creative to raise awareness for some of the causes she cares deeply about while keeping her content entertaining and genuine.
"If I can tie stories into the work I'm doing in Haiti or Tanzania, it helps," Heather said. "I'm not a runner, but I can write a funny story about running a half marathon to raise money for women in Tanzania, and that really helps my audience care about it. Right now, I'm looking at ways to work with brands that I'm comfortable with writing about."
Blogging Opens Opportunities for Social Activism
While her extensive work on Dooce built Heather's personal brand, it's also created opportunities for her to make a difference in the world.
"My website has offered me every opportunity that I've ever had," Heather said.
After reading Jonathan Safran Foer's 2009 book about food choices and sustainability, "Eating Animals," Heather wrote about how it affected her. She eventually became a good friend of the executive director of Farm Forward, a nonprofit that collaborated on the book. The exposure she brought to the cause through Dooce led to Heather's latest career opportunity as a consultant for Farm Forward.
Writing about motherhood also gave Heather a chance to help other less fortunate moms around the world. She formed a friendship over Twitter with supermodel Christy Turlington, who runs a nonprofit organization called Every Mother Counts. Christy invited Heather to join the cause as the team's Technology and Media Advisor, and she's used her well-traveled online platform to spread awareness for an important issue.
"It's a maternal health organization, which I thought was perfect for my audience because it's about bringing health care to mothers around the world who can't afford it," Heather said.
Heather's been busy with other opportunities like consulting work and social activism, but the itch to resume blogging remains.
"I do want get back to writing though," Heather said. "I miss writing."