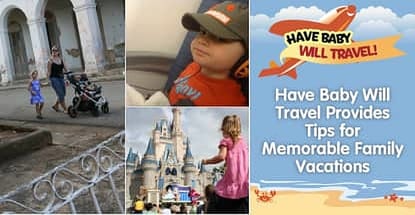 credit card news
Our experts and industry insiders blog the latest news, studies and current events from inside the credit card industry. Our articles follow strict editorial guidelines.
In a Nutshell: Traveling can be a frustrating and difficult process. Traffic can stall road trips, and security lines and crowded airplanes make flying a hassle. Adding a baby or toddler to your traveling party can make the experience even more difficult — and that much more memorable. Parents who want to travel with their young children turn to Have Baby Will Travel for tips and advice on planning the vacation of a lifetime, or a long drive to Grandma's house. The website provides packing lists, ideas for family-friendly outings, and firsthand stories of parents who regularly travel with their children. The website also provides tips for air and land travel and popular advice on eating, sleeping, playing, and getting around with your baby.
My daughter had visited more theme parks and national landmarks by the time she was 5 years old than many people do in their entire lives. My wife and I made a plan to expose her to as much as we could while she was a toddler, despite the objections from some people
Friends and family members often called the trips a waste of time and money. They said our daughter was too young and would never remember any of the outings. My parents offered to babysit and often claimed the trips would be more fun without the extra baggage a toddler requires.
Today, our daughter is close to finishing her college degree and is one step closer to her goal of becoming an international business interpreter. She speaks multiple languages and loves to travel. While she may not remember the trips we took nearly two decades ago, each journey planted a seed that continues to grow within her.

A similar scenario gave Corinne McDermott the inspiration to create 
Have Baby Will Travel
 in 2007. She wanted to take her newborn daughter on a trip before ending her maternity leave, but couldn't find useful information on traveling with a baby on the internet.
"I expected to find advice and suggestions, but was surprised to see that it didn't really exist," she said. "The information I did find was mostly negative — saying it was too much work and not much fun and the baby should stay home with the grandparents. I thought that was awful."
McDermott had no web design experience when she started her own blog in her basement. Today, Have Baby Will Travel is one of the web's largest sources of information on traveling with young children.
"As a first-time parent, I wanted to hear the stories of other first-time parents who had the same sort of fears and trepidations that I had," she said. "I wanted to know what they did, how they handled it, and what they learned. That didn't exist, so I made it."
Have Baby Will Travel helps parents prepare for everything from short road trips to long international flights. If you have unused travel rewards currently sitting in your credit card account, a family trip may be easier (and cheaper) than you think. Most credit card companies have redemption options that will reimburse cardholders for travel expenses such as airfare, car rentals, hotels, tours, and attractions. Points are typically redeemable at a 1¢-per-point conversion rate on eligible purchases, though occasional promotions could make the points even more valuable.
Most non-branded travel reward credit cards will reimburse for flights or hotel stays at any location and with any brand, while branded credit cards may be more particular with your choice of travel provider. Either option typically provides an online portal to access your account and cash in rewards for either statement credit, cash, or immediate discounts on your travel expenses.
Depending on the number of rewards points or miles currently in your account, you and your baby could be one step closer to a trip that won't be forgotten anytime soon.
Eating, Sleeping, Playing, and Getting Around with Your Baby
Readers who are preparing to embark on a trip with their child often send McDermott email questions that deal with four main areas of concern: Eating, sleeping, playing, and getting around with a baby.
Eating concerns usually include breastfeeding or preparing bottle feedings while on the go. While both provide challenges, McDermott said many options exist to make the experience easier than expected.
Any parent who has a toddler is already aware of how difficult sleeping can be. Sleeping while traveling with a young child can be equally challenging if you factor in time zone changes, an increase in physical activity, and an overall shift in the family's daily schedule.
"Getting on a solid sleep schedule can be hard enough when you're traveling alone," McDermott said. "Adding a baby can make it even harder."
Playing and getting around include similar issues, as a baby needs to stay happy and engaged during the time it takes to commute from place to place.
Tips for Traveling by Air or by Ground
Perhaps the biggest challenge in traveling with a toddler is getting to and from your travel destination. A vehicle can get you to your travel location on shorter trips, but traveling longer distances than you care to drive requires more thought and planning.
McDermott said the first step, regardless of transportation method, is to make sure you pack everything you need. Have Baby Will Travel covers its readers in that regard with its oft-downloaded Mother of All Packing Lists. Parents flying with their child should also check out the carry-on bag packing list.
"The list is extreme, but I devised it as such so that it can be printed out and anything that doesn't apply to you can be crossed off," McDermott said. "The list negates the chance that you could possibly forget something."
McDermott said parents should always expect delays when they pack for a trip — as getting stuck on an airport tarmac or in a highway traffic jam is far more unpleasant if you didn't pack enough formula or diapers.
"There are a lot of things you have to plan for when traveling with a small human being who has lots of needs that you need to put first," she said. "It can be daunting, especially as a first-time parent. You have to just come up with the courage to do it when other people are telling you you're nuts."
McDermott's biggest tip for flying with children is to schedule the flight's departure at a time your child is accustomed to napping. She said she always scheduled flights in the morning when her children were younger because they were most cheerful then. Properly scheduling your flight, she said, decreases the chance of a bad experience for you, your baby, and your fellow passengers.
"Getting through the flight, or at least the thought of getting through the flight, is usually the scariest part," McDermott said. "If you've got a plan for that, then you've taken a step in the right direction."
Road trips require a different sort of preparation, as the only people you have to worry about disturbing are the occupants of your own car. For McDermott's first family road trip, she and her husband opted to leave their home at their children's bedtime. The couple alternated driving duties through the night as the children slept through most of the trip.
"You kind of have a write-off day when you get there, but you can cover a lot more ground if the kids sleep most of the way there," she said.
While day road trips may be easier to plan, McDermott warned that if your child is the type who sleeps during car rides, you could find yourself with a sleepless night once you reach your destination.
Reward Yourself and Your Child without Regret
McDermott's children are no longer toddlers, but they still love to travel. She attributes part of that passion to the trips she took with them when they were toddlers. She still maintains Have Baby Will Travel even though her cabinets no longer contain baby bottles and diapers. The website today is as popular as it's ever been.
"All of the firsthand information on the site comes from writers I hire who are traveling with their babies and toddlers," she said. "That information and those experiences are a really important part of the website and what I hope sets it apart from others like it."
McDermott has seen several parents come to her as scared first-time travelers and quickly evolve into experienced adventurers who are building memories along the way. The stories she hears make her blogging efforts over the last decade well worth it.
"The first trip is the hardest, but every trip after it gets easier," she said. "Make sure your expectations are in line with the type of trip you want to take and the type of baby you have. All of those amazing places you want to visit will still be there in 5 or 10 years. Maybe you'll have to wait a few years to go when your child is a little older and you can enjoy it more together."
And most importantly, don't listen to the naysayers who tell you that traveling with a toddler is no fun or too much work. I can tell you firsthand that the experience, although challenging at times, is one you'll never forget.