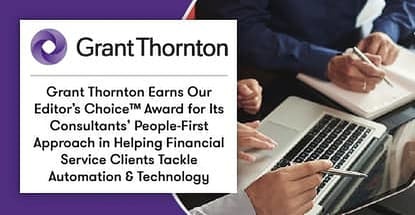 credit card news
Our experts and industry insiders blog the latest news, studies and current events from inside the credit card industry. Our articles follow strict editorial guidelines.
In a Nutshell: Technological advances are changing the way companies in all industries conduct business and interact with customers. Financial service firms face high consumer demand for multiple channels of always-on account access. To meet these needs, many turn to outside consulting firms with experience in handling the latest technology and automation solutions. One of the most sought after companies is Grant Thornton, an audit, tax, and advisory services firm that ranks among the top consultancies in the world and works with some of the globe's largest financial service providers. The firm has earned our Editor's Choice™ Award for helping clients streamline processes while steering them to the successful implementation of efficient technology upgrades that cut their costs and improve their bottom lines.
I was 14 when I got my first job — a shelf-stocker at a small-town grocery store. It was the only grocer in the area and the store manager was aware of the advantages that gave him.
He often told us stockers to put items on the shelf that were close to — or past — their expiration date. He said that people needed groceries, and there was nowhere else to get them, so they'd buy whatever they were offered.
That approach has been adopted by many large banking institutions over the years. Consumers in need of loans were at the mercy of their local bank branch to either approve or deny their dreams. Without competition, the banks held all of the power in negotiations. Times have changed.
Technological advances and internet banking started a revolution that has altered the way consumers interact with — and use — financial services. Those services are as affordable as ever, thanks to the non-traditional institutions entering the sector using automation and FinTech options that improve the customer experience and decrease institution costs.
But going from an old-fashioned business method to a modern-day operating procedure can be confusing. Corporations that look to cut costs and speed up the process often leave the process only halfway done.
Businesses that seek consulting services from Grant Thornton realize there's no shortcut to success. Truly evolving your product, services, and way of thinking takes a level of expertise that few financial service providers have on staff.

Grant Thornton has spent the last 90 years steering some of the globe's largest businesses and corporations in all industries toward greater success with audit, tax, and advisory services.
The company's Financial Services arm helps clients navigate regulatory requirements, widespread technological change, and consolidation needs that has completely restructured the modern financial industry from what it was just a decade ago.
"Over the last several years, we've made some very targeted investments into the business consulting and technology space," said Tom Joseph, Principal in Grant Thornton's Advisory Services practice. "We have built up, and delivered strategy programs, operations transformation, performance improvement, and technology solutions to some of our top clients in the US."
Grant Thornton is clearly positioned as one of the top-five audit consulting firms in the world. But it's investment in business consulting services, and a new approach to customer service, led by CEO Mike McGuire, has the company on a new path that puts people first.
"The way we serve our clients compared to competitors, and our cultural realignment and how we take care of our own people, is one big important difference between us and other firms," Tom said.
A Focus on Efficiently Transforming Operations and Improving Performance
Consultants can help clients manage large amounts of stockpiled data, streamline operations, or implement new technology strategies geared toward improving the customer experience and increasing their bottom lines.
"The majority of our financial services clients are looking for efficiency in anything they do," Tom said. "Many of them have efficiency programs that have either been resurrected or implemented over the last several years, or they've been there for a long time and they continue to make them part of the way they do business."
Grant Thornton's consultants specialize in efficiency, whether it's within the programs it helps implement for clients, or in their own work. Tom said that, depending on the services being rendered, consultants aim to take as little of their clients' time as possible.
"A lot of our engagements vary from two or three months all the way up to several years," he said. "Our goal is to get in, help them, and then get out while making sure that the client can operate going forward without relying on consultants."
Automating the Future of Banking for Improved Service
The personal computer began infiltrating financial services 40 years ago. At that time, accountants who used pencil and paper as their main tools of the trade worried that the technology would replace them.
Eventually, they adapted and learned to use the technology to their advantage. Financial services are nearing the peak of its first major technological revolution since the computer. FinTech advancements, automated services, and robotics are forcing major institutions to reassess their plans for the future.
"Many of our financial service clients are looking at the automation of their back office and operations as part of their digital transformation," Tom said. "The number of people they employ in those operating units will likely decrease significantly over the next several years as the automation movement gets put into place. It's a big change."
But where one door closes, another one opens.
Automation will not completely negate the need for employees. Tom said the number of services provided by banks increases exponentially as their customer base grows, bringing with it the need for employees to run those services.
"The customer is always going to be king and customers at this moment demand multiple channels to do business with their financial institution," he said. "The more that is offered, efficiently, the more success an institution will likely have."
Grant Thornton Realigns Its Culture to Help Clients Succeed
You can usually judge a consultancy practice based on how its own business runs. If their company is struggling, what puts them in a position to suggest changes to yours?
Grant Thornton's people-first mentality starts in its own offices and spreads to the way its consultants approach client relations. The firm was the first to offer flexible time off to its employees and continually looks for ways to help them find a healthy work-life balance.
"We've recently implemented our people-first strategy within the company," Tom said. "The feedback from the employees that work here has been great. Many come from firms outside of Grant Thornton and realize how unique our workplace really is."
Tom said the shift in approach has the successful company trending even further upward.
"As we continue our cultural transformation, growth is clearly in our future," he said. "We have an amazing leadership team. I don't think there's anywhere but up as far as where Grant Thornton is headed."