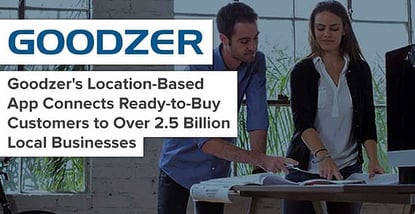 credit card news
Our experts and industry insiders blog the latest news, studies and current events from inside the credit card industry. Our articles follow strict editorial guidelines.
In a Nutshell: Imagine you're visiting Honolulu, Hawaii and you need a suit for a last-minute scuba-diving excursion — where can you buy one? That's the question two Russians wanted answered when they were looking for hockey headgear in the U.S. The solution was Goodzer, an automated-marketing company that connects ready-to-buy consumers to retailers and service-based businesses. Once retailers create a free business profile, Goodzer displays their information and products to nearby customers who're looking for their service. Whether you're a dentist or a hair stylist, Goodzer is ready to market your services to millions of consumers. 
Let's say you just opened a veterinary practice in Raleigh, North Carolina. It's a fairly big city, so you know it'll be tough competing for customers who already go to well-established veterinarians. You've tried different marketing efforts to spread the word about your business, but your client base hasn't grown much. So what do you do?
There are millions of small businesses (like the example above) who're looking for new customers every day, and Goodzer is lending a helping hand. The automated-marketing company connects ready-to-buy consumers to millions of local businesses across the country through its search- and location-based app. If a shopper is looking for an item like a lawn chair, for example, he or she can search for it using the Goodzer app and find a list of nearby businesses that carry it. Or if a consumer needs plumbing services, the Goodzer app's search results identify a nearby plumber to get the job done. Retailers and service-based businesses of all sizes can create free profiles featuring their information and be seen by over 200 million consumers on the app. It's a great way to grab the attention of customers who are just down the road and in need of your services.
I got the chance to talk with Lori Faunce, the Head of Marketing at Goodzer, about how Goodzer brings customers and retailers together through their free handy app.
It All Started with Finding the Right Hockey Helmet Nearby
A few years ago, software engineer Dmitry Pakhomkin wasted hours searching for hockey headgear that he ultimately found was located at a store just down the road. There had to be a better way to find products, Dmitry thought, so he set out to create a service that used data to search for items nearby.
In 2010, Pakhomkin and co-founder Artem Zarutskiy developed the largest local-product database that now influences the way consumers shop for products. As the database grew with extremely valuable data, Pakhomkin and Zarutskiy created a world of better local-product search with granular local-data marketing and, eventually, implemented the service into an app.
"We're giving users the information they need," Lori said. "Whether that is with our enhanced data product or performance-advertising product, the angle is to make sure consumers really have the information they need."
From free business profiles to paid performance-advertising services, Goodzer gives businesses the tools they need to attract customers to their services.
Business Profiles Attract Customers to Your Business by Showcasing Products & Services Through the Goodzer App
Through its app, Goodzer powers over 2.5 million business profiles that expand their online presence. If you're interested in creating a profile, all you do is sign up at Goodzer's Merchant Center online. The company will then publish and distribute your services, prices, and product inventory across Goodzer's Partner Network. Your profile will experience increased page views, effective SEO tactics, and descriptive details.
"Our concept is about delivering the information that users really need to make a purchase decision," Lori said.
Consumers can use the app to search for products at nearby stores. Let's say you own a pool store, and a consumer (who just became a brand-new pool owner) is looking for chlorinating tablets. He or she can open the Goodzer app, enter "chlorinating tablets" into the app, then a list of results — including your pool store — will appear. The consumer decides to try out your store and, if he or she has a great experience, they'll come back as a satisfied customer.
Consumers can also browse through 16 service categories — including insurance, pest control, and electricians — to find hired help. When customers who need your specific service use the search bar on the app, Goodzer displays your business' information. Generally, converting online browsers into buyers isn't easy, but Goodzer's effective search results, essentially, bring customers who're looking for your product or service to you.
Performance-Advertising Solutions Drives More Conversions
Figuring out the best online-marketing tactics for your business is difficult for retailers of all sizes. Goodzer makes the process simple and effective, thanks to their performance-advertising solutions. If you sign up for Goodzer's high-quality phone services, your business will benefit from customer satisfaction and perhaps more in-store visits. Goodzer helps businesses drive better conversions through the following features:
Automation
Customer Targeting
Distribution
Tracking
Once you give Goodzer a list of advertised locations, the company does the rest of the work for you. From aggregated data to tracking click-to-call duration, Goodzer tracks your business' campaigns for growth and areas of improvement.
In short, Goodzer's performance-advertising solutions measure, track, and analyze each campaign's success. If you're interested in knowing about an app user's location, you can use geo-location and geo-fencing capabilities to analyze where your customers are. If you want to spread awareness of your brand more, you can distribute your business' information through search engines and publishing partners.
"We have our performance-based advertising platform, which we really built on the backbone of all of the inventory data and business information, for both service-based businesses and retailers," Lori said.
Enhance Your Business' Local Presence with Goodzer Today
Marketing your business on the web, especially on mobile devices, can do wonders for your brand. Otherwise, customers may miss out on buying your product, and you may miss out on sales. That's why Goodzer's local-product database and app are so important to retailers and service-based businesses across the country.
As more retailers sign up and create business profiles, Goodzer will continue to offer top-notch data for local businesses and national chains alike. The company also looks forward to delivering more succinct information to help customers find what they're looking for more easily.
"We also have developed a very robust performance-based model that is leveraging data and really getting those high-quality conversions and results for small businesses," Faunce said.
Create a business profile for free today — or sign up for performance-advertising solutions — and market your brand or service to 200 million users through the Goodzer app.