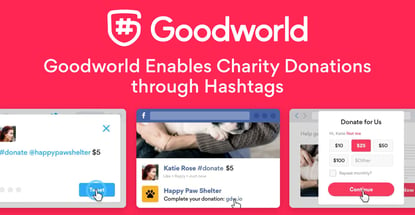 credit card news
Our experts and industry insiders blog the latest news, studies and current events from inside the credit card industry. Our articles follow strict editorial guidelines.
In a Nutshell: Social media can be a force for good by promoting causes that inspire people and opening up new avenues for charitable giving. But turning inspiration into actual donations is easier said than done. That's why Goodworld partners with thousands of charities to enable easy and secure hashtag-powered donations on social media platforms — including Facebook and Twitter. The convenience of hashtag donations encourages donors to act decisively during a moment of inspiration. And charities don't have to navigate users away from social platforms to accept gifts, which often discourages would-be givers from completing a donation.
The Ice Bucket Challenge is an excellent example of how social media can inspire change. During the summer of 2014, individuals donated more than $115 million to the ALS Association to combat amyotrophic lateral sclerosis — also known as Lou Gehrig's disease.
Those donations were primarily inspired by Facebook posts in which people dumped buckets of ice water over their heads and challenged others to do the same. After its modest beginnings, the Ice Bucket Challenge went viral. Soon, celebrities, prime ministers, presidents, and many others got involved.
Around that same time, Dale Nirvani Pfeifer and John Gossart had the idea for Goodworld, a platform that allows organizations to boost their donations by enabling people to give through hashtags on social media. Pfeifer had a background in the philanthropic sector and saw that people everywhere wanted to participate in doing good. And, as she started spending more time on her mobile device and social media, she began to appreciate how technology could connect people with causes that inspired them.
Pfeifer recognized that the pathway from inspiration to action wasn't as easy as it could be. She'd see an inspirational post on Facebook but then get mired in a journey to the charity's website to fill out a credit card giving form. On a mobile device, especially, it's a hassle to get through all of that to donate. That meant significant numbers of abandoned transactions and lost charitable potential — including for the Ice Bucket Challenge.
"When the Ice Bucket Challenge happened, it validated our thesis," Gossart said.
When Pfeifer and Gossart finally did the math, they realized that although the Ice Bucket Challenge generated more than 700 million pieces of original social content, that enthusiasm translated into actual donations to the ALS Association less than 2% of the time.
So they built Goodworld to help people donate to charities during their moment of inspiration. The platform allows easy and secure donations to more than 3,000 Goodworld charity partners by simply replying with #donate to a social media post.
Charity Partners Interact with Givers through Facebook and Twitter
According to Gossart, the lack of follow-through from potential donors isn't due to apathy as much as it is logistics.
"I've got a cup of coffee or a pint of beer in one hand and my phone in the other," he said. "Even if I'm willing to navigate the charity's form on my phone, I'm not pulling my credit card out now. I'll do it later — and I mean that. But, actually, I won't do it later. And it's not because I'm a bad person. It's just that life gets in the way."
But while donating to a charity by filling out a form on a charity's mobile site is hard, replying to a social media post with a hashtag is easy. Goodworld is built on the premise that a charity's best chance of converting enthusiasm into dollars is at the point of inspiration. When charities connect their social accounts to Goodworld, all of their posts become donation-enabled.
When users reply with #donate, a form pops up that allows them to sign up and donate to the cause quickly — they can even use stored credit card information, making the process seamless. After that, they can give instantly through the hashtag.
"I follow UNICEF USA on Facebook because I love the cause," Gossart said. "I wake up in the morning, grab my phone, flip through my newsfeed, see what my cousins are up to. And then I see a post from UNICEF — they're saying, help us, comment #donate any dollar amount. And I just reply, #donate 75."
UNICEF replies directly with a thank you and sends out a receipt via email. Meanwhile, the donor's credit card is charged, and $75 goes directly to UNICEF.
"We give people a frictionless donation experience everywhere they live their lives," Gossart said.
Influencer Connections Promote Campaign Discovery
Donors need only enter their credit card and personal information once to donate to more than 3,000 Goodworld charities. After registration, #donate works every time.
That removes a significant obstacle for charities and enables them to leverage social media to maximize their impact.
"Say you and I are Facebook friends, but you're not following UNICEF," Gossart said. "Because I engaged with that post, and UNICEF engaged back with me, you, as my friend, are much more likely to see it because I commented on it. And UNICEF didn't pay anything to distribute that content. In fact, I paid $75 to distribute it in a much more authentic way."
That pull of friendship on social media extends to celebrities and other influencers. Charities that have relationships with social influencers know their message will be heard and taken seriously.
"Now, your friends and family see you get something back from those celebrities," Gossart said.
The relationship between the Beagle Freedom Project animal advocacy organization and the musician Sia is a great example of how a charity's relationship with an influencer can pay dividends, Gossart said.
"They've got great content, they engage their audience, and they've brought in an influencer who's authentic and who cares about animal rights," he said.
Credit Platform Integrations Expand Conversions for Nonprofits and Businesses
Fittingly, ALS was Goodworld's first client, and donating to the cause is now as simple as donating to any of the platform's more than 3,000 partners. But Pfeifer and Gossart aren't done. And Goodworld's growing relationship with Mastercard promises not only to expand nonprofit charitable outreach but to weave charitable giving into everyday transactions.
"The Mastercard relationship is so important for so many reasons," Gossart said. "They have a huge distribution network, and gaining access to that was important to us from a company perspective. But even more important is that Mastercard is aligned with us from a values perspective. CEO Ajaypal Singh Banga is serious about the idea of doing well by doing good. And now we've got this integration, so we're looking forward to finding a way to make charity an option in every transaction."
The coming convergence of payment platforms around a standardized method for e-commerce checkout known as Secure Remote Commerce is also central to the transformations that Pfeifer and Gossart anticipate.
"We're having conversations about how to give people the option to be charitable as a part of their everyday routines," Gossart said. "Every time I buy a beer, for example, I could get a notification that I gave a little bit to a cause I care about."
In 2020, Goodworld will launch a full-suite nonprofit fundraising platform. This first-of-its-kind platform brings together tried and tested approaches to fundraising with the tools that are being quickly adopted by the next generations. The all-in-one technology suite includes giving pages, text to give, donor CRM, Round-Ups, event ticketing, auctions, matching donations, and social media donations — through Facebook, Twitter, Instagram, and mobile apps.
Goodworld will also introduce a CSR platform that amplifies any company's positive impact. It will make engaging employees, customers, and community in workplace giving and volunteering simple and fun. It will also enable businesses to establish workplace philanthropy programs in minutes. The platform is initially free and scales with your business.
The U.S. market for total charitable giving is now well more than $400 billion annually, and the #donate hashtag gives Goodworld charity partners a leg up on the competition.
"Even after you finish a Goodworld donation, your #donate comment leaves a very warm lead on social media for our friends, and the charity, to follow up on," Gossart said.