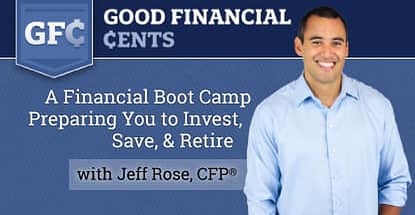 credit card news
Our experts and industry insiders blog the latest news, studies and current events from inside the credit card industry. Our articles follow strict editorial guidelines.
In a Nutshell: If you want to retire comfortably, you should start making a plan today, but most people don't know where or how to start. To make sense of your finances, Good Financial Cents offers conversational advice about insurance, investments, credit cards, and Roth IRAs. Jeff Rose, a retired infantry soldier and certified financial planner, compares personal finances to a battleground that many are unprepared to face. For him, procrastination and ignorance is the enemy, keeping people from investing in financial security. However, with discipline, commitment, and vigilance, he believes that everyday individuals can start a Money Uprising Movement in their own lives.
About a decade ago, a class of high school seniors trudged into a required assembly. Eyes glazed, most of them mid-yawn, these bored students were already zoning out. They wanted to get out of class for a day, not learn anything new.
The gossiping murmurs hushed only slightly when the speaker took the stage. Jeff Rose, a professional financial planner, generously estimates that 20% of the audience actually listened to his lecture.
In an upbeat tone, he talked about how saving for retirement early can change a young person's financial landscape — not a topic that puts 18-year-olds on the edge of their seats.
But one teenager in the audience did listen. Taking the advice to heart, he came up after the assembly all fired up. He wanted to start contributing $50 a month to a Roth IRA. Jeff gave the kid his card.
Today, that kid is 30 years old and has been funding his Roth IRA since he was a high school senior, which is far longer than others his age. Jeff calls this his most exciting success story because that 30-year-old got a crucial head start on his financial future.
Energized to teach others how to invest and save their money, Jeff put his expertise as a professional financial planner into Good Financial Cents, a website where anyone online can find the tools to take control of their personal finances.
A Certified Financial Planner™, retired U.S. Army infantry soldier, author of a financial advice book, and founder of Alliance Wealth Management, he shares his experiences and makes recommendations in a financial boot camp for anyone who could use a little guidance.
Good Financial Cents Offers Simple Financial Advice
Jeff Rose is a family man, a father of three, who knows what it takes to keep a household running. Passionate about helping others with their finances, he started Good Financial Cents: a go-to resource for anyone wondering how to deal with credit cards, insurance, Roth IRAs, investments, and other financial topics.
With a conversational and light-hearted tone, blog articles walk people through this unknown territory. Jeff uses plain language and supportive catchphrases so that people understand what they need to do.
If you give him your email, he'll give you you a Money Dominating Toolkit. This includes advice on "how to build real wealth" and an insider's access to useful financial tools.
He wants to incite a movement toward financial responsibility. The Money Uprising Movement, as he calls it, is all about raising awareness and encouraging better habits. Jeff emphasizes that no finances are perfect, and people shouldn't get discouraged.
"Just because you've made poor choices in the past, that does not define your financial future," he says. "You can make the choice to want more out of your life. You can choose to take control of your money."
His pep talks are empowering. Over 35,000 people have enlisted via email in the Money Uprising Movement. This program seeks to bridge the disconnect between people and their money, inspiring positive action toward investing, saving, and reducing debt.
Chock-full of advice and encouragement, Jeff wrote a book about personal finance called Soldier of Finance: Take Charge of Your Money and Invest in Your Future. Below is the book's trailer:
In his personal and professional life, Jeff is committed to helping people handle their finances. In college, he began wooing his neighbor by offering to help her use a financial calculator. That may not sound like the smoothest line, but it worked. About a year later, she was his wife.
This finance geek is also a storyteller, frequently relating financial advice back to his own experiences. He doesn't just tell you how to invest or open a Roth IRA — he tells you how that decision affected his own life. Using military lingo and personal stories, he offers concrete examples of what works and why.
In His 20s, Jeff Took Control of His Financial Future
Jeff graduated from college with a degree in finance ready to take on the world, but less ready to take on the world of investing. He realized that he didn't know anything about how to invest his money wisely — and that others were even more lost than he was, not knowing the best places to open a Roth IRA or how to pay off student loans.
"I was clueless," he remembers. "I really thought 'Man, I'm a finance major, and I don't know anything about this stuff. That's scary, right?'"
In his job as a financial advisor, he began to see a pattern of behavior that stemmed from ignorance, impatience, or failure to plan ahead. He saw firsthand the issues facing the average consumer.
He met clients in their 60s whose life savings added up to only $30,000. "No pension, small Social Security checks, and $30,000 in investments is all they had. They were stressed, and it was evident," he remembers.
When talking to older clients, Jeff says he heard two common regrets:
I wish I saved more.
I wish I started earlier.
In his mid-20s, this resonated with him because he knew that he was no better than his clients: he wasn't saving enough either. So he stopped being financially complacent, and he began thinking long-term.
"I decided I need to get my butt in gear," he says. "For many young people, there's no reason to do anything because there's no fire driving them. So that's what got me excited about becoming a financial advisor."
Applying Military Discipline To Your Pocketbook
Because his parents had failed to save any money for his college education, Jeff joined the Army National Guard to pay for his schooling. He stayed in the Guard even after he graduated and became a financial advisor. Then he was deployed to Iraq in 2005. Before he shipped out, his then-girlfriend made an honest man out of him by eloping in Las Vegas.
His experiences in the military shaped how he approaches his life. In Iraq, he tells us, he learned just how little a person needs to get by. "I had four uniforms, a DVD player, and some books," he remembers, "and I was able to make that work for an entire year."
A minimalist attitude and disciplined character are helpful when living on a small salary, as Jeff and his wife were when he was making a name for himself as a financial planner.
"Initially, when we were trying to get our finances in order, we were very selective and particular about the things that we bought and why we bought them," he says.
Jeff recalls drooling over a flat-screen TV — until his wife reminded him that he couldn't afford such a big purchase. "I recognized that financially I wasn't in a spot where I could afford it, so I waited," he says. In the long-run, this was the right call to make.
As a veteran, Jeff has unique perspective on personal finances that he wants to share with others.
"The military gives you discipline that a lot people lack," he says. "For me, that discipline has meant saving for my Roth IRA and being able to recognize when not to buy something I don't need."
The Little Things that Drive You to Financial Stability
When Jeff was just starting out as a financial advisor, he wasn't cruising about town in a flashy car. He knew his financial limits.
"I drove a champagne-colored Chevy Lumina. It was literally a grandma car," he says with a laugh. He'd inherited the car when his grandmother passed away, and no one else in the family wanted it.
Turns out, this was a financial blessing in disguise.
"It had 14,000 miles and was paid off, so I didn't have a car payment for those several years," Jeff says. "While it seemed insignificant at the time, I'm now able to reflect back at that moment and realize it was a pivotal point in my financial life."
During that time, he was able to stretch his thin salary by sacrificing on the little things, such as not splurging on a new car. Instead of making a short-term or impulsive decision, he put money in his 401k and maxed out his Roth IRA.
"I used my discipline from the military to realize that I don't need all that," he says. "I'll just make it work with what I have, and it's not like I suffered. I still had a car and a roof over my head, but it gave me that initial surge that I needed to get started investing."
Jeff was able to delay gratification, doing his older self a favor by making a responsible choice.
"Now me driving that 1998 Chevy Lumina is the reason I'll have $4 million in my Roth IRA by the time I retire," he says.
He didn't procrastinate on starting his financial future, and he urges others to likewise get a jump start on it because just three years of saving money can make a difference later on.
Whether it means living with roommates or driving around in a beat-up used car, simple savings can add up over time. With the guidance of an experienced financial professional, anyone can get on a path to smarter investments and better spending habits.
"Small actions can have such a huge impact. Most people don't get it because most people don't understand it," Jeff says fervently. "That's why I do what I do."
Jeff Helps His Clients Plan Ahead — the Sooner the Better
Even if you're too old to begin funding a Roth IRA in high school, it's never too late to start preparing for the future. And help is always available online.
The financial advice on Good Financial Cents points readers in the right direction with down-to-earth experiences to back up every word.
To change people's relationship with money, Jeff uses an innovative array of techniques and tactics. Currently, he's getting ready to roll out a weekly podcast series called GFC TV to answer common questions about finances. An audio and video version will be available on iTunes. Through this new medium, he hopes to reach a wider audience with his message of empowerment.
"The main thing that I want to instill is that you need to have a close relationship with your financial life," Jeff says, "so that you don't wake up one day and kick yourself — because the reality is that simple steps can make you much better prepared for the future."