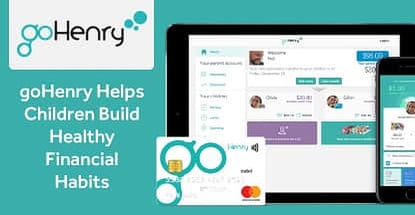 credit card news
Our experts and industry insiders blog the latest news, studies and current events from inside the credit card industry. Our articles follow strict editorial guidelines.
In a Nutshell: In the age of Amazon and iTunes, children have easy access to shopping and retail. However, they may not have the experience to spend their (or their parents') money wisely. The goHenry app is changing that by providing a practical, parent-guided education in earning, spending, and saving money. Parents choose how their children earn money and set how much and where they can spend it. With their goHenry debit cards, which are paired to an app and online account, children can set savings goals for themselves and enjoy financial independence that grows along with them and their needs. By providing hands-on experience in managing money, goHenry helps parents ensure their children develop positive financial habits that will last a lifetime and makes managing allowance easy and fun.
According to research published in May 2013, children tend to understand how money works by age 7. They know it has value, so it can be exchanged for goods and services. However, the distinction between necessities and luxuries isn't necessarily established, and their financial habits are heavily influenced by their parents' examples.
A group of parents in the UK encountered this firsthand when their children began running up large credit card bills buying music, games, and other non-essential luxuries. These parents wanted to find an effective way of influencing their children's money habits. The result is goHenry.
"We're founded by parents," said Dean Brauer, Co-founder and EVP of goHenry. "We like to say we're funded by parents, too."
That's because goHenry raised $5.5 million through an equity crowdfunding campaign in 2016, with $1.4 million coming from existing customers. The campaign's success helped fund the UK-based company's launch into the US market. The service was the first of its kind globally and has a community of 500,000 users and growing.
"GoHenry is a tool for parents to help them teach their kids good money habits, and do that in a safe way," Brauer said. It does this by giving kids practical financial experience at young ages (from 6 to 18) in a safe, controlled environment.

With goHenry, children get their own accounts with customized debit cards featuring state-of-the-art technology with contactless and PIN-protected purchases and their names printed on the card (goBilly or goMaria, for example). Children and their parents each get mobile apps that are compatible with iOS and Android or they can both log in to their accounts online. The parent's account is linked to the child's account and card through the app — this gives parents control and oversight over their children's accounts while letting kids take the initiative in earning and saving.
The company's purpose is to empower parents to help their children develop healthy earning, spending, and saving habits. "Our mission is really simple and clear," Brauer said. "It's to help kids be good with money."
Earning Options Help Children Appreciate the Value of Money
Before they get their first part-time jobs, children's liquidity comes from an allowance. GoHenry makes it easy for parents to distribute allowance digitally to their kids. Parents attach their payment method to their account, fund their own wallet, and then choose one of three ways to administer the funds to their children.

The simplest method is to set a weekly allowance, which automatically pays out. Parents can also set specific tasks by which their kids can earn money. This helps children understand the value of money and gets them into the habit of earning rather than expecting a handout. Parents can also decide on the types of tasks to reward, whether they be household chores or academic achievements. Finally, parents can make one-off, real-time transfers to their child's account for special occasions or circumstances.
Parents can choose to use one method or even mix and match methods of payment. For example, one parent might set a basic weekly allowance and then set tasks that allow their child to earn extra cash. Another parent may not provide a weekly allowance but may offer rewards for making the honor roll. But whatever the needs of parent and child, goHenry can accommodate.
"That's part of the ethos of the product: making it as flexible for each family so it's tailored to their needs," said Brauer.
Purchase Limits Encourage Responsible Spending Practices
GoHenry cards can be used in stores, online, or at ATMs to access cash. By providing hands-on experience with money, goHenry debit cards teach children to be mindful of their funds – plus it prevents the possible disaster of overspending on a parent's card.
Because goHenry is a teaching tool, it features parental controls that can nudge children in the right financial directions. Parents can control their child's spending in three ways: limiting weekly spending, capping maximum transaction values, and limiting where children can use their cards, be it online, in stores, or at ATMs.
As with earning options, spending limits can also be mixed, matched, and customized.
"A lot of parents tailor it to the needs of the child depending on their life stage," Brauer said. For younger children, lower limits and restricted purchasing channels act as financial training wheels; a six-year-old may only be able to spend $10 weekly in stores while shopping with mom and dad, who get more supervision and more opportunity to teach their child about money. But as kids get older and gain more responsibility and autonomy, these restrictions can be relaxed with the push of a button.
"The whole thing is about making sure parents have the right oversights so they can give children independence and freedom," Brauer said, "and that changes over the lifetime of the product."
GoHenry also provides notifications in real time. "A parent will get a notification saying where their children have spent money, the value of the spend, and how much they have left," Brauer said. The child gets a similar notification, identifying the expenditure and their remaining funds.
"The child, crucially, needs to get some feedback on their balance," said Brauer. "That keeps them in check to manage a budget." This information is presented visually, helping them learn about money management and financial responsibility in a stimulating and engaging way.
In the event a card is ever lost or stolen, it can be blocked and unblocked in real time at the touch of a button in the app or online account. This provides extra protection for the child's hard-earned funds, and it provides another way for parents to manage their children's spending.
Self-Directed Savings Goals Build Money Mindfulness
No financial education is complete without an introduction to saving, and goHenry provides hands-on experience with that as well. Whether they want a new video game next month or a new car when they turn 16, the app empowers children to set their own savings goals.
"They tell us the goal they want to save for. They tell us the amount they want to save," Brauer said. "And then we calculate for them how much they need to save each week to reach their goal and ensure their money is moved into their savings goals each week. It's about making saving easy and helping kids build a habit and work toward their short and long-term goals."
GoHenry shows children their progress toward the goal on a savings bar, providing visual feedback and encouragement to help the child save and work toward their goal. "It's all designed to help kids really easily and clearly learn to manage a budget," said Brauer, "and feel confident and good about that."
Developing capability and confidence in money management is crucial when children go off to college. Not only are they potentially taking on one of the largest debts of their lives in the form of student loans, they're also expected to responsibly manage the day-to-day finances of adult life. GoHenry provides them with the skills they'll need during this time and after, and it gives parents peace of mind regarding their children's financial futures.
Starting the Conversation that Lasts a Lifetime
Brauer said that goHenry was designed to bring families together and start conversations. It creates opportunities for parents to talk to their children about money management, and it gives kids a controlled, hands-on experience with personal finance.
"Our customers tell us all the time goHenry is helping them have positive conversations about money with their children and helping to create teachable moments. They're seeing positive behavior changes in their children when they move from a cash-based allowance system to using goHenry; their children are managing money more confidently and making better choices as cash tends to burn a hole in their pocket," said Brauer.
GoHenry is an asset for parents because it helps their children grow up with a solid foundation for financial well-being. And kids, who typically don't enjoy substantial currency in the marketplace, get the experience of being enfranchised in the modern economy. Since they'll be participating in it for the rest of their lives, the earlier they get acquainted with it, the better.
"It's about helping them grow into the world they live in," Brauer said, "and the world they're growing into."