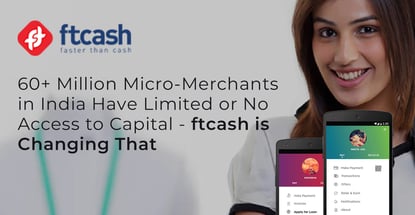 credit card news
Our experts and industry insiders blog the latest news, studies and current events from inside the credit card industry. Our articles follow strict editorial guidelines.
In a Nutshell: Micro-merchants in India turn to ftcash for business loans of between $1,500 and $15,000 USD with fair interest rates and repayment terms. The company also provides a host of digital payment acceptance solutions and point-of-sale hardware and software services to small businesses. American corporate giants, including PayPal, Mastercard, and Facebook, pledged their backing and support to this quickly rising company that aims to empower micro-merchants through access to payment services and loans.
Small businesses have spent decades driving a majority of the world's economy. But the business world needed a new classification as more people leveraged the internet to start their own operations in search of an independent lifestyle.
Micro-merchants conduct most of their business in lower-value transactions. These merchants can be independent sellers on eBay or Etsy or professional service providers on Fiverr. They're also Uber drivers and vendors at farmers markets.
Though their businesses may classify as micro, their need for working capital is anything but small. India currently has more than 60 million active micro-merchants, but statistics show that only 3% to 4% of them have access to business loans — and fewer than 6% accept digital payments.
ftcash exists to serve India's emerging entrepreneurs. After years of offering digital payment processing services to small businesses, the startup pivoted to put more focus on the loan side of the business that many micro-merchants desperately need to stay afloat.
"We wanted to build from scratch a program that truly caters to that 97% of merchants who have no access to capital," said Vaibhav Lodha, Co-Founder and CBO of ftcash.
The company currently offers loans of between $1,500 and $15,000 USD with interest rates of between 18% and 20% — substantially lower than what most Indian banks charge for similar business loans.
The company has shown explosive growth since its incubation period. To date, backing from American giants such as PayPal, Mastercard, and Facebook has given ftcash the exposure and education it needed to quickly become one of India's fastest-growing fintech ventures. It was also recently recognized by India's president for its work in financial inclusion, among several other notable accolades.
And since the company focuses on financial inclusion by providing loans to individuals not served by traditional banks, many retailers in India now have the resources they need to transact and conduct proper business functions, like the ability to accept credit cards as a form of payment.
Payment Acceptability Products Add to Robust Services
While ftcash focuses primarily on its loan services, the company still offers a host of products that help micro-merchants maintain their everyday business.
From digital payment acceptance to point-of-sale hardware and software, ftcash can have a merchant accepting payments and conducting business in a matter of minutes. Merchants can begin using these services without prequalification, but those who want to apply for a loan must be using one of ftcash's payment solutions to qualify.

That's because ftcash uses a proprietary grading system that dictates loan amounts and terms.
"We use payment history to help determine loan eligibility," Lodha said. "We don't use credit scores. We also track important factors, like payment history and cash flow, to figure out what kind of grade we can give them."
That grade becomes the defining factor in an applicant's quest for a loan.
"When we arrive at the grade, we're able to give them a pre-approval amount for a loan," Lodha said. "If they need that much, and complete the loan, we can put that money in their account. This all happens within one day."
Financial Inclusion for India's Underserved Merchants
When ftcash began planning its quest to become India's largest micro-merchant lender, company leaders remained resolute in their desire to serve everyone — not just the top 1%.
To that end, the company looks at a range of data when determining loan eligibility. That means that even first-time borrowers can receive much-needed working capital.
"We aren't like many banks that only give loans to people who have borrowed money and repaid it before," Lodha said.
"We are happy to give loans to people who are new to credit. That really differentiates us from the market."
Lodha did note that ftcash does not extend venture funding to brand new businesses. Instead, the company targets merchants with a history of business success but who need capital to grow their operations.
"If your business is profitable, we're happy to loan you money to help you scale it," Lodha said.
ftcash also offers flexible repayment terms to help merchants satisfy their loan without crippling operations. This is a stark contrast to many money lenders in India who require steep collateral requirements for a loan.
According to studies conducted by ftcash, nearly 40% of micro-merchants in India lose their collateral due to oppressive lending practices. This forces them to shutter their businesses while still having to repay their business loan.
PayPal, Mastercard, and Facebook Among Its Supporters
There's a reason why ftcash understands the needs of micro-merchants. The company itself is relatively young, having started in 2015 as a payment processing solution. In that time, financial backing from some global heavy hitters has helped the company become one of India's mainstream lenders.
"We've been very fortunate to receive backing from three major U.S. enterprises," Lodha said. "PayPal provided great support and helped us a lot during our initial years as a company. Mastercard is now allowing us to take our entire platform and scale it to other countries to see if there is interest."
Facebook has also provided assistance to help grow the company's footprint and reach. In many ways, ftcash wants to pay its good fortune forward by providing other small businesses with the lifeline they need to reach similar heights.

Millions of micro-businesses in India experience moderate success in their daily operations. Sometimes all it takes is a little working capital to separate them from stagnancy and becoming the next success story.
Thankfully, ftcash is there to help India's booming micro-merchant economy in pursuit of financial inclusion.