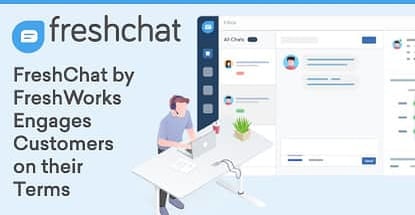 credit card news
Our experts and industry insiders blog the latest news, studies and current events from inside the credit card industry. Our articles follow strict editorial guidelines.
In a Nutshell: No one likes waiting to speak to a customer service representative, especially for a straightforward problem that should require less time to solve than it does to connect with a human. The online live chat options most banks use require customers to wait in a queue and have no log of previous customer conversations to use as a reference for complicated issues. FreshChat by FreshWorks offers an updated take on those old-fashioned chat products. FreshChat replicates the messenger-based applications most customers are already using in their daily lives and doesn't require both parties to be online at the same time. Customers receive a notification when a new message is sent, allowing them to engage with a company on their own terms, even after business hours. In the six months since FreshChat went live, it's proven to increase conversions, sales, and customer satisfaction.
Customer service should do what its name implies — serve the customer. But long lines at the bank, endless phone hold times, and chat queues that last longer than the actual chat session show that not every company has grasped this concept.
I recently contacted an online customer service department to inquire about an item I hadn't received three weeks after my order. I used the website's online chat software in the absence of a customer support phone number and provided the required information. I was placed in a queue to chat with a representative after an estimated 10-minute wait time.
I passed the time by checking email and browsing the latest news headlines. I returned to the chat tab five minutes later to find a representative had already logged out after I didn't respond to the representative's initial message. With no other option, I re-entered my information and went back into the queue — this time with a 25-minute wait time. After 30 minutes of staring at the same screen, someone finally responded.
The process certainly didn't feel customer-friendly and made me a lot less understanding when the representative told me the delivery delay was the company's fault. These brief interactions can mean the difference between a return customer and a poor review, but companies that use the new FreshChat software from FreshWorks are finding far more return customers than negative ratings.
The secret to FreshChat's success is that it isn't a traditional live-chat platform. Instead, FreshChat sessions resemble a traditional messenger app — like the ones already familiar to most consumers, in which both parties don't have to be online at the same time for communication to take place.

The format launched in 2017, headed by FreshWorks' Srikrishnan Ganesan, and has already proven to increase conversions and sales over traditional live chat thanks to its ease of use and customer-friendly interface.
"With FreshChat, we're completely re-envisioning what chat should be in 2018," Ganesan said.
"We all use messaging apps today, either with friends or family or at work with colleagues. The way these products differ is that they have a persistent display of the chat window and you don't have to worry if the other party is online or not. You get to engage at your own convenience."
With the dialogue constantly stored and on display, unlike session-based chats, there is always a context for follow-up sessions if a customer needs to contact support multiple times. Messages aren't limited to only text, as customers can send and receive FAQs, forms, and even popular emojis.
"It may sound a little immature for financial services, but new-age companies are learning the language of their customers and engaging in that way," Ganesan said. "There is some merit to making it friendly for the next generation of customers these companies are trying to onboard."
Messenger-Based Chats Mean No More Waiting in Queues
With messenger-based chats, companies no longer worry about missed chats — situations like mine, where I wasn't able to connect with a representative — because customers and companies can send and respond to messages at any time.
Push notifications alerting to a new message are sent to a user's mobile device. If the customer doesn't have notifications turned on, FreshChat's software follows up with a reminder email to notify the customer of the pending message.
"No more do you need to worry about missed chats," Ganesan said. "The product manages peaks in traffics to make it less stressful on your team and makes the customer happy by meeting their expectations."
FreshChat users can engage their customers at their own pace. The freedom of communication has many financial service firms rethinking the way their online support team functions.
"A lot of businesses are moving to chat software like Messenger or Apple Business Chat because they won't have to plan for their peaks as acutely as they did in the past," Ganesan said. "If it's a busy time for you, say it's the first of the month, the chat will continue to work as it normally does. Your team will still respond within five minutes without it telling the customer they are 60th in a queue, which can be confusing because the customer doesn't know how many agents you have and how fast you can process 60 questions."
Doing Away with the Traditional 9-to-5 Service Hours
Nothing disappoints a customer more than when they're prepared to engage or transact with a company only to find out they can't because it's after business hours. With FreshChat, customers with a busy schedule can decide when they want to communicate with a business based on their needs, not the demands of the business.
That power and flexibility is what increases conversions and makes for a more pleasant customer experience.
"That's the beauty of what's happening with personal communication today," Ganesan said. "It's a boon for the customer to be told they don't have to reach out to a company only between 9 and 5 o'clock anymore. People are busy with their own work at that time. They may want to engage with a company at 1 AM. Now they can."
And no matter what time a customer decides to engage the company, the experience will be frictionless due to the similarity of the FreshChat platform to popular messaging applications most customers already use.
"What we offer is not too different than what you'd expect from email, but this doesn't feel like a chore," Ganesan said. "Email comes with its own difficulties, mainly because it's not the medium people enjoy communicating in due to it being a much more formal structure."
Part of the FreshWorks Suite of Business Products
Chat software isn't anything new to FreshWorks. The company, known then as FreshDesk, has maintained a traditional chat product since 2013. That industry experience led to the evolution of the FreshWorks suite of business solutions, and the FreshChat software.
In the six months since FreshWorks rebranded the mobile-only Hotline.io and introduced FreshChat, the company has seen higher adoption rates than it expected as more chat sessions move from mobile to traditional desktop operating systems.
"We saw tremendous traction for Hotline, but we felt it shouldn't be just about mobile," Ganesan said. "Customers today are multitasking on the web as well as their phones, and businesses are struggling with the same problems on the web as they are on mobile."
FreshWorks offers several onboarding options for companies looking to carry their online-based support chat into the next generation of communication technology. In many cases, FreshChat can be functional on a website in less than an hour.
"If you simply need messaging products within your website, that can be up and running within 30 minutes," Ganesan said. "For more intricate needs, we will help with setup and sit down and work to better understand the customer's goals with chat, learn about their biggest call drivers, and figure out ways we can help them convert more, sell more, and improve their business."
With fewer missed chats and higher conversions, more businesses are turning in their classic live-chat boxes in favor of messenger applications that store past communications and allow customers to interact with a brand on their own terms.