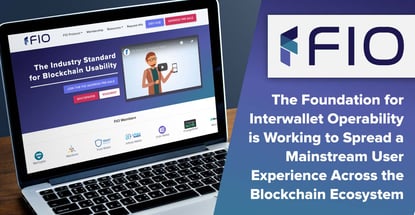 credit card news
Our experts and industry insiders blog the latest news, studies and current events from inside the credit card industry. Our articles follow strict editorial guidelines.
In a Nutshell: Incompatibilities in the world of cryptocurrency transactions make transferring funds complicated and discourages mass adoption. But a consortium of crypto's most influential wallets and exchanges — known as the Foundation for Interwallet Operability (FIO) — is changing that dynamic. The FIO developed a protocol of core capabilities to unify and enhance user experience across platforms while working as an independent entity. And as more blockchain ecosystems arrange themselves under the FIO umbrella, the foundation's protocols are quickly emerging as the industry standard.
Hypertext transfer protocol (HTTP) plays a significant role in seamlessly delivering web content to computer screens and mobile devices. But end users typically don't spend much time thinking about it, leaving the intricacies of HTTP to web developers.
But if HTTP didn't exist, clicking on links wouldn't navigate users quickly to the pages where they wanted to shop, pay bills, or access media. That would be such a hassle that people might even curb their internet usage.
While HTTP solved that usability problem for the internet, other technologies lag in user experience, meaning they may never achieve widespread adoption. Cryptocurrency finds itself at that crossroads today.

Not many consumers have used blockchain-based cryptocurrency like Bitcoin to buy goods or pay bills. The main reason is that — from a user-experience standpoint — crypto isn't intuitive or widely accepted. That's why a group of blockchain's most prominent players has formed a consortium known as the Foundation for Interwallet Operability (FIO) to change that dynamic.
Cryptocurrency has clear theoretical advantages over traditional fiat currencies, including dollars and euros. It offers unmatched efficiency, privacy, and security, but most people still opt for fiat when they want to buy goods and services.
The FIO's initial protocol and tools are managed by Dapix, a software company focused on enhancing the usability of the blockchain and encouraging widespread adoption.
And Dapix CEO David Gold said that blockchain is ripe for innovation to make it more intuitive, but it currently sits in a "pre-HTTP internet state."
"You're never going to get to mass adoption if cryptocurrencies aren't usable," he said. "FIO's vision is to deliver the kind of results for blockchain that HTTP delivered for the internet."
That's why the foundation is working to bring different crypto wallets and exchanges together while remaining as an independent entity focused on the end-user.
Decentralized Core Capabilities Work Independently Across All Platforms
Using cryptocurrency to make a purchase today requires commitment, Gold said. Because lengthy alphanumeric code strings are necessary to identify each crypto wallet, buyers often have to rely on the copy-and-paste method to complete transactions.
"About 75-80% of ecommerce is done on phones, not on desktops and laptops, so you can't scan a QR code," Gold said. "And if you make an error with copy and paste, obviously you know where that leads."
And since blockchain transactions move only in one direction, mistakes are notoriously difficult to correct.
"To do a refund, I've got to manually reach out to my customer and ask for their public address," Gold said. "And if the customer sends me the wrong address, now I've got a bigger problem — it doesn't work, or I send money to the wrong place, and I can't get it back."
The FIO protocol solves all of those problems through its three core capabilities— FIO Addresses, FIO Requests, and FIO Data. Those capabilities work together to deliver a seamless experience for crypto transactions that users already expect from fiat transactions online.
FIO Addresses are wallet addresses that work identically across all blockchains to eliminate lengthy identifiers. FIO Requests allow users to send decentralized and secure requests for payment — order carts, invoices, bills, checks — from any crypto endpoint to any other. They also allow the recipient to confirm and respond. And FIO Data lets endpoints create notes, order cards, invoices, and additional metadata for attaching to transactions and sharing across platforms.
"Taken as a whole, the protocol's capabilities add a service layer for handling workflow, data, and confirmation in blockchain ecommerce," Gold said.
Support from Influential Wallets and Exchanges Points to Mass Adoption
That technology wouldn't mean much if the major blockchains and wallets weren't on board, but FIO has secured a variety of partnerships, and it is the sum of those parts. Although Gold spearheads the initiative as CEO of Dapix, getting buy-in from industry leaders is what gives FIO influence over how crypto moves forward.
As managing director of a blockchain investor in the 2010s, Gold saw that the technology could be game-changing — but that the experience left much to be desired.
"It's bad in the same way that dial-up internet was pretty clunky," Gold said. "People forget what it was like back then — even those of us who were around."
He started looking at the efforts to improve usability and didn't find anything he thought was sustainable. So he set out to solve the problem himself. Dapix and the FIO consortium model is the result of Gold's work.
As Dapix prepares its protocol for launch, the FIO consortium continues to attract support. Investors include Binance (through its venture arm, Binance Labs), NGC Ventures, Lumax, Blockwall, Access Venture Partners, and eVenture Capital.
Binance — the largest crypto exchange in the world in terms of volume — is also one of 28 current consortium members. That group also includes many other leaders in the space — Bitcoin.com, Edge, Coinomi, MyCrypto, ShapeShift, Nexo, Atomic Wallet, and Guarda.
And FIO members provide developmental input and receive support in integrating the protocol into their platforms.
"The list goes on," Gold said. "A number of wallets are already working on their integrations. As the wallet becomes FIO-integrated, users can interact with other FIO-enabled wallets, exchanges, and payment processors. FIO will dramatically change how customers experience paying with crypto on ecommerce sites."
FIO: Delivering a Consumer-Friendly Service Layer for Blockchain Technology
The FIO Protocol is making cryptocurrency easier to use, in much the same way HTTP revolutionized the internet. And the ultimate goal is to make crypto checkout and customer service a more intuitive and convenient process on ecommerce platforms.
One click opens a human-readable FIO payment request displaying the amount and type of token requested along with the full order cart. Depending on the wallet's transaction process, PINs or passwords may also be required, but through a more intuitive interface.
"And you're set," Gold said. "The page refreshes and tells you your payment has been received."
The technology that makes blockchain transactions efficient, private, and secure continues to work in the background. Together, FIO members seek to offer a consistent and seamless ecommerce experience to customers — which is also key to growing blockchain's potential.
"It's pretty straightforward," Gold said. "We all agree this is a big problem that needs to be solved. Absent a solution on this, there's a ceiling on how fast they can grow. A rising tide lifts all boats — so this needs to be solved."
Furthermore, the members are encouraged by the vast potential they see in FIO.
"They've dug into our technical details — our white paper and road map are out there — and they've come back and said, 'Wow, this is the right way to do this,'" Gold said.
Finally, participation in the consortium carries incentives. According to Gold, crypto endpoints won't just provide FIO governance; they will also be its primary economic beneficiaries.
And as more members join, the opportunities for convergence increase.
"The goal is that this becomes the industry standard," Gold said. "In the same way you wouldn't build a web browser today that doesn't support HTTP, our goal is that within about two years, nobody will even think about offering a crypto wallet or exchange without FIO integration."