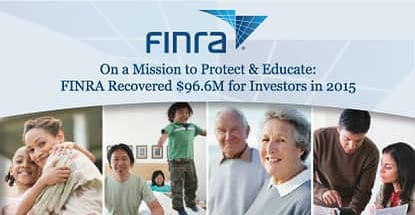 credit card news
Our experts and industry insiders blog the latest news, studies and current events from inside the credit card industry. Our articles follow strict editorial guidelines.
In a Nutshell: The Financial Industry Regulatory Authority (FINRA) protects investors from unethical practices by enforcing rules that govern the activity of over 640,000 brokers from nearly 4,000 securities firms. A financial watchdog, the disciplinary and regulatory agency imposed about $95 million in fines to brokers and dealers while also recovering close to $97 million for investors in 2015. The FINRA Investor Education Foundation, a subsidiary of FINRA, recently released its National Financial Capability Study (NFCS), a report that examines how capable the average person is at making ends meet, planning ahead, managing financial products, and making informed fiscal decisions. The study shows a dip in U.S. financial literacy with only 37% of respondents ranking high in financial knowledge — down from 39% in 2012 and 42% in 2009.
Investing money is intimidating. The prospect of risking one's hard-earned cash on an unknown makes a lot of people nervous. I'm a Millennial, so while I can manage my bank accounts on my phone without a hitch, I'd much rather wander outside chasing Pokémon than plan out long-term investments.
Financial literacy isn't exactly what my generation is known for. We face greater challenges alongside greater privileges. A vast majority of today's young people are in debt and worried sick about it. A 2012 study found that 55% of Millennials with student loans feared they wouldn't be able to pay them off, and yet only 27% of Millennials seek professional financial advice on saving and investment.
Rather than ask for help with their finances, many Millennials find it easier to take out their phones, join a worldwide scavenger hunt, and put off weighty decisions.
You may think it's like a big leap of faith to call on a professional and entrust your financial future to someone else, but there are strictly enforced rules that keep everybody involved safe.
The Financial Industry Regulatory Authority (FINRA) is a not-for-profit regulatory organization charged with making sure that licensed financial professionals behave ethically with your money.
Formed in July 2007, FINRA has the power to administer license exams, execute disciplinary actions, and protect the investing public from fraud and insider trading. In 2015, it brought 1,512 disciplinary actions against registered brokers and firms, levying a total of $95.1 million in fines and awarding $96.6 million in restitution to wronged investors.
Gerri Walsh, FINRA Foundation President and Senior Vice President of Investor Education at FINRA, spoke to us about what FINRA and the FINRA Foundation seek to accomplish. "Our mission is investor protection and market integrity," she says. "An educated investor is one of the best forms of protection, which is why we focus on putting out all these educational materials for consumers."
FINRA established the FINRA Foundation to support research and innovation leading to improved financial capability in the United States. Every three years, since 2009, the FINRA Foundation conducts a national survey to gauge American adults' attitudes, knowledge, and behavior when it comes to money.
In July 2016, the FINRA Foundation released its findings from the latest survey of 27,000 adults. The National Financial Capability Study takes an in-depth look at how Americans make ends meet, plan ahead, manage financial products, and make financial decisions.
FINRA Writes the Rules that Govern Nearly 4,000 Firms
FINRA is a self-regulatory, nonprofit organization with over 3,600 employees committed to protecting investors in the financial market.
"We write the rules that govern the securities industry, and we enforce those rules," Gerri says. "A robust percentage of the individuals who work for FINRA are in the member regulation department. Their charge is to oversee firms to determine whether they're complying with the rules."
This is no small task with over 640,000 brokers in the nearly 4,000 firms under their charge. FINRA periodically visits the firms it supervises to make certain that they are in compliance with all regulations. Additionally, an enforcement department investigates any alleged or suspected violations.
FINRA helps consumers not just through enforcement of rules but also through educating and advising the American public. Its finance experts have a deep understanding of what people need to do to increase their financial knowledge and prep for the future.
When you start out as an investor, Gerri recommends beginning by making goals. Whether it's to save up for a wedding, pay down debt, or invest in retirement, you should know where you're going in the short term and the long term so you can manage your behavior accordingly.
"If you're able to draw down your debt, get it to a manageable size," the Foundation President explains, "that's really one of the best investments you can make in your financial future."
Free Educational Content Simplifies Financial Topics
When properly educated, consumers are better protected from scams, so FINRA's website is a veritable treasure trove of free financial tools and calculators.
The site is an educational resource where anyone can learn how to protect their money, prepare to invest, and deal with issues such as debt or identity theft.
Your financial security is FINRA's highest priority. The agency regularly sends out investor alerts, some are of the "411" variety explaining a new product or trend, while others are a "911" warning of a potential scam.
From a risk meter to a fees analyzer, FINRA supplies you with tools to keep your finances in order.
BrokerCheck
The BrokerCheck is a popular tool on FINRA's website. With a simple name, firm, or zip code search, you can research your broker's license and background. If they don't have a license or have had customer complaints, you'll immediately see those red flags.
"We encourage people to check their broker periodically to see if anything has changed," Gerri says.
It's a good way to be sure that your broker is trustworthy by finding out their employment history and past issues. In 2015, investors conducted 71 million reviews of brokers and firm records using BrokerCheck.
Retirement Calculator
Planning ahead is not a strength many Americans possess — only 39% of adults surveyed report trying to figure out what they need to save for retirement. When it comes to being financially prepared for retirement, consumers could use all the help they can get.
That's why FINRA keeps a Retirement Calculator to make it easier to plan ahead.  You simply input your financial details, the age at which you want to retire, and click "Calculate." The program will quickly assess how much money you need to be saving per year to meet your goal.
Senior Securities Help Line: 844-574-3577
Beginning in April 2015, FINRA came out with a Securities Helpline for Seniors. At this toll-free number, a staff member is available Monday through Friday. By the end of June 2016, the Help Line had fielded 5,329 calls and helped investors recover more than $2 million.
"It's a terrific resource for investors who want to talk about their accounts, something they're concerned about, or something they don't understand," she says.
These financial experts are happy to advise the thousands of callers who turn to them. If you have an investment-related question that you need a reliable answer to, you can call (844) 574-3577.
FINRA Foundation's National Study is a Snapshot of American Attitudes
Are you saving more than you're spending? Do you shop around before choosing a credit card? What do you know about basic financial topics? FINRA explored all these questions in an exhaustively well-researched study: the National Financial Capability Study (NFCS). The study was conducted in 2015 and released in 2016.
"It's a massive data collection that benchmarks the American financial capability," Gerri says. "It looks not only at people's behaviors but also their attitudes toward money and their knowledge of financial concepts."
FINRA collected data from a survey of 27,000 U.S. adults. The data assesses American attitudes, spending practices, financial decision-making, and financial knowledge to find out how capable people are of handling their own money.
This is the third survey of its kind, allowing for a longitudinal look at changes in behavior since 2009. For example, the data shows a marked increase over time in the percent of respondents who have a "rainy day fund" from 35% in 2009 to 46% in 2015.
A state-by-state comparison tool online makes the data easy to peruse with handy graphs on the left and detailed explanations on the right.
The study is a snapshot of where we are as a society, as well as where we've been over the last six years. Sometimes there are significant changes even in this short time span, such as a significant increase of Americans reporting that they have health insurance — which jumped from 78% in 2012 to a whopping 87% today.
Overall, FINRA reported "diminished financial stress and improved financial satisfaction among American adults in comparison to the 2012 and 2009 studies."
Still, financial capability is not just about satisfaction, but about the ability to handle and understand money. In this, Americans could still use some assistance. When asked five questions about everyday economics and finance issues, 63% of respondents missed two or more of the questions. The national average was 3.16 correct answers. If you want to see how you stack up, you can take FINRA's financial literacy quiz online.
Taken as a whole, the study found that younger Americans (34 and under), those with incomes below $25,000, and those with no post-secondary education tend to rank lower than average in financial capability.
Invest Wisely and Securely with FINRA's Support
The FINRA Foundation's National Financial Capability Study underscores the need for a clarifying force in American finances. Maybe you can name every Pokémon, but you don't know how interest rates affect bond prices. FINRA aims to bridge that gap so that tech-savvy Millennials have a resource to turn to for support and guidance.
Education and regulation are the joint goals of FINRA. With comprehensive studies and tireless oversight, the organization looks out for investors in the U.S.
Arming you with knowledge, its online tools help you understand the choices for your financial portfolio. As you look to invest, you can trust FINRA to keep you informed and safe.
"We really look at the consumer as a whole person," Gerri tells us. "There's no single consumer, but everyone has the potential to become an investor."