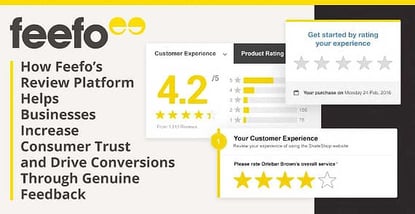 credit card news
Our experts and industry insiders blog the latest news, studies and current events from inside the credit card industry. Our articles follow strict editorial guidelines.
In a Nutshell: Consumers look to product reviews to make informed purchases, but with the prevalence of fake or manipulated feedback, brand trust can easily be damaged. Feefo, a tech company based in the UK, offers solutions that help businesses collect and share genuine reviews and gain actionable customer insights. Feefo enables businesses to take ownership of their brand conversations through independent review collection, rating and feedback displays that integrate with e-commerce sites and pages to boost sales, and by implementing machine-learning tools that help analyze customer feedback more effectively.
Reviews have become an integral part of the purchasing process because of the trust shoppers put in their peers. Regardless of their nature, reviews can benefit businesses, as well. Positive feedback can boost sales and conversions, while negative sentiments give companies an opportunity to improve the quality of their products and customer service. That's why both consumers and brands suffer when online reviews can't be trusted.
With the openness of the web, it's easy for people to post fake reviews, whether they're doing it just for fun or getting paid to promote specific products. Some businesses even pose as customers or filter out bad reviews to place themselves in a positive light.
Feefo, a UK-based company founded in 2010, helps businesses eliminate fraudulent feedback and gain more valuable insights by collecting reviews only from verified customers, and shares this data through a platform that integrates with e-commerce sites.
"If, as a consumer, I come to a website and I don't trust the reviews I'm reading, I'm going to go elsewhere to see where I can find reviews about that business or product," said Matt Eames, Founder and CCO of Feefo. "The problem, then, for the company is that it could easily lose my business."
Even when reviews are genuine, businesses with a broad audience and a large volume of products face the challenge of sorting through hundreds, if not thousands of reviews, and leveraging this data to improve customer satisfaction.
Through its tools and integrations, Feefo enables brands to utilize reviews in ways that boost SEO, sales, conversions, and — ultimately — customer satisfaction.
Authentic Reviews Can Immediately Impact SEO, CPC and Conversion Rates
Feefo's focus on the power of reviews goes back to the experience of one of its co-founders, whose secret to success at selling trampolines on eBay wasn't competitive pricing, but outstanding service and positive customer feedback. When Feefo launched in 2010, there weren't many reviews online, so the company's product filled a need in the market that benefited both consumers and businesses.
"We thought every online business should have the ability to show off how they perform so prospective customers can feel more confident and gain more trust in that business very quickly," Matt said.
When a business signs up with Feefo, it gives the review system access to its sales data and customer contact information. After customers make a purchase, Feefo sends an email inviting them to share feedback. This method guarantees that every review a business receives is based on a verified purchase.
"There are companies that profit out of writing positive reviews. It's damaging for online trust, but also for customers who don't know what to believe," Matt said. "No one can just log into Feefo and leave a review about a company – they need to be invited to do so. So, businesses and other customers know that 100 percent of the reviews they read are from genuine customers. We also don't allow businesses to moderate their reviews, so that helps them and the customers know that every review can be trusted — it's not just the companies taking the best part of the review."
Feefo emails contain purchase details, so recipients are less likely to treat them as spam. Customers are only asked a couple of simple questions, so it only takes a minute to leave a review. As a result, Feefo enjoys one of the highest response rates in the industry. For businesses, this translates into a broader view of how their products are truly performing.
When a business works with Feefo to gather customer reviews, some of the benefits are immediate. Feefo's data is picked up daily by search engines which can help businesses become eligible to show organic and paid stars. The better a business's reviews, the higher its click-through rate and SEO ranking.
"Those stars are good at getting customers to click on that result rather than someone else's without stars. According to Google, you can get up to a 17% increase in click-through rate by having stars on your ad campaign," Matt said. "Not only have we had users say stars on Google help them achieve a greater click-through rate, but as Google increases your quality score, we can decrease your cost per click."
"By having comments and scores on pages, you can increase your conversion rates per page significantly. Some businesses have increased conversion rates for products by up to 20%, and that's simply by giving the customer more confidence in the product." — Matt Eames, Founder and CCO of Feefo
Businesses can further boost sales and conversions by posting their Feefo service rating on their website's homepage, as well as post individual item ratings and comments on each product page. When a business responds to its customers' concerns or questions about a product, Feefo can also pull and display this information as well.
"By having comments and scores on pages, you can increase your conversion rates per page significantly," Matt said. "Some businesses have increased conversion rates for products by up to 20%, and that's simply by giving the customer more confidence in the product."
Today's consumer experience is all about personalization — genuine engagement with products and brands. By displaying verified Feefo reviews and comments, businesses give their customers the information they need to choose the products that are right for them. And by responding to customers' questions, businesses can help build the trust that leads to more conversions.
A Suite of Tools to Quickly Analyze Reviews and Gain Actionable Insights
Reviews are essential within many industries, ranging from hospitality and food service to B2B and e-commerce, so Feefo's review platform and solutions are designed to apply to a variety of settings and use cases.
For instance, in the brick-and-mortar space, a product known as Feefo Places allows retailers to gather insight from in-store customers and display their Feefo logo and rating in their store window. To reach omnichannel shoppers, Feefo SMS and social sharing capabilities implement reviews into the channels where shoppers are engaging with products.
As e-commerce continues its upward trajectory, Feefo's review system is a solution for both small and large online merchants. Because Feefo has partnerships or plug-ins with top e-commerce platforms, it's easy for SMBs to integrate with an existing site in a way that maintains brand continuity.
"We're able to provide tools that help them use data to get actionable insights," Matt said. "We've got something called Insight Tags that groups feedback based on tags to enable faster reports."
More recently, Feefo developed a full analytics and reporting suite that helps businesses break down review data to quickly identify both customer successes and opportunities.
"You want to get a better picture of your business — from delivery and load time to customer support and pricing. With thousands of reviews a day, it would be overwhelming for one person to read and make sense of all of them," Matt said. "Through machine learning, our system can read your feedback and analyze the sentiment to give you a response based on what everyone's saying."
Armed with detailed insight into all aspects of the customer journey, businesses that use Feefo's analytics suite can create a more targeted and efficient strategy to deliver the level of satisfaction that naturally draws more customers.
Helping Retailers Gather Feedback to Improve the Customer Experience and Drive Sales
Not every review posted online can be trusted, and consumers may be quick to lose faith in brands that manipulate or fail to capture their customer's voice. More than 5,500 brands across the US and Europe use Feefo as a solution for building consumer trust, traffic, and sales while gaining actionable insights from genuine reviews.
And, recognizing that every business is different, Feefo has pricing strategies that work for every size enterprise. The company offers a no-obligation trial period so companies can see the review system in action.
"It's an easy way to figure out how Feefo works and also figure out what your customers are saying. It's based on purchase history, so you'll get responses within minutes," Matt said.
With Feefo's fully integrated review system and other feedback tools, both brick-and-mortar and online businesses can take ownership of reviews — whether positive or negative — and provide customers with reliable information that helps guide purchases and improves the shopping experience.
"You need to own the conversation," Matt said, "It's happening whether you like it or not, and if you don't invite the customer to leave feedback, it's not your conversation anymore."