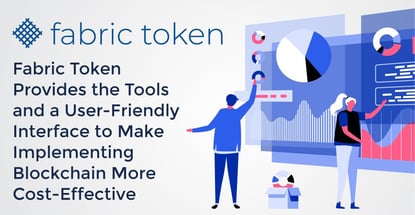 credit card news
Our experts and industry insiders blog the latest news, studies and current events from inside the credit card industry. Our articles follow strict editorial guidelines.
In a Nutshell: The founders of the Fabric Token ecosystem were inspired when they noticed a number of potential stumbling blocks that companies were encountering with blockchain technology. The company created TokenGen to allow any project to launch its own initial coin offering (ICO). TokenGen completely automates the ICO process and saves companies money by not having to pay developers costly sums for smart contracts that are easily generated by the tool. The company will also launch Fabric Store in late 2019, a marketplace for blockchain tools and add-ons within the Fabric Token ecosystem and in blockchain projects in general. The latest component to the ecosystem will be Fabric Flow, a platform to help companies seamlessly incorporate blockchain technology into business process management.
Following successful initial coin offerings (ICOs) from projects like Ethereum in 2014 and Neo in 2015, many entrepreneurs and startups saw the potential the new funding avenue held for their own projects.
This newfound enthusiasm led to a rush of ICOs in 2017. Some were successful, some were unsuccessful, and some, unfortunately, were scams.

For the companies launching the ICOs, there was no playbook.
Startups were hiring developers to create smart contracts and build their ICO infrastructure. With ICOs and cryptocurrency, in general, still in their nascent stages, companies had no way of knowing if they were being overcharged or if they were being guided in the right direction.
"We repeatedly saw people paying absurd sums of money for developers to write smart contracts and assist with the ICO process, and they were essentially, in many cases, just copy-pasting code," said Doncho Karaivanov, Co-Founder of the Fabric Token ecosystem, which provides tools and resources for companies to seamlessly enter the blockchain space.
Karaivanov and the other Fabric Token Co-Founders, Marin Ivanov and Nikolay Nikov, had been following the cryptocurrency space closely since 2009. They realized industry players needed a better user experience.
"It's hard to grasp blockchain, and it's hard for people to understand how to work with it," Karaivanov said. "We decided to create an ecosystem of user-friendly software so people can develop blockchain projects more easily."
TokenGen Automates the ICO Process from Generating Contracts to Creating a Fundraising Landing Page
The Fabric Token team initially set out to improve the ICO process for companies with its TokenGen platform.
TokenGen completely automates the ICO or security token offering (STO) processes from start to finish, including generating smart contracts and establishing a fundraiser landing page.
"We provide a user interface that allows anyone to create their own project without the need to have any technical background or past experience in the blockchain space," Karaivanov said.
He said the grand vision for TokenGen is that it will become a one-stop hub for ICOs and nurture the next wave of fundraisers through its security features and quality user experience.
TokenGen helps users create their project by walking them through a straightforward step-by-step process on its website. The user can select from a variety of features and only pay for the ones that are relevant to their project.
Once the project is launched, TokenGen allows users to change the project details as many times as they would like, until they feel confident it is configured to best suit their needs. The platform also maintains a complete record of the project build history, including smart contract package testing.
Once the project is finalized, users simply deploy it to the Ethereum network of their choice.
Fabric Token recently announced the integration of know your customer (KYC) standards into TokenGen.
"Basically, every serious project that's raising funds via an ICO has a KYC component in the process because the project has to comply with anti-money laundering (AML) policies, and it is a better solution for the long term security of the project," Karaivanov said.
Fabric Store is the Decentralized Marketplace for Blockchain Tools and Add-Ons
If TokenGen is a one-stop hub for all things ICO, Fabric Store is being built as a one-stop hub for all things blockchain.
"We want Fabric Store to generate a lot of interest among developers so that everyone can contribute to the expanding blockchain ecosystem with the use cases they think are not yet covered," Karaivanov said. "Basically, we're creating an ever-expanding platform that will meet the demands of an ever-growing user base."
Fabric Store will provide add-ons and tools that can be used throughout the Fabric Token ecosystem, according to the company website.
Karaivanov said Fabric Store will allow for developers to easily contribute to refining the ecosystem's technology and convenience, and they will be rewarded with Fabric Tokens — the platform's digital currency.
"Right now, we're really excited to release Fabric Store by the end of this year," he said. "We think it's really going to generate a lot of interest in the platform."
While developers can benefit from Fabric Store via Fabric Token rewards, the store also offers distinct advantages for users as well. Karaivanov said it will become much easier for people to download repetitive smart contracts that in the past have cost projects absurd amounts of money.
"In a nutshell, we want to encourage third-party developers to help grow the blockchain industry with tools and add-ons via a lucrative opportunity to earn Fabric Tokens for their work," according to the website, "while at the same time growing the FT platform by including some of the blockchain-based apps into our own tools."
Developers are not limited to publishing extensions specifically for the Fabric Token ecosystem, according to the company's white paper. Fabric Token intends to turn Fabric Store into the "go-to marketplace for blockchain-related software components."
Fabric Flow Integrates Distributed Ledger Technology Into Business Process Management
The third main component in the Fabric Token ecosystem will be Fabric Flow, a business application platform designed to help companies incorporate blockchain technology into business process management.
"We are hoping to spectacularly improve business process management by integrating blockchain into inefficient processes, including supply chain management," Karaivanov said.
A lot of different processes are involved when multiple businesses are interacting with each other to create an end product, he said, and blockchain allows the whole process to be saved and tracked via distributed ledger.
"In current systems, if problems arise, it can be difficult to determine where the problems originated, and they become very difficult to resolve," Karaivanov said. "With blockchain, every party knows where the process is at any given time. And if something goes wrong, everyone can see the problem and who is at fault."
Additionally, Fabric Flow will essentially remove intermediaries, reduce process times, and substantially lower costs, according to the Fabric Token white paper.
"Fabric Flow will lay the foundation for the standardization of business process execution and management on blockchains and pave the way for mainstream adoption of the technology within any industry or institution that can potentially benefit from it," according to the company.
Karaivanov said he firmly believes nearly any type of industry could benefit from the integration of blockchain technology.
"We identified that most people are still using cryptocurrency as the main application for blockchain technology, which is quite sad because it has such a huge potential to disrupt so many industries," he said.
While the Fabric Token team is currently hard at work in finalizing development of Fabric Flow, the company has not announced a launch date for the platform yet since it is simultaneously focused on launching Fabric Store later this year, according to the website.
Karaivanov said the Fabric Token team is eager to add both Fabric Store and Fabric Flow to its growing ecosystem of blockchain solutions.