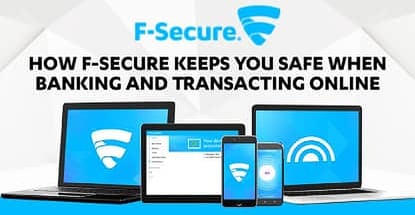 credit card news
Our experts and industry insiders blog the latest news, studies and current events from inside the credit card industry. Our articles follow strict editorial guidelines.
In a Nutshell: Nearly everyone who owns a computer or handheld device has encountered some form of computer virus, malware, or other online threat. It's more important than ever to stay safe on the internet, which is why tens of millions of consumers and more than 100,000 corporate customers have turned to F-Secure to keep their data locked down. F-Secure's cyber-security products are available to help protect users from commonly known online menaces as well as more sophisticated emerging threats. Through Virtual Private Networks (VPNs) and solutions for creating and storing hard-to-crack passwords, F-Secure is keeping data private.
Unless you've gone off the grid, chances are you're using online technology regularly to handle things like banking, paying bills, and making purchases. And you're most likely doing these things on numerous devices, such as laptops, smartphones, and tablets. While these modern conveniences tend to make life easier, they also can put your safety at risk if you're not exercising proper caution.
Viruses and worms are known to cause harm to computers and hardware, but more sophisticated threats exist these days that can leave every aspect of your privacy at risk. These security threats can lead to serious financial risks and complications if your sensitive information falls into the wrong hands. Threats like Trojans, ransomware, and spyware are real, and they're everywhere. Keeping your devices safe involves creating complex passwords and using security software that has a reputation of experience in thwarting criminal attacks.
"We're in a post-malware world because the threat landscape has industrialized, and cyber criminals aren't only relying on the most common types of malware to make money," said Sean Sullivan, Security Advisor for F-Secure, a cybersecurity service that helps users keep their information safe while they're browsing or doing business online.
Founded in 1988 with the original name of Data Fellows, F-Secure provides users with a selection of software for security across all devices. Its products are updated in real time to combat emerging threats, ensuring that the latest strategies employed by criminals are met with resistance.
F-Secure TOTAL Keeps Personal Info Private Through VPN
Many of us are on the go when we're doing our banking, shopping, and other online transacting, and it's important to make sure that our connections are secure when we're in public. When we're continuously connecting to new networks at offices and businesses, however, this becomes a challenge. Everywhere we log into wifi, we're opening ourselves up to new possibilities for data breaches.
"Today's threats can outsmart old one-dimensional security approaches, regardless of how strong everyone thinks they are," Sean said in a press release. "Phishing, lists of pre-compromised accounts and networks sold online, and other resources make breaching a government or Fortune 500 company within reach of a lot of different attackers."
An F-Secure TOTAL subscription provides comprehensive security for multiple devices, and it comes with access to a VPN application, which allows users to browse online wherever they are and preserve their anonymity.
Not only are you protected against viruses, malware, and insecure connections when using TOTAL, but accessing websites from your own VPN prevents your devices from opening themselves to threats that may already be present on other networks. Added benefits of VPN include the ability to access content that may be blocked in a certain region and keeping advertisers from tracking your online behavior for marketing purposes.
F-Secure SAFE Provides Comprehensive Protection Across Multiple Devices
Phishing scams, ransomware, and viruses are so prevalent that virtually everyone will experience attempted attacks on their personal information at some point in their lives.
F-Secure SAFE, which is built into the TOTAL package, provides users with peace of mind and award-winning protection against cyber threats on all devices, so there's no need for separate security products.
SAFE includes virus protection; browsing and banking protection to help you keep your passwords and banking credentials safe; and network protection that allows you to verify whether your connections are secure. There's also a built-in feature that allows you to find your Android or iOS device if you happen to misplace it.
With SAFE, you have the option to purchase packages that cover three devices, five devices, or seven devices for a yearly premium. SAFE is also available for small businesses and provides an option to protect up to 25 devices against online threats, keeping businesses running smoothly and keeping corporate information private.
Store Passwords, PINs, Emails, and Logins with KEY
Once upon a time, password creation was relatively simple. People felt safe logging onto websites using things like their birthdays or initials. Times have changed, however. Online threats have evolved, and the days of easy-to-remember passwords are a thing of the past. Most password sites now require users to test the strength of the passwords they create, and there are usually guidelines regarding how to set them up.
These days, people are asked to create passwords that contain a combination of numbers and symbols, in addition to uppercase and lowercase characters. Passwords must generally meet a minimum length requirement, as well. This helps to keep users more secure, but it also makes it nearly impossible to memorize passwords, particularly when people have so many different accounts.
F-Secure's KEY product securely stores all of your passwords, pin codes, and banking credentials in one password manager. This allows you to access them easily so that you can quickly log onto websites or pay bills without struggling to remember the details.
F-Secure also offers a premium service that allows you to set up one Master Password that works across all of your devices. Remembering just one password is all you need to log in securely to every one of your accounts.
Complete Online Security for a Connected Financial World
Nobody wants to fall victim to a cyber attack. Data breaches can lead to serious consequences, including damaged credit, missing bank funds, and general loss of privacy. It's great to have access to modern conveniences, but nobody wants to be constantly worrying about the safety of their connections and electronic devices.
Knowing that banks employ strong security measures, criminals tend to take the path of least resistance in targeting online users and their browsers. This is why F-Secure's products close other network connections during banking transactions, displaying a banner for safe banking sites to give users visual peace of mind. F-Secure software also automatically blocks banking trojans and phishing emails, identifies suspicious applications, and keeps users off dangerous sites.
"Best protection is about consistency," said Jyrki Rosenberg, Executive Vice President of Corporate Cyber Security at F-Secure, in a press release. "Our track record is unmatched by any other product."
With headquarters in Helsinki, Finland, F-Secure's innovative solutions allow users to engage in worry-free shopping, banking, and browsing. Being protected by a comprehensive, award-winning software suite means that you can relax while doing business or communicating online, instead of worrying about the next threat from a lurking cyber criminal.