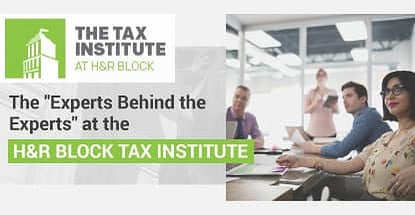 credit card news
Our experts and industry insiders blog the latest news, studies and current events from inside the credit card industry. Our articles follow strict editorial guidelines.
In a Nutshell: With the somewhat innocuous official designation of "U.S. Code: Title 26 – Internal Revenue Code," the American tax code is likely one of the most poorly understood documents in personal finance. Not only does it take extensive time and training to delve into the complicated code, it's so complex, sometimes even the tax experts need an expert. When they need help, the experts on the front lines at H&R Block's 10,000 locations turn to the H&R Block Tax Institute. The Institute's team of tax professionals have advanced degrees and tons of experience in their specialized fields, making them the perfect people to whittle the complicated tax code down into comprehensible bits.
For much of my early working life, I was convinced all of the fuss about taxes was overblown nonsense. I mean, I filed every year, and it wasn't that difficult. What in the world was everyone complaining about?
Of course, when I was a young adult, I had one or two W2's to file each year — and that about covered it. For some reason, it hadn't occurred to me (yet) that taxes could become infinitely more complex once you, well, had a life.
Now, as I get older and start to obtain important things, like assets and equity, I've noticed that tax time has become exponentially more complex. Do I need to itemize? How do I do that? Is that a deduction or an exemption? — Or a credit? And when do I have capital gains?

The truth of the matter is, the tax code is complicated, and it often takes an expert, like your local H&R Block preparer, to really understand the ins and outs. Indeed, taxes can be so convoluted that more than half of us rely on someone else when it comes to tax time.
"About 60% of the tax filing base has somebody help them do their taxes," said Gene King, Global Media Relations & Corporate Communications for H&R Block. In fact, the tax code can be so complicated that sometimes even the experts need an expert. That's where the H&R Block Tax Institute comes into the picture.
"We provide tax research in response to the needs that our frontline preparers might have," said Kathy Pickering, Executive Director of the Tax Institute at H&R Block. "We like to say that the experts at the Tax Institute are the 'Experts behind the experts.'"
Providing Tax Research for the Frontline Preparers
Becoming a part of the world's largest consumer tax services provider isn't easy. Each preparer in your local H&R Block office went through a lot of learning to get there.
"Our professionals at the H&R Block locations are the ones who are on the front lines, meeting with clients, and preparing tax returns," described Kathy. "All of them are required to go through training and certifications — Block's training school — as well as pass competency exams and have background checks in order to be able to write tax returns."
Unfortunately, with a tax code composed of around 3 million words, it can take more than solid training to understand every nuance — like a Tax Institute full of super experts more. The members of the Tax Institute all hold advanced degrees and certifications in their fields, with a mix of CPAs, tax attorneys, MBAs, and more, ready to answer any questions that come their way from the preparers.
"As an example," Kathy explained, "if someone on the front line is writing a tax return, and they get into a complex situation where they need clarification on a rule, or how to apply that rule in a given situation, they'll submit a research case to our Tax Institute. Then, we'll be able to provide a response specific to that situation."
The method — and response time — of each answer from the institute will depend on the complexity of the question itself. For the simpler queries and clarifications, answers can be nearly instantaneous.
"We have the ability to do a direct chat to a tax preparer," said Kathy. "So, if it's a simple, straightforward answer, they can get a real-time response." For more complicated questions, perhaps requiring research into the tax code or case studies, Kathy says a response could take up to two days.
In addition to being the go-to help line for the front line, the Tax Institute uses its unique vantage point within H&R Block to analyze the latest goings-on in the tax world. With a variety of questions coming in from around the country, the Institute has a great position from which to see current trends in the field and pass on the information to the rest of the company.
"If we start seeing a pattern or trend, we have an internal resource, which we call the Tax Research Center, where we publish articles to elaborate on the kinds of questions we're seeing," Kathy explained. "We'll have a number of articles on any given topic that seems to be coming up a lot, and is relevant to a broad base of our tax professionals."
The Institute shares some of its knowledge with the outside world, as well, with their Insights into the tax code and issues affecting taxpayers. The Insights page offers articles covering a variety of topics they think are important for individual and business taxpayers, and their advisors, to understand.
3 Pieces of Tax Institute Advice for 2016 Filers
In the spirit of one of my favorite sayings, "forewarned is forearmed," we asked the experts behind the experts for their 2016 tax filing wisdom. They shared some big changes to the tax code this year, as well as a lot of important advice.
1. You Probably Won't See Your Return Until February or Later
Every year, I'm one of the many who file as early as possible, hoping to beat the rush and score an early return. Unfortunately, if you're one of the millions of Americans who use the Earned Income Tax Credit (EITC) or the Additional Child Tax Credit (ACTC), filing early may not be enough to get an early return this year.
"This year there are a number of big changes from the PATH (Protecting Americans from Tax Hikes) Act," explained Kathy. "Congress included a provision that says the IRS must not release tax returns that have either the EITC or the ACTC before February 15 in order to ensure they use that time to validate the integrity of their returns."
"We estimate about 30 million tax filers could be impacted, with the EITC or ACTC," added Gene. "So, it's a pretty big population of filers that this could impact."
Because companies are required to submit their forms by the end of January, the forced waiting period will (theoretically) enable the IRS more time to fact-check, and thus (hopefully) reduce the chances of tax fraud.
Of course, the changes don't mean you should hold off on filing your taxes. "Taxpayers should file as they normally would, even if they expect their refund will be delayed," said Kathy. "The IRS still expects to issue most refunds in less than 21 days."
2. The Affordable Care Act May Cost You More This Year
The Affordable Care Act (ACA), the document legislating mandatory health insurance laws, has had mixed responses since it went into effect in 2014, including many calls for it to be struck down by the next president. However, love it or hate it, here-to-stay or soon-to-be-abolished, the ACA is a reality that will impact most 2016 filers.
"I know there's a lot of confusion right now about the ACA," said Kathy, "but what's law today, what's in place for this tax season is, you either must have health insurance coverage or you must pay the penalty."
And that penalty isn't cheap. While the penalty for not having health insurance started small, it has been raised each year since the law went into effect. This year, you can look forward to a whopping $695 or 2.5% of your household income — whichever is higher.
3. Tax ID Fraud is Rising, So Be Cautious
According to the Bureau of Justice Statistics, 17.6 million U.S. residents 16 or older were the victims of identity theft in 2014. And, according to Kathy, an increasing number of people every year are specifically falling victim to tax identity theft.
"Tax identity theft is really on the rise, and it's very important for people to be mindful and diligent about protecting their tax identity," she said. "That's very simple things such as don't share your Social Security number. Also, be suspicious of email and phone scams."
She also points out that the IRS will never send an email asking for personal information, and won't call you without warning. "The IRS is never going to call you out of the blue. You typically get a letter or notice from them first."
"The IRS does not initiate contact with taxpayers by email to request personal or financial information. This includes any type of electronic communication, such as text messages and social media channels." — IRS.gov
Kathy said one of the best ways to prevent tax identity theft is to file as soon as possible. "A good tip for protecting your ID and ensure your return is the one that gets processed, is to file early," she explained. "That way, no one can file a fraudulent return with your information."
H&R Block: Less than 5 Miles to Great Tax Advice
Though I don't think my fledgling portfolio would warrant a call to the Tax Institute for assistance, there's little doubt that I'll soon need to join the 55% of filers who seek help with their taxes. Luckily for me, with over 10,000 offices nationwide, I'll rarely be far from an H&R Block team of experts. "We're within five miles of most U.S. consumers," said Kathy.
Five miles to great tax advice backed up by the experts behind the experts at the Tax Institute from the largest consumer tax services provider in the world? Why, it's almost enough to make you look forward to tax time. (Key word almost.)