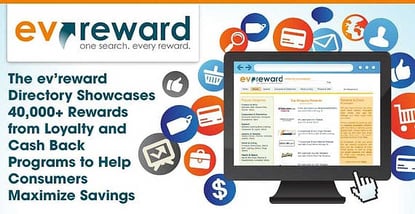 credit card news
Our experts and industry insiders blog the latest news, studies and current events from inside the credit card industry. Our articles follow strict editorial guidelines.
In a Nutshell: As with many consumers, Harrison Zanuck was once unaware of the benefits of cash back rewards, rebates, and loyalty programs. But soon after realizing that he had missed out on hundreds of dollars in rewards on items he had bought for a home renovation, Harrison designed ev'reward, a shopping rewards website with a directory listing of over 40,000 online retailer programs, digital coupons, and rebates. More than 22,000 businesses have listings on ev'reward, and the site offers a bookmarklet browser extension that connects users to rewards programs from their favorite brands in a single click. Harrison updates the site daily with new programs, deals, and cash back offers. All told, ev'reward has saved consumers more than $250 million over the last decade.
Buyer's remorse can often be the impetus for consumers to become savvier shoppers. After a bad experience, they vow to get the best deals on future purchases and search for resources to help with their newfound mission.
To avoid overspending — and the regret that may come with it — consumers often turn to coupons to offset some of their cost. But loyalty programs and rebates can save just as much money — if shoppers know about them.
Prompted by his own experience of missing out on savings, Harrison Zanuck founded ev'reward — short for "every reward" — to help consumers find loyalty programs, rebates, and other discounts. His site lists more than 40,000 programs, rebates, and discounts from 22,000 retailers, so consumers never miss a good deal.
Shopping rewards provide a big boost for retailers, too. According to one study, there were nearly 230 million people enrolled in department store loyalty programs alone in 2015. Taking all businesses into account, Americans hold more than 3 billion loyalty program memberships — an average of 29 per household.
With all of those programs and loyalty cards to keep track of, consumers can easily overlook the right rebates when they need them most, which is where ev'reward comes in. By checking the site before a purchase, shoppers can make sure they get the best deal. And on the other end, retailers can convert deal-seeking shoppers into loyal customers.
How Overspending on Appliances Led to ev'reward
Often, consumers can lose out on significant savings by simply being unaware they exist — and finding out later can be painful. Harrison Zanuck experienced that pain when he purchased a set of new appliances for a home renovation project. After paying full price, Harrison later realized he could have been handsomely rewarded for his purchases had he done some research.
"I could've earned enough miles for tickets to Europe, or hundreds of dollars in cash back," he said.
Stung by the experience, Harrison's regret led to the launch of ev'reward, an online directory listing more than 40,000 rewards programs, coupons, rebate offers, and credit card perks. Initially, ev'reward covered 400 retailers but has expanded to 22,000 within a decade.
"You'd be hard-pressed to buy a product online today from a retailer that doesn't have shopper rewards or coupons," Harrison said.
Customer loyalty programs benefit retailers who see the bigger business picture. According to Selfstartr.com, gaining a new customer can cost over seven times more in marketing as opposed to keeping existing customers. Rewards programs are designed to retain loyal shoppers, save on marketing, increase profits, and inspire devoted customers to recommend the retailer to others. Customer loyalty programs also help retailers gain valuable data to study purchasing habits and provide consumers with more personalized offers.
On the consumer side, ev'reward wants to help shoppers make the most of the savings retailers offer — and teach them a few tricks. Harrison designed the site to educate shoppers on combining coupons and loyalty points with existing rewards to reach full savings potential.
"I've always tried to be comprehensive with the loyalty programs — like with airline, hotel, or credit card — and selective with the cash back programs," Harrison said. "I added coupons early on as they are often a person's introduction to discount online shopping, so coupon users are more apt to try shopping rewards. And you can usually combine coupons and shopping rewards on the same purchase to really amplify your savings."
Daily Updates Keep Users Informed of New Rewards Programs from Brands
The offers and loyalty program information on ev'reward are updated daily, and Harrison is always looking for new ways to inform the site's users while helping them save.
"I keep an eye out for what's popular and what's being pushed by national brands — like Plenti Points — but also include programs that I use that may be under the radar, like AAA Automobile Club," Harrison said.
The site divides shopper rewards by categories — such as apparel, computers, electronics, and travel, among others — and lists potential rebate savings, which can be anywhere from 1-15% or more. Of the 22,000 ev'reward retail sponsors, consumers can find direct offers from big names like Apple, Best Buy, Hilton, JetBlue, Macy's, and Target.
Additionally, ev'reward has a bookmarklet feature that allows shoppers to link ev'reward to their favorite online retailer, highlighting reward program availability.
Over the Past Decade, ev'reward Helped Buyers Save $250M
Losing out on rewards or rebates after his massive appliance purchase still haunts Harrison. But that experience led to the founding of a website that works to help consumers realize the savings potential of shopping rewards. And that has paid off for the site's visitors.
"I estimate ev'reward has saved users — via rewards and discounts — $250 million over 10 years," said Harrison.
To get the most out of rewards, consumers must know what programs are available and how they work. Most are free to use and only require an online email signup, so it pays to be an informed shopper. Harrison wants consumers and retailers to benefit from ev'reward's extensive directory.
His regret initiated the creation of ev'reward, and Harrison has never forgotten that.
"A shopping rewards aggregator was needed — and that was the moment it became a reality," he said.