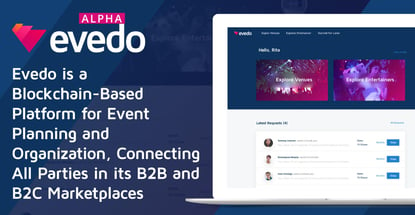 credit card news
Our experts and industry insiders blog the latest news, studies and current events from inside the credit card industry. Our articles follow strict editorial guidelines.
In a Nutshell: Planning and executing large events involves a lot of moving parts, and Evedo is helping to facilitate the event planning process with its blockchain-based platform. The company's B2B marketplace helps to connect organizers, artists, venues, and other service providers within a trusted ecosystem where they can transact with ease. Similarly, Evedo's B2C marketplace facilitates smart contracts between organizers and consumers, and it cuts out unnecessary middlemen that can cause higher commissions and ticket costs. As the Evedo platform continues to grow, the company is listening carefully to user feedback to refine the platform and eliminate pain points from event planning making future versions even better.
When it comes to tech-friendly cities, Silicon Valley, Tokyo, and New York come to many people's minds. But if Stoyan Angelov has anything to do with it, Sofia, Bulgaria, will be on that list in the near future.
For more than a decade, Angelov has made his mark in Sofia's business world as a serial entrepreneur, club owner, and event planner. He's been attached to some of the most impactful and innovative startups in the region.

Angelov also helped to galvanize and unite the city's burgeoning tech scene in 2013 by spearheading Silicon Drinkabout Sofia, a weekly meetup for tech enthusiasts. He's also played an integral part in planning and executing one of Bulgaria's largest New Year's Eve parties, with around 2,500 attendees.
"I started my first business when I was 18 here in Sofia," he said. "All my life, I was involved in two main things, which are my passion — technological innovation and events. I really love to organize events."
Angelov's latest project, Evedo, incorporates his interests and past pursuits all into one innovative platform. The blockchain-based Evedo caters to both B2B and B2C marketplaces, creating a fully functional events ecosystem.
"It unifies all businesses and participants involved in organizing events," according to the company. "Our aim is to build a marketplace and a true ecosystem that will help the $850+ billion event industry grow by connecting all parties without unnecessary middlemen."
The entrepreneur said the idea for Evedo was born about two years ago after being involved in some travel-related and blockchain projects.
"I said, 'That's it. This is the project I want to build, and I want to be there for the next 20 years,'" Angelov said. "It links all my passions, all my industry knowledge, all my technology knowledge."
Angelov gathered a small team of colleagues and immediately began working on the project.
How Evedo Uses Blockchain to Connect Businesses Within the Events Ecosystem
"The whole ecosystem consists of two marketplaces," Angelov said. "The B2B marketplace is where we connect event organizers, performers, DJs, artists, singers, venues, clubs, brands, and rental companies."
Rental companies, he explained, are a vital part of the B2B marketplace because they are often the companies that are building the stage, installing lighting, or providing some other type of infrastructure for events.
"These are all businesses or entities that are related to the organization of a single event," Angelov said. "No matter if it's a small event or a big event, with our B2B, we aim to bring them all together and give them a chance to connect to each other directly."
Being able to make these direct connections is a huge problem in the events industry, he said, because one party may not know where to turn to find providers to partner with for their event.
"Maybe you know everybody in your town, but if you start going to events in other cities or other countries, you don't have the right contacts, you don't know which companies are trustworthy," Angelov said. "Imagine you're doing an event in Berlin and you start looking for venues. There's so much information on Google, but at the same time, there is no structured marketplace."
The same goes for locating performers, security, infrastructure providers, and more, he said.
With Evedo, each of these parties can create profiles within the platform to list their products or services, and other companies can make informed decisions about whether to partner with them or not.
This eliminates middlemen and helps instill trust between companies, Angelov said.
The Platform Also Specializes in Facilitating Interactions Aimed at Consumers
Angelov likens the Evedo B2C marketplace to other ticket sales marketplaces, such as Eventbrite. And Evedo's marketplace recently went live and is currently selling tickets for various events.
The B2C platform integrates easily into the B2B platforms for businesses using Evedo and solves a number of challenges within the industry.
"Imagine that you are on the B2B and you are finding the right partners to organize your event, and it's time to sell your tickets," Angelov said. "Then you go to the B2C platform and launch your ticket sales for very low commissions, or zero commissions if you use the (EVED) token."
The public-facing marketplace is beneficial for consumers as well, Angelov said, with its blockchain-powered technology providing distinct benefits. He said the company aims to bring blockchain into the events industry to create smart contracts for every relationship in the platform.
This means that if a person buys a ticket for a festival or a concert and the organizer has to cancel the event for some reason — which is not uncommon in the industry, Angelov said — the smart contract allows the transaction to simply be reversed back to the purchaser's wallet.
"This will save so much hassle," he said. "Imagine 1,000 people calling to ask how they will receive their money back for the price of their tickets. But with a single smart contract, the money is automatically unlocked and returned."
Another major issue in the events industry involves the high number of unnecessary middlemen, according to Evedo. These additional parties drive up ticket prices, causing them to be less affordable and ultimately leads to fewer people purchasing tickets.
"Since our B2C platform works on the blockchain using smart contracts to verify and record information, a large portion of these middlemen can be made redundant," according to the company. "With the ticket issuer in full control of the number and type of tickets sold, the money-leeching activities of both unwanted ticketing bots and scalpers can be nearly eliminated."
Staying in Close Contact with the Evedo Community and Onboarding New Users
Angelov said Evedo's community of users remains a high priority when it comes to the platform's functionality and developing new features. The platform was built on a lean methodology to create maximum value for the customer.
And the company strives to foster the growing Evedo community.
"Our community is definitely important," Angelov said. "For example, on Telegram, there are 1,200 people there. And there are thousands of pages you can scroll through and see feedback for our products, feedback for the crypto component, feedback for whatever may be related to our projects."
Within this instantaneous communication channel are event organizers, artists, performers, and many others who play important roles in the Evedo user community, he said.
Additionally, Evedo has onboarded about 540 businesses so far, Angelov said. And they are not scaling up yet because the company is interviewing these current users to understand the pain points within the events ecosystem so the company can help solve these.
"We're asking them for help and it gives us ideas about how we can solve any problems they may have encountered," he said. "And one of the biggest things we've heard is about communication."
He said there has not been a centralized location for artists, event organizers, venues, and other stakeholders to communicate with one another. Evedo is listening and working on solving this problem for the players in the events ecosystem.
"In the next stages of development, our platform will become something like an event management platform as well," Angelov said.
Evedo is well on its way to forging a new path in the event planning space. And if Angelov's track record and enthusiasm for innovative tech have anything to do with it, Bulgaria's tech scene may be on the map alongside other major players sooner than later.