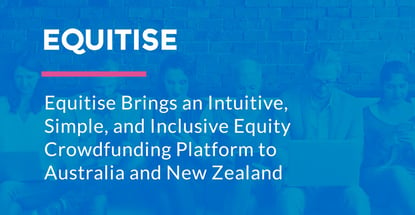 credit card news
Our experts and industry insiders blog the latest news, studies and current events from inside the credit card industry. Our articles follow strict editorial guidelines.
In a Nutshell: Equitise is a pioneering equity crowdfunding platform in Australia and New Zealand. The company provides a marketplace in which unlisted startups and small businesses can raise capital from the general public rather than from large investors or venture capitalists. With an investment as small as $250, retail investors can work with Equitise to own a stake in promising and innovative new firms. That's a win-win for small early-stage firms struggling to secure capital and everyday investors who are willing to take some risks in companies they believe in.
Equity crowdfunding allows investors of every stripe to buy shares of small unlisted companies and startups. This opens the door for individual investors to access stocks once reserved for the wealthy.
Equitise helped pioneer equity crowdfunding in Australia when it began operations in 2014. The founders, Chris Gilbert and Jonny Wilkinson, have extensive experience in investment banking, equity markets, law, and management consulting. The pair expanded to New Zealand in 2015 as they awaited new legislation in Australia.
"At that time, crowdfunding wasn't available to the people of Australia," recalls Sophie Moss, Head of Marketing at Equitise. "However, our legislation changed in 2017. We were one of the first businesses to get an equity crowdfunding license in January 2018."
Equitise launched its first retail offer in Australia the same day, eventually raising almost $2.8 million for that startup company. Equitise was also the first trans-Tasman crowdfunding platform. It partners with Republic, a large U.S. equity crowdfunding site, among others.
Equitise brings an intuitive, simple, and inclusive platform to the crowdfunding market. It has closed dozens of deals since its inception. The company has a forward-looking strategy with plans to incorporate blockchain, tokenization, and secondary trading in the future.
Equitise Lets Investors Buy Shares in Small Companies and Startups for as Little as $50
In equity crowdfunding, startups sell shares to the public ("the crowd") during the early capital-raising phases, including the seed and Series A, B, and C stages that precede an initial public offering.
The rules in Australia permit unlisted public companies with less than $25 million in annual revenue and assets to crowdfund up to $5 million per year. In New Zealand, any unlisted company can crowdfund up to $2 million in any 12-month period.
Companies that want to crowdfund must provide extensive documentation to accompany their fundraising campaign. At Equitise, the process follows these steps:
Submission: The startup submits a preliminary campaign to Equitise, which verifies that all information is honest and clear.
Marketing materials: Equitise helps the startup prepare a marketing plan and campaign video.
Private access: Insiders such as customers and shareholders receive the initial opportunity to invest.
Public access: If the private campaign is promising, Equitise will publish it on its website for a period of up to 60 days.
Hitting the goal: If a campaign hits its goal, it can remain open for additional funding ("overfunding") until the maximum funding target is reached or until the time on the offer expires. If the initial target isn't hit, the money is returned to investors as the campaign is unsuccessful.
Receive funding: Equitise distributes the money, minus its fee, to the startup.
What distinguishes equity crowdfunding from other methods of raising capital is that any adult (18+ years old) can invest.
"Participating in startup growth wasn't available to retail investors," explained Moss. "It was only available to what we call wholesale investors, which are people that benefit from high income or have a specified amount of net wealth. So it's really bringing investing in startups to the masses."
In Australia, retail investors (i.e., everyday investors who don't have the wealth or income to qualify as a sophisticated, or wholesale, investor) can invest up to $10,000 per company per year through equity crowdfunding platforms. New Zealand imposes no equity crowdfunding cap on retail investors.
Wholesale investors in Australia and New Zealand must demonstrate either an annual gross income of at least $250,000 in each of the previous two years or net assets of at least $2.5 million. These investors must provide a certificate to Equitise from a qualified accountant attesting to their income or wealth.
Xinja: A Case Study of How Equitise Helps Investors and Businesses
Xinja Bank Limited is an Australian neobank that used Equitise to raise capital. Neobanks, also called digital banks, online banks, or online-only banks, are direct banks without any brick-and-mortar branches. Neobanks rely on financial technology (fintech) to compete with traditional banks.
Xinja started out in 2017 as a fintech company. Initially, they offered basic financial products such as a mobile app and prepaid cards. Xinja used Equitise to crowdfund more than $2.7 million in 2018, $2.5 million in 2019, and also just finished a wholesale round in 2020.
"It was Australia's first-ever equity crowdfunding client and we launched it on the same day that we got our license in January 2018," said Moss. "I think it was Australia's first-ever equity crowdfunding. It's such a great example because it's a disruptive company. They're really challenging the status quo of banks in Australia."
Neobanks like Xinja don't have the legacy infrastructure costs of a traditional bank. They've garnered a reputation of being more interested in helping people than in collecting fees.
The Xinja campaign on Equitise attracted high interest, with more than 2,000 investors, almost all retail investors. Naturally, these investors were interested in their returns, "but they really liked the potential for the bank because they were unhappy with what was happening in the market," recalls Moss. "Investing in a disruptive company like Xinja was the way to change that."
Xinja received a full banking license by the Australian regulatory authorities in 2019. This gave Xinja the right to accept deposits from the public. In January 2020, Xinja launched savings accounts.
Equitise Seeks to Bring Equity Crowdfunding to All of Asia
Two top goals for Equitise are to expand overseas and to create a secondary market for unlisted companies.
"There are a few Asian countries that don't have equity crowdfunding at the moment, and we think that is a fantastic change in the concept of the market," noted Moss. "Companies in these countries need to raise capital locally."
Moss cites two important reasons for favoring the expansion of equity crowdfunding:
Equity crowdfunding provides capital to startups: With so many startups in Australia and New Zealand, a struggle for capital is inevitable. Not all can qualify, or afford, funding from venture capital and private equity firms. The resulting lack of capital hurts innovation. Equity crowdfunding not only provides much-needed funding to a startup, but it also builds a crowd of people who believe in the new brand. The crowd serves as an immensely valuable marketing tool through word-of-mouth recommendations for the brand and the investment.
Equity crowdfunding is democratic: Before equity crowdfunding, wholesale investors were limited to trading publicly listed shares, either on exchanges, such as the Australian Securities Exchange (ASX), or over the counter with a broker/dealer. Equity crowdfunding allows individual investors to put their money to work supporting unlisted startups and small businesses. "The typical investment on Equitise starts at $250. In exchange, investors have a new way to invest capital and, hopefully, make a return," said Moss.
The goal of creating an exchange for unlisted stocks is especially important to the future of equity crowdfunding in Australia and New Zealand. Creating this kind of exchange will provide liquidity to equity crowdfunding investors who currently may find it difficult to sell their shares before the company goes public.
Moss said she is upbeat about the future of Equitise and equity crowdfunding in Australia, New Zealand, and Asia.
"We're only 2.5 years in Australia. So we're just looking forward to this year, doing a lot more deals and helping a lot more companies."