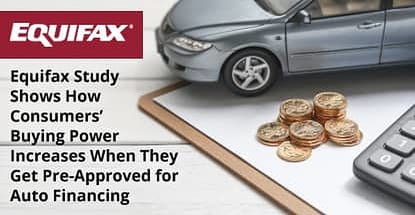 credit card news
Our experts and industry insiders blog the latest news, studies and current events from inside the credit card industry. Our articles follow strict editorial guidelines.
In a Nutshell: If knowledge is power, then few car shoppers are as powerful as those with pre-approved financing. When a consumer is pre-approved for a loan before the shopping starts, he or she knows what they can afford and save time by not looking at cars that don't match their buying power. Equifax recently surveyed 1,000 consumers to better understand their behaviors during the car-shopping process. The study found that 52% of prospective purchasers have undergone a credit check, while just 15% have the intention of getting pre-approval on their desired vehicle. Equifax noted that checking your credit before shopping, getting a pre-approval during the shopping process, and creating a personal profile for customized searches through a dealer saves shoppers time and money.
Buying a car can be a nerve-wracking process. The hours of research before you enter a dealership tend to pale in comparison to the time spent filling out financing paperwork and signing endless screens and documents after you choose your new vehicle.
It's not uncommon to feel confused in that period between the negotiating process and driving off in your new ride. But those moments don't have to be so tense. Completing some time-saving tasks before you reach the dealership can be empowering and lead to you getting a better deal.
Equifax recently surveyed 1,000 consumers to better understand their behavior during the car-shopping process. While the credit bureau found that pre-approvals and credit checks remain a critical component of the undertaking, many consumers showed a glaring lack of knowledge of their potential usefulness.

Equifax found that 52% of prospective car buyers have undergone a credit check, while just 15% have the intention of getting pre-approval on their desired vehicle. The simple act of pre-approval can empower buyers to shop with confidence and improve the chance of getting a better deal, said Rebecca Kritzman, Sr. Director of Automotive Marketing for Equifax.
"Empowering the consumer before they get into the dealership is key to ensure they have the best experience," she said. "We want to alleviate the consumer from having to spend four or five hours at the dealership. Nobody likes to do that."
48% of Prospective Purchasers Didn't Seek Pre-Approval
Kritzman said the survey results show a lack of financing education among consumers — which she said the credit bureaus, dealers, and lenders need to work in unison to improve.
And since 48% of the prospective buyers said they had not undergone a credit check and did not understand what their credit position was, there seems to be a lot of work to do.
"Consumers need to understand where their credit position is in relation to getting a loan," she said. "There's a disconnect in understanding that a score, whether it's subprime or prime, can impact the terms of your loan."
Kritzman said the main findings in the Equifax study fall into three categories:
Check Your Credit Before Shopping
While some credit checks can result in an inquiry on your credit profile, which can harm your credit score if done too often, Kritzman noted that most car dealers and lenders allow consumers to conduct soft credit pulls, which don't affect credit scores, on their websites.
A soft pull can also pre-qualify a consumer for a loan, which lets the buyer know how much car they can afford.
"A soft pull also allows the consumer to have a better conversation with the dealer and feel more empowered when they get into the dealership," Kritzman said.
Pre-Approvals Save Time and Money
The survey found that just 15% of consumers intended to get pre-approved before shopping for a car. Even more interesting is that nearly one-third, or 32%, said they do not plan to seek pre-approval during the shopping process.
"If you're pre-approved, you know exactly what you're going to be able to afford," Kritzman said. "You want to be transparent when you walk into the dealership. The more the dealer knows about your situation, the easier the dealership process will be for the consumer. It's a simple way to get into the right vehicle that is a good match for your needs."
Pre-approvals also help consumers create a car-buying budget, which saves time while shopping and during the financing process once the right car is found.
Create a Dealer Profile and Spend Less
Equifax also suggests creating a personal profile with the car dealer of your choice so you can customize searches to pinpoint the right car at the right price. Without a profile, a search has no filters to remove cars that are either too expensive, too cheap, or not appealing for any other reason.
The survey found that 35% of consumers who did not create a profile ended up spending more than they had expected on their vehicle, compared to 29% who said they spent less than they had expected.
"If you're going to customize a profile, the dealer is going to be able to customize better search processes that suit your needs," Kritzman said. "The dealer will be better armed when you come into the dealership in knowing exactly what you want. On the flipside, the consumer is going to understand and know exactly what they want and where the pricing is."
Buying Power Consultations Provide Car-Buying Insight
Equifax found that buying power consultations help consumers complete the auto shopping process faster and with less stress. Men (37%) and women (39%) in the survey who had recently completed a vehicle purchase said they received consultation on their buying power either before or during the shopping process. Only a quarter of the prospective purchasers surveyed said they received a consultation.
"Based on our survey results, the consumer is likely to first go to their local bank or credit union to understand what they can afford to buy," Kritzman said. "It may be to apply or get pre-approved, but it all starts with a conversation."
According to Kritzman, the reason for this lack of oversight is clear.
"From the research, we see that people are simply unaware," she said. "They don't connect the dots. There's an education that is needed, not only from a credit-positioning perspective but from the overall financing perspective."
The research showed the need for education spans across all ages and genders.
"Even when we look at nuances between men and women, it all comes down to a lack of education," Kritzman said. "Equifax has a ton of resources available online and on dealer and lender websites. Lenders also provide a lot of information on their own. It really comes down to collaborating better within our industry to make sure that the consumer is aware and better educated."
Empower Yourself to Get a Better Deal on Your Next Car
Equifax's surveys into consumer buying habits aren't meant to shine a light on inadequacies in our economic culture. Instead, they're meant to create a dialogue within the finance industry in the hopes of improving the customer experience and building repeat patronage.
"The more empowered a consumer is, the better their experience and their deal will be at the end of the day," Kritzman said. "Equifax is definitely a part of that, but it also requires the dealer and lender to come together. We're seeing a lot more of that."