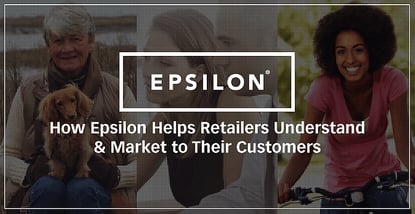 credit card news
Our experts and industry insiders blog the latest news, studies and current events from inside the credit card industry. Our articles follow strict editorial guidelines.
In a Nutshell: Through rigorous analysis of big data, Epsilon crafts a strategy and message that engages consumers and entices them to buy. The marketing and advertising agency has helped thousands of mid- to large-sized companies, including popular retailers like Staples and Walgreens, better understand their customer base. According to Stacey Hawes, the Managing Director of Data, the basic formula of an effective campaign is relatively simple: collect data, understand the consumer, and then act on that knowledge and communicate your message in a personalized way.
A few months back, at a Client Advisory Forum, Epsilon brought together 12 of its retailers in Denver, Colorado for a client forum, to hear about their current marketing challenges. It turned out these marketers were unsure about how to allocate marketing spend effectively.
The retailers said they wanted to better understand how their ad spending translated into sales, but they lacked the tools to find out. This is a common dilemma faced by retailers who are rich in data but limited in resources or expertise. Without a full analysis of consumer behavior, businesses must form marketing plans that are missing pieces of the puzzle.
Epsilon, a global marketing provider and ad agency based out of Dallas, Texas, replaces uncertainty with hard data and insights. Their team believes that, for marketers, it starts with a deep understanding of who the target audience is. Once you understand the consumer's preferences, spending habits, and interests — a 360-degree view of that consumer — only then can you deliver personalized marketing at the right time. Epsilon uses targeted data crunching and analysis to help marketers find that sweet spot.
Epsilon aims to provide marketing solutions for retailers and other businesses adrift in a sea of data. The company helps marketers fuse data, technology, and creative to improve customer loyalty and drive better outcomes.
Stacey Hawes, the Managing Director of Data at Epsilon, has decades of experience drawing meaningful conclusions from big data. She knows how to pinpoint what businesses should do to connect with people.
"We create long-lasting relationships between the brands we work with and their customers," she explained. "We try to help our clients get as much return as they can from their customers."
Thousands of retailers, cataloguers, direct marketers, and other businesses have benefited from Epsilon's marketing partnership. Its approach is data-centric: collecting, analyzing, and acting on information about consumers.
Giving us an inside scoop, Stacey walked us through the three essential steps that take retailers from data to insight, and from insight to action.
1. Build the Foundation: Using Data Collection to Organize What You Know
Before you execute a strategy, you need information. Any retailers looking to attract customers need to know where to spend marketing capital and what to say to consumers.
A reliable database is what forms the basis of a solid marketing strategy. "Having a database is key. You've got to get your foundation together," Stacey emphasized. "You can't pull it off without that."
Stacey said that oftentimes companies keep multiple databases for different purposes instead of having data centralized in one place. "If you have multiple systems, they need to be linked and able to communicate with each other," she said. "I'm still amazed how many retailers have database silos — for example, point-of-sale data isn't connected with email or online data — so the customer view remains incomplete."
On the bright side, she reported that Epsilon has seen a noticeable shift (at least among their own clientele) of retailers hiring more data scientists and analysts than they have in the past — a sign that big data is at last getting the attention it so rightly deserves.
2. Understand the Consumer: Picking Out Relevant, Meaningful Stats
From an organized and comprehensive database, retailers can gain useful knowledge about their customers — not just their name, address, email, and social handle, but also their lifestyle, preferences, and shopping habits.
"What Epsilon does," she told us, "is lead with insight and data to really get businesses to understand their consumers."
Going beyond the raw data, retailers must be able to identify what's relevant to the marketing strategy. The right data, when used properly, can move the needle for a brand struggling to connect with people. It's not about knowing everything, but about having enough pertinent details to personalize a message.
Once a customer profile is created, Epsilon makes knowledgeable recommendations about who to target and where. Someone who typically shops online, for instance, won't be swayed as much by an in-store offer. Retailers must understand who a person is, and where they are, so they can make a persuasive pitch that will convert to sales.
"We start with knowing as much about our clients' consumers as possible so we can help retailers understand how to better reach them," she said. "We're not just guessing. It's all data-driven."
3. Tailor Your Strategy: Engaging People According to Their Habits
After gathering data and understanding the consumer, the final step is putting together a marketing strategy that can translate all that information into revenue. Epsilon has considerable experience in these planning and execution stages and can point clients in the right direction, or do all the heavy lifting.
"It's not just a flip you switch," Stacey stated. "It takes expertise to execute a strategy properly. You have to do it right because many times you have one shot to incite interest from a consumer."
Every situation and client is different so retailers shouldn't necessarily have a set execution timeline in mind until their situation is properly assessed and analyzed.
To get the most bang for your marketing buck, customers should be engaged on their terms and in ways that type of person finds compelling. Segmenting individuals into meaningful categories and making tailored offers to these groups can be time-intensive but ultimately pays off.
Of course, there is a way to overdo it; Stacey warned against micro-segmentation. Retailers should take care not to overanalyze the data set beyond what's necessary or reasonable.
"I don't recommend starting out with 15 or 20 groups of consumers," she said. "You should look at the data to see where there's a natural break, or it can become unmanageable."
Epsilon Connects Businesses to the Consumers
Data is the foundation upon which a successful marketing campaign is built. If retailers take the time to get a full understanding of who consumers are and what they want, it's much easier to develop a creative strategy that wins customer loyalty.

Epsilon leads businesses toward targeted marketing solutions. Many retailers are adjusting to a new data-enriched landscape, and there's still a lot they don't know (or can do better).
The goal of Epsilon's team of marketers and data scientists is to banish uncertainty by providing clients with valuable insights. Backed by dependable information, Epsilon expects over the next year retailers will feel more confident about where they're putting their time, energy, and money.
"As time marches on, data informs everything, not just in retail," Stacey said. "In every industry, people are trying to better leverage data insights to make better decisions and grow their businesses."