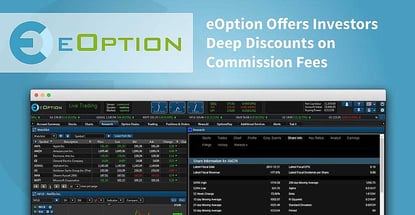 credit card news
Our experts and industry insiders blog the latest news, studies and current events from inside the credit card industry. Our articles follow strict editorial guidelines.
In a Nutshell: With market volatility becoming the new norm, choosing an intuitive and cost-effective trading platform has never been more critical. That's why eOption offers traders a customizable interface, carefully selected tools and features, and quick access to professional customer support — all while charging some of the lowest fees in the industry. The platform includes mobile apps for iOS and Android that bring its service to an emerging generation of traders who demand access anytime. Traders of stocks, options, ETFs, and other products rely on eOption to maximize results while retaining more of their own money.
As markets shift or undergo corrections, investors need tools that enable a fast, precise response. But they also need to ensure that any gains they achieve won't be wiped out by a broker who overcharges for every trade.
Since 2007, eOption has been dedicated to maintaining its status as an affordable provider of online investment services that still offers a superior level of customer support. Its innovative, trader-friendly platform works across devices to provide easy navigation to watch lists, news and charts, research, option chains, positions, and account info. Order entry is intuitive, and eOption allows users to drill down into the details of orders and positions.
And the trading platform accomplishes that while charging only $3 per stock or options trade and just $3 plus 15 cents per option contract — which give the buyer the option to purchase stock at a set price for a specified period. Those figures make eOption President and COO Shawn Herrin quite proud.

"The prevailing rate among our competitors is right around $5 plus 50 to 60 cents per contract. If you're doing 10 or 20 contracts on options, that can get expensive quickly," Herrin said.
The commitment to low fees is rooted in eOption's history. In the 1970s, the founder of the firm's corporate antecedent saw an opportunity in options after the SEC began to allow market competition to dictate commissions. Today's investors take advantage of the firm's tradition of cost-efficiency to maximize flexibility and keep more money in their pockets.
"As an options specialist offering a full range of investment products and services, we keep our fees low for a reason," Herrin said. "With options, traders can pursue a lot of different strategies. Our rate structure enables customers to go down strategic pathways they might have to avoid in working with other brokers — just due to the cost of commission."
Therefore, eOption's low fees work as a boon for both the company and its customers. It brings in more business by saving clients more money.
Intuitive Interface Surfaces Relevant Tools and Information
With online brokerages, fees are just one side of the coin. The other is quality — and eOption doesn't compromise on the features and tools it provides.
"Our owner got in the discount brokerage space early," Herrin said. "But for more than 10 years, eOption has been our primary focus. We continue to develop the platform to take new use cases into account and build additional services."
The eOption trading platform makes trading stocks and options fast and efficient while offering features that meet customer needs. The platform comes with pre-programmed layouts as well as functionality for customization.
The stocks tab is situated at the top of the interface and houses the user's watch list, news ticker, and individual stock chart. Other tabs house tools for analytics, search functions, comparisons, and account history.
"Our product includes an assortment of charting overlays and more than 15 different widgets for creating layouts — everything's right at the user's fingertips," Herrin said. "We include tools like stock and ETF screeners, support for ACH and wire transfers, and access to account history, statements, and confirms. And, of course, customers can create as many custom watch lists as they would like."
Through its partnership with a research provider, eOption supplies daily commentary as to what's happening in the market along with a calendar of upcoming events relevant to traders.
"We provide a complete suite of tools and content to help our customers identify and act on opportunities," Herrin said.
OptionsPlay Helps Investors Make Informed Decisions
Another way eOption accomplishes its goals is through OptionsPlay, a technology that makes exploring, analyzing, and trading easier by helping traders acquire the information they need to make decisions with more clarity. Available as a widget in all eOption live-trading accounts, OptionsPlay is designed to remove some of the complexity out of trading.
"OptionsPlay has been a big differentiator for us," Herrin said. "It has quickly become popular with traders because it helps them evaluate various strategies in terms of potential results."
The OptionsPlay platform is divided into three panels — trade ideas and watch lists, security analysis, and trading and income. The trade ideas and watch list panel — which can be filtered for bullish or bearish market outlooks, among other variables — helps users generate fresh ideas from the market and keep track of them.
Those stocks then transfer to the powerful security analysis panel, which summarizes a set of methodologies into straightforward trends and relative strength indicators. Security analysis enables users to quickly learn whether a stock's short- and long-term trends are bullish, bearish, or neutral, and, through the relative-strength score, how strong the stock is compared to the overall market.
"These are numbers that users were previously required to access and interpret for themselves," Herrin said.
Finally, based on the user's outlook, the trading and income panel automatically selects three basic strategies for side-by-side comparison. In many scenarios, option-based strategies turn out to be the winners.
"OptionsPlay can show definitively the benefits of using options to maximize rewards and minimize risks," Herrin said. "The tool puts the numbers right in front of you."
With OptionsPlay, the company advocates for options becoming a more important component in investment strategies. On the technical side, the platform itself makes the case via cross-platform compatibility. Available for iOS and Android, eOption Mobile provides users with desktop-level functionality, permitting trading and order monitoring for stocks, options, and ETFs and includes the same streaming quotes, market news, intuitive charting, and account management tools available on the web version.
"It's easy to bring up an option chain in the app and click on what you want to buy or sell. You can get an order ticket ready in, literally, three taps," Herrin said.
And Herrin is quite familiar with the product because he uses it. "I get up in the morning and see what the markets are doing before I come into work," he said.
Saving Traders Money Without Compromising on Quality
The app is becoming more important as traders increasingly ditch their desktops, for at least part of the day. The feedback eOption receives is that it provides more functionality in its app than some of the much bigger brokers.
That illustrates the importance of customer feedback in helping eOption plan its next steps, products, and tools. "Product decisions are largely driven by our users," Herrin said. "We've got a pretty long list of things we want to work on, and feedback is imperative to prioritize it. We do surveys on a regular basis and also glean information from our regular interactions via email and over the phone."
Phone support itself is also a positive differentiator for the company. And it puts professional help just a phone call away.
"We pride ourselves on an actual human picking up the phone in 10 seconds or less — and our customers appreciate that," Herrin said.
Low fees have long been part of the corporate DNA at eOption, and they're part of a more comprehensive service strategy that values flexibility and precision. For investors just getting into options trading, eOption takes out a lot of the guesswork. The service is also highly suitable for experienced players in search of tools that don't impose themselves until they're needed and that save money on higher-volume precision trades.
Consumers often think of price and quality as mutually exclusive. But eOption stands as an example where cost-savings for customers translates into an enhanced user experience. Customers choosing eOption's low-fee platform don't lose —they gain.